It can be said that open shelving has its own enthusiast. Commonly, people use open shelving for different purposes. The first one is for the decoration needs. You can display the ornament, decorative plants, or even your collection there. The second one is for the original function where you need the shelf to put your stuff like books or to store your needs. However, the ones who choose the open shelving are those who need to take the stuff that is stored there easily because it can be seen clearly so that they can spot the stuff directly. Anyway, it is really possible for you to make your own open shelving by having the DIY projects. You can use wood material, rope, iron, pegboard, and more. Beautify the shelf with the theme that you want and the additional accessories you need. Get the design ideas from these adorable references.
If you want a unique and different wall decor, try using an open shelf that has a hexagon shape with a pretty beautiful artistic vibe. Apply this shelf in an unequal way for more variety. Choose the right material for this open shelf, wood is the right choice and also cheap but makes your home decor look more beautiful and charming. Feel free to use this simple shelf because it can work well in any room in your home. When making this shelf, creativity is really needed. Hexagon wooden shelf from housebeautiful.
You can use wood planks and leather belts to create an open wall shelf that will be very useful for your small storage. Open shelves can not only fill the empty space on the walls, but can also change the appearance of the room to be more attractive. You can install this open shelf in the kitchen, to store some tableware and you can also use it to show off some of your unique ceramic collections. No need to worry that this shelf will be easily damaged because the installation is quite strong and of course uses materials that are not easily porous. Wood planks with belt open shelves from housebeautiful.
The small wooden hoop that you have in this house can be perfected with three open shelves so that it can be used as open storage in your wall area. This shelf has original color so it looks more DIY and simple. Apply this shelf in your child's bedroom decoration so that it can be used to display some of the child's favorite toys that are quite small. With this shelf, your child's toys can be found faster when they are needed or sought. DIY hoop shelf from housebeautiful.
Adjust the color of the open shelf of your choice with the current wall paint to make it look more harmonious and harmonious. If you have an all-white room, it would be nice if you also use a matching open shelving. In addition to being harmonious, this white open shelf will also make the objects above it look like it's floating, so it will attract the attention of everyone in the room. This shelf is equipped with a copper pipe buffer that has a splash of gold so it looks more minimalist and shiny. Minimalist copper pipe rack from housebeautiful.
If the mounting point of the open shelf is right in the corner of the room, you can use an angled floating shelf and install it vertically to make it look more festive. You can put succulent plants in pots so you always get a natural freshness every time. Not only green plants in pots, you can also put them together with several wall decoration frames to get a more varied and not boring look. The existence of this corner shelf makes it easier for you to bring green plants into the room without taking up much space. Corner succulent rack from housebeautiful.
In order for the appearance of your home room to look neat, it requires some additional smart storage. If your room has a space that is not too wide, using open crate shelves arranged in layers will save a lot of space, so it is highly recommended for you at this time. Repaint the two shelf crates with white so that they have the same color as your current wall. Some of these DIY crate storage racks make it possible to separate items according to function and type to make it easier for you to find them. Doesn't it look simple but still charming. DIY open shelf crates from housebeautiful.
Cover the empty wall surface with pegboard shelves to add storage space to your home decor. This pegboard shelf will provide additional space that you can use to put a variety of home decorations such as vases, green plants, mirrors, photo frames and paintings. You can use this shelf to the maximum because it has a fairly large size. Besides that, the advantage of this pegboard shelf is that it keeps your wall decor neat and minimalist so that it avoids getting messy which will cause discomfort. Pegboard wall shelf from housebeautiful.
Driftwood shelves that are attached to this wall have a light size so as to minimize damage to your walls. This DIY shelf helps you to display some galvanized ornament that can be used as a more beautiful and beautiful room decoration. In addition, the use of this shelf is also inspired by the coast that never goes out of fashion, you can try it easily and it doesn't cost much. Get this shelf at the nearest craft store, or you can also buy it online to make it more practical and less complicated. DIY driftwood shelves from housebeautiful.
Not always by attaching it to the wall, you can also use an open standing shelf made of wood that can be placed on one side of the dining room. You can use this open shelf that almost touches the ceiling to store and show off your favorite ceramic collection. The wood arrangement on this open shelf will make the dining room look more aesthetic because it has a unique shape, namely A-frame DIY. Let it look natural with its original color so that it can blend in more perfectly when the room has a dominant white color. A-frame standing rack from housebeautiful.
Adding an industrial vibe to your wall decor with open shelving is a great idea. You can use a thick wooden board that has been finished with a transparent dark color paint. In order to be mounted on your wall, it requires a placemat or support that is quite sturdy. Use iron pipe material to make it stronger and also easy to get. In addition, this industrial pipe rack is also not easily porous when used for a long period of time because it has a combination of materials that are quite hard and of course can be used for a long period of time. Industrial pipe rack from housebeautiful.
To pour your creative ideas into room decoration, try to make simple and beautiful open shelves. With enough materials that are around you, can easily create extraordinary results. Wood planks and fiber rope are the main materials in the manufacture of this open shelf. Punch a hole in each corner of the wooden plank to attach the fiber rope so that it can be attached to the wall. Once installed properly, you can enhance the existence of this shelf by placing mini plants, ornaments and paintings on the top surface. Floating rope rack from housebeautiful.
You can also install open shelving in the bathroom as a practical and minimalist storage area. You can easily find toiletries with this open shelf, besides that its minimalist shape and mounted on the wall will certainly not make your bathroom look cramped and uncluttered. Install several levels of shelves so you can store more of your essentials. The combination of wood and hemp rope is enough to make this shelf ready to use. Install it using the hook on the wall that has been provided. Bathroom open shelf from bhg.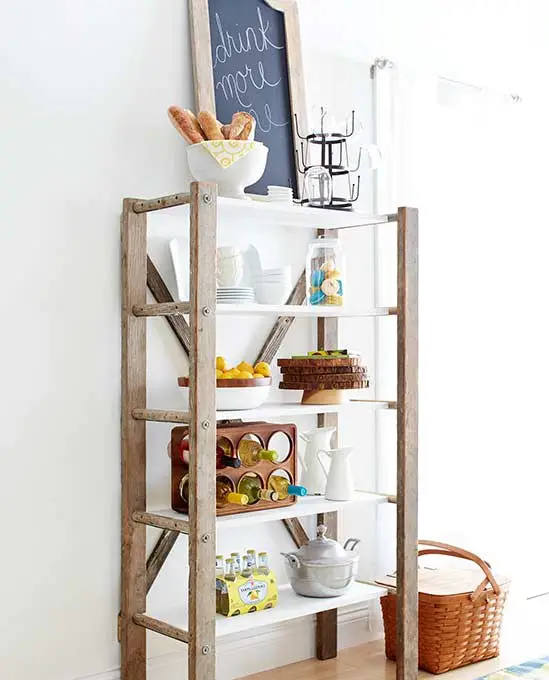 If you need a more and wider storage area, then you can use a standing storage rack made of reclaimed wood. The material used is quite cheap so it is suitable for those of you who want to save on expenses. The vintage impression can be obtained easily without polishing and repainting this storage rack. When you put this shelf in the dining room area, you can use it to put some frequently used tableware, bottles of wine and fruit. Standing storage rack from bhg.
Your entrance area will have a different view when you equip it with an open floating shelf made of wood and metal that is quite sturdy and hard. This shelf can be used to place a glass bowl vase filled with flowers and a wooden frame painting repainted in black. The two decorations placed on the shelf are ready to warmly welcome your guests or family who come to your house. Try these shelving ideas when you want to decorate your entrance on a budget. Entrance floating shelf from bhg.
Instead use a nightstand with a floating shelf that is installed right next to your bed. This rack will function the same as a nightstand but will take up no floor area at all. The idea of ​​using this floating shelf is highly recommended for those of you who have limited-sized bedroom decorations. To make it look more minimalist and modern, the thing you have to do is repaint it with a color that matches the feel of the room. White is always a pretty favorite color choice in all rooms of your house. Instead of using a nightstand with floating shelves from bhg.
In addition to offering floor-saving storage, this traditional wooden floating kitchen shelf also adds a new element of style. This shelf is hung on a white painted wall area so that it exudes a modern look and feel. Use an iron support to support this shelf to make it more sturdy and of course stronger to use as a storage area with a larger amount. Place a plant vase and painting frame as decorations that can be obtained easily. Traditional wooden kitchen shelf from homebnc.
Do you have an unused corner wall? If you have it, take advantage and use this wall to hang a triangle of wooden shelves that can be used as an area to place plant pots and painted and repainted clay ornaments. Repaint this shelf with a color that matches the color of the walls so that it looks more in harmony and does not look contrast. Indirectly, this shelf can also be used as a wall decoration as well as a view that can be seen by anyone who comes to your house. Use wood for materials that are easy to get and of course will have a solid surface and not easily porous. Corner triangle shelves from homebnc.
If you have free wall space, then you can fill it with DIY wooden slab floating shelves that match the farmhouse theme. With this wooden shelf, the beauty of nature radiates beautifully. Use this shelf to put some ornaments that can be used as decorations and of course will give the appearance of the personality of the owner of the house. Fern plants that look green are one of the decorations that you can place along with a variety of other small ornaments. DIY wooden slab shelf from homebnc.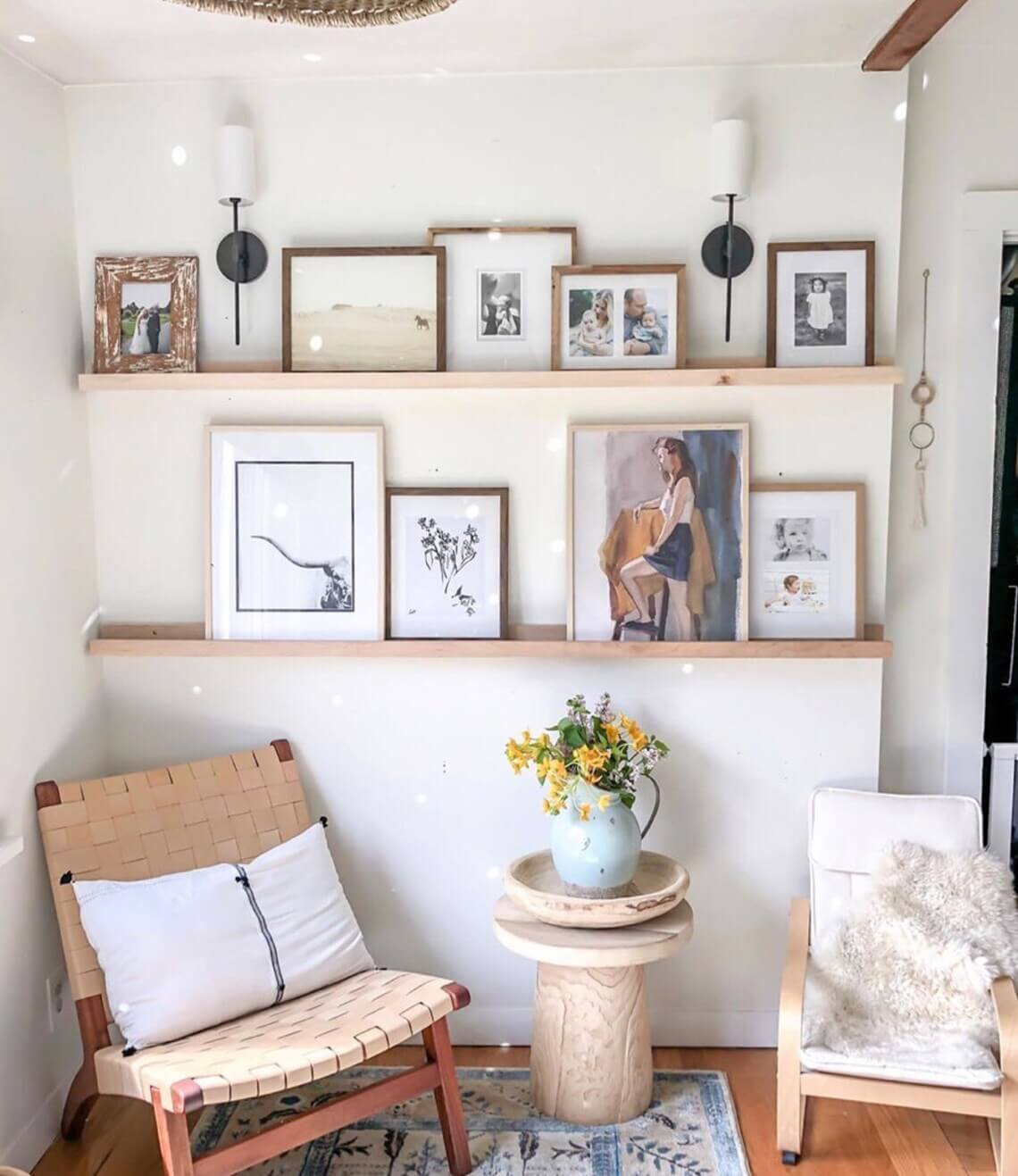 The wood material used as floating shelves can be applied to living room decorations with a more natural look. This shelf is very useful as an area to put a variety of painting and photo frames that can be used as a beautiful room decoration. This frame has a variety of different sizes so that it makes a more varied part of the wall. No need to repaint this shelf, just let it look natural so it can blend more perfectly with the wall paint and some other furniture around it. Floating wooden shelves from homebnc.
This wooden 3D box shelf mounted on the wall provides a three-dimensional effect that you can use to show off your mini plants. You can easily get natural freshness in the room with the plants placed on this wooden 3D box shelf. Use low-maintenance indoor plants such as snake plants. That way you will get an aesthetic appearance in the decoration of the room this time. Choose and use wood with a darker color to make it look a little contrast when installed on a white wall. 3D box shelf from homebnc.
To decorate a minimalist room, you can use a small wooden box shelf as a wall decoration. This small wooden box shelf will fill the void on the walls of the room so it doesn't look so plain. You can place succulents on small wooden box shelves to add a green accent to the room. Give a final touch to this small wooden box shelf with transparent paint to keep showing the grain pattern on your wooden box shelf so that it still looks natural. You can arrange this shelf yourself easily. Succulent box rack from homebnc.
Arrange the distressed wooden shelves in layers on the wall to make it an interesting shabby chic touch. No need to repaint this part of the shelf for a more vintage look. Don't forget to add a mini potted plant on top as a final addition to the beautiful wall decor and it will surely get great compliments this year. Because this shelf has a fairly small size, you can use it more than one so that it can be used as a focal point for a room that can work well without having to spend a lot of money. Distressed wooden shelves from homebnc.
Customize your use of floating DIY shelves with the theme of the room. When you are going to hang this DIY shelf in a minimalist or modern home decor, it's a good idea to use a unique shape and don't forget to repaint it with a color that doesn't contrast too much with your wall paint. Try floating semi-circular shelves painted in pastel colors such as light gray. You can arrange this shelf vertically or horizontally according to your pleasure. The existence of this shelf is very useful for you to show off the small wooden ornaments you have. Repaint semi circle shelf from homebnc.
Another material besides wood that you can use as an open storage idea is a pallet with a choice of natural colors. When the pallet you have has a worn surface, then you can re-polish it for a cleaner and shiny appearance when exposed to reflected light. Use this shelf to put some books and cute ornaments that can be used as decorations as well as views of different rooms. This pallet rack is flexible because it can be placed on the floor area and can also be hung on an empty wall area, according to the size of your room. Open pallet shelves from homebnc.
Reuse wooden drawers that have been used as open storage ideas that you can place in the bathroom area. Look at this open storage drawer, doesn't it look neater and certainly doesn't take up much of your desk or countertop area so you can get more free space. Repaint these drawer shelves in blue to make them look brighter and look new again. Cover the drawer background with patterned and colored paper for a unique look that's on a budget. Copy this idea cheaply and easily. Reuse drawers as storage from homebnc.
(Visited 195 times, 1 visits today)
DIY shelving
,
open shelving
,
shelving
Last modified: January 5, 2022