The attic is the space in your house that could be really useful if you know exactly how to juggle it. Especially if you only have such a small home space, then it is a must to decorate your attic to function in a certain room that you need. For your consideration, the attic will be a quiet spot so that you can utilize it for your private room or any of the utilization that needs calm. For example, you can use it for your studio. Or, you can use it as your working space. If you want to have a private space, utilizing the attic as your bedroom is also really recommended. There are still so many choices of the attic utilization and how to decorate it in an effective and pretty way as we will mention below. Check them out.
If you want to rest in this attic area, then you can turn it into a small bedroom decoration. With this, you can relax in this room whenever you want. To give the effect of a wider and open room, you can use the dominant white color in some of the interiors uses in it. Start with the use of wall paint, ceiling, and bedding which is perfected with several pillows in different colors such as yellow and light gray. White interior bedroom from realhomes.
White and blue are color combinations that you can apply in one room. Now you can apply it to the Attic decoration section which is converted into a modern minimalist bathroom. It's not enough to stop here, you can add hexagon tiles to add texture to the room. You can apply this tile to the built-in shelves and some walls to add to the crowd in this room. The transparent glass ceiling is a source of sunlight that can reduce the humidity of the room. Modern minimalist bathroom from realhomes.
The Attic area will be the most comfortable room that you can use when it is converted into a living room decoration. This room can be used as needed. Add comfortable main furniture, for example, a linen sofa combined with the use of a coffee table and a dresser to be used as an area for applying green plants. Choose and use furniture with a neutral color scheme such as a combination of gray with plain white wall paint. Neutral theme living room from realhomes.
Modern home office decorations that are perfected with rose flower arrangements are a smart idea that you can apply to dress up the attic area. With this, the attic area will be more useful to the maximum. Because this home office decoration has limited space, you can use the empty part of the wall as a storage area by adding several box shelves that have a variety of different sizes. The desk that is used is also equipped with storage in the legs so that it becomes a very appropriate choice of furniture. Home office decoration from realhomes.
The bathroom is one of the decorations that must be owned by every home. Therefore, you can use the Attic section to become a small bathroom that is dominated by a farmhouse theme. The existence of this bathroom will be very useful properly. Don't forget to use simple furniture such as a vintage bathtub and a vanity made of reclaimed wood. You can place a small bench with the same material next to the bathtub as an area to put clean towels. Farmhouse bathroom from realhomes.
If your attic conversion is on the smaller side then you can opt for multiple smaller rooms instead of one large room. For example, you can use the Attic area as a combo bedroom bathroom that has a wall boundary. Take advantage of white to present a room that looks wider. This white color will work well together when combined with a dominant dark blue color. Besides being able to present a more modern room, these two colors are also able to work well in the same room. Bathroom bedroom combo from realhomes.
It's a good idea to have a home office decoration that is far from noise. Think and consider dressing the Attic section with a modern home office that is perfected with minimalist furniture. With this, you will get a more comfortable and focused home office decoration. Triple glass windows that are applied to the ceiling provide natural lighting that you can easily get during the day. Lighting that enters the room helps this room not get damp easily. Modern home office from realhomes.
Another way you can use the Attic is to turn it into a room that is very useful for your daily activities. For now, you can turn it into a bedroom which will be a restroom free from noise. Complete this bedroom decor with several different types of green plants as a beautiful view and able to provide instant freshness. The black matte floor lamp is lighting that you can use when the room starts to feel dark. Small bedroom decoration from realhomes.
Look at the attic bedroom decoration which is dominated by white, doesn't it look more open and look more elegant? Yes, you can try it to make the attic area more useful. This white splash can be applied to the use of wall paint, ceiling, and even bedding. Enter another color in the use of shiny wooden wall decorations that are applied close to the ceiling. The ceiling with glass material becomes natural lighting that you can use during the day. Elegant bedroom from realhomes.
There is nothing wrong with using the Attic area as a minimalist bedroom decoration. Here you can use only the main furniture. The combination of a bed, wicker rattan chairs, and a floating shelf is a combination of furniture that will work well together. It's not enough to stop here, you can also use a cohesive color scheme such as a combination of white and light gray which looks neutral and makes this room feel more spacious and open. Try these decorating ideas the best you can. Minimalist bedroom from realhomes.
Are you a person who likes reading? If so, then you can create a special room for reading to make it more focused. For example, making a reading nook in the Attic section where the room is still empty and wide enough. What you can do is add two suitable pieces of furniture, starting from the use of velvet chairs, a wooden dresser, and a small bench that is used to put your favorite reading books that are arranged vertically. Attic reading nook from realhomes.
If you are looking for a small attic idea, maybe the bedroom is one of the best choices you can try. This room is quite easy to change. This small bedroom decor has a light color scheme like white that brightens it up so it feels more spacious than it actually is. Just use the main furniture so that you have a wider floor area and make you more freedom when doing activities in it. A bed, a small nightstand, and a chair are a combination of furniture that will work well. White themed bedroom from realhomes.
Choose lower, colorful furniture to create the visual effect of higher ceilings. If you want to make the Attic room a fun room for your kids, bring a bed and some toys into it. Do the right layout to make it look neater and less cluttered. The part of the glass window that is coated with several colors of this plain sticker will limit the entry of excessive sunlight into the room. Colorful scheme children's bedroom from realhomes.
So that you have a different atmosphere when you receive your guests, then decorate the Attic room with a small living room design that has a touch of monochromatic style. This room is dominated by black and white colors that can bring a modern or minimalist style instantly. It's not enough to get here, you can also use a glass ceiling to enter more sunlight so that it can be used as natural lighting during the day. Different nuanced living room from housebeautiful.
Another option to take advantage of the Attic room is to make it as a closet decoration that can be used to dress up when going out of the house. Although this room has a fairly small size, all items can be neatly arranged because it is equipped with hangers and a wooden wardrobe that you can use as closed storage that is safer from dust or animals. Try this idea easily and certainly doesn't cost a lot of money. Attic room as wardrobe from housebeautiful.
Do you need a bathing area to relax your body on the weekend? If so, then you can decorate the Attic room with a Jacuzzi that you can use whenever you want. Here, you can also soak while sunbathing, because the large glass window allows sunlight to enter the room easily. A set of wooden chairs becomes additional furniture that you can use to relax after a long soak. Attic room with jacuzzi from housebeautiful.
An extra bedroom will always come in handy, especially if you receive guests frequently. One bed with a size large enough to be the right furniture. The bohemian print throughout this space also adds a colorful feel to the room. To emphasize this bohemian theme, you can use wooden floors that seem more natural. The wood carvings that exist in the use of walls and ceilings are smart decorations that you can apply simultaneously. Bohemian guest room from housebeautiful.
This floating wooden desk which is perfected with a wall lamp is in the Attic room which you can use as a simple home office decoration that can be used anytime when needed. What you can do is add a chair with the appropriate height to make it more comfortable to use all day. No need to repaint these floating decks, let them appear simple and shabby chic according to the style and theme you are currently using. Simple home office with floating desk from housebeautiful.
You can use this Attic room with a sloping ceiling design as one of the important rooms that you must have in every home. For example, you can turn the Attic room into a modern farmhouse bathroom decoration that is dominated by white. Another color that you can use is black, you can apply this color to the use of a small wooden bench that is placed right next to the vintage bathtub. Open your windows during the day for fresh air circulation. Attic bathroom decoration from housebeautiful.
If you want to make your Attic room a quiet space to relax, then bring it and use some of the right furniture. This furniture includes a long chair and a small side table which is perfected with a reading lamp. This reading lamp for this room is highly recommended because it will be used as a vintage reading nook decoration. This vintage impression in this room can be emphasized by the presence of a face painting with a size large enough, apply this painting to your old wooden frame that has been dressed so that it looks cleaner. Vintage style reading nook from housebeautiful.
Take advantage of your Attic room as a relaxing and playing area with a large and comfortable room size. Do a makeover by painting all parts of the walls and ceiling using a splash of plain white. The white tone will make it easier for you to combine it with other interiors around it. It's not enough to get here, you can also cover the floor with a green rug that resembles a stretch of fresh green grass. Attic room as play room from housebeautiful.
If you are going to use Attic decor with two different rooms, then consider using a transparent glass divider to make the room feel wider and brighter. Combine black and white in this one room for an instant monochromatic theme. This different room is decorating a living room with a bedroom combo. Cover the hardwood floor with a geometric patterned rug for a pretty finishing touch. Monochromatic attic decor from deavita.
Are you a painter or a hobby of painting? If so, then you need a special room that can be used whenever you want. Attic is a room that you can use as room decoration, painting artworks with a soundproof room and of course avoiding noise. In this room what you can highlight is the presence of light that can be applied to several uses of chandeliers and glass windows that have a fairly large size. No need to use excessive furniture to have a wider room. Room painting artworks from deavita.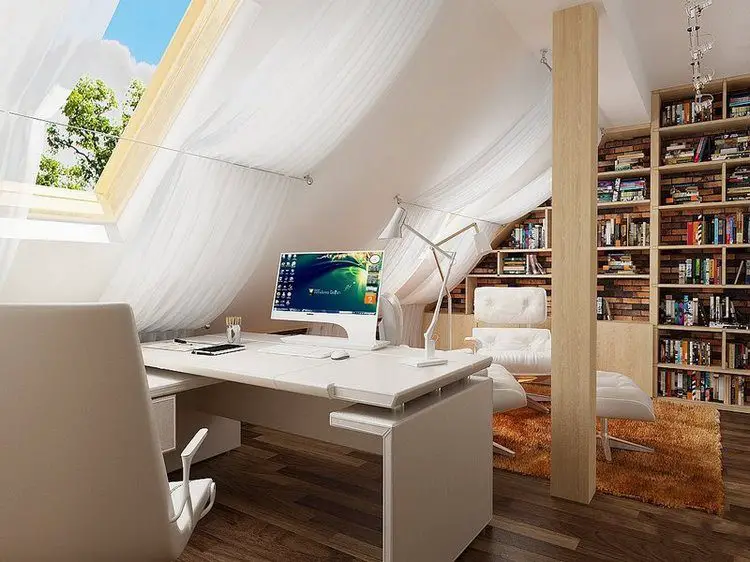 Because the home office decoration in this Attic area has a limited room size, you can use the wall as a book storage area that you have. Look, this room is also perfected with a reading nook which is equipped with a lounge chair with a soft and soft surface. On the ceiling window, you can cover it with curtain sheer which has the same color as the wall paint so you can use it when the sunlight entering the room is too excessive. Arrange all existing furniture neatly and orderly. Home office with reading nook from deavita.
The division of the Attic design that is used by two different rooms is an idea that you can try right now. Start from the living room dining room combo which is dominated by white and wood colors. You can apply the color of the wood itself to the use of the floor and some of the furniture in it. End with the use of a fireplace in the corner of the room as a heating accent that you can use anytime as needed. Living room dining room combo from deavita.
(Visited 44 times, 1 visits today)
attic decoration
,
home improvement
Last modified: April 13, 2022