Bungalow should be a cozy place for you. That's why the decoration should be considered well so that all your needs for the bungalow can be fulfilled. Although only in a small space, you can make it to be a comfortable place that is related to the beauty and the facilities provided. For the beauty of the decoration itself, you bring natural elements like wood, sisal, rattan, and of course providing the plants for the indoor decoration. Then, for the facilities, you can concern about the seating that should be comfortable. You may provide a sofa, bean bag, or chairs with a pad if you think that the chairs are not cozy enough. For the complete decoration references, you can check the following ideas.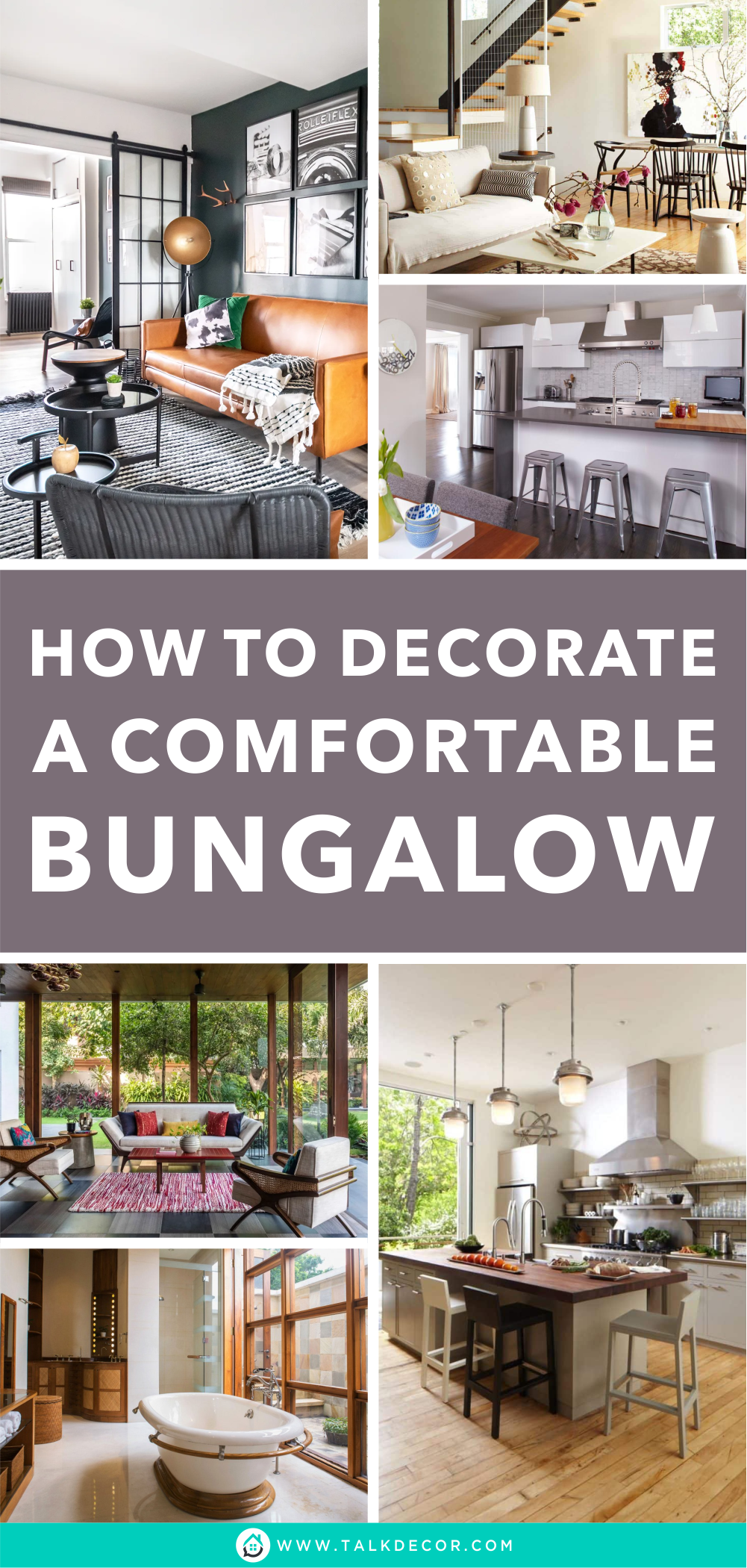 Look at the decoration of this open dining room, doesn't it look more spacious and of course it will free you to move. Just use the main furniture such as a dining table set made of natural materials such as wood. The wood material has a comfortable sitting surface because it is smooth and not easily porous when used for a long period of time. Complete the look of this dining room decor with some green plants that are applied in certain areas as a beautiful and fresh decoration that can be easily obtained in the backyard garden. Open dining room decoration from architecturaldigest.
The living room dining room combo, which is designed in one room, is complemented by a fairly large transparent glass window. This glass window can be used as a view with an outdoor view surrounded by green plants and trees. With this you will get the freshness of your eyes while enjoying a meal or while relaxing on the sofa that has been provided. Chandeliers with very large shapes and sizes become lighting ideas as well as being the focal point of a beautiful room. Living room dining room combo from architecturaldigest.
Avoid using room dividers to decorate the bungalow room. This is done so that the room feels more open and airy. In the same room you can combine a refined kitchen and living room with several types of comfortable sitting areas. The contemporary bungalow design allows you to be more comfortable because it uses new furniture designs that are not outdated. The rug and the use of patterned tiles add color and texture to the room so it doesn't look boring. Open space room from architecturaldigest.
Decorate the empty part of the wall with an abstract painting that is quite large in size which is perfected by the use of bold colors such as a combination of red and yellow. This painting can be applied right above the sofa in this room so that it can be used as the focal point of the room that is able to bring a touch of art. Other decorations that you can apply in this living room decoration are several different types of green plants. All the decorations in this room will work well together for your comfort while relaxing. Focal point abstract painting from architecturaldigest.
If you want to apply a comfortable and appropriate bungalow living room decoration, then start by using the right furniture. Currently you can use only the main furniture such as sofas, chairs and a coffee table that has a unique and elegant shape. This furniture will work well for your comfort while in the living room. Perfect the sofa with some throw pillows that have been neatly arranged as a heater while making the surface of your sofa softer. Living room furniture set from architecturaldigest.
Instead of using walls with transparent glass windows that are large enough from the floor to the ceiling. This decorating idea is intended to make your bungalow living room feel brighter and more open. The existence of this window can also be used as a source of sunlight which makes the room not easily damp and avoids premature decay when you use some wood furniture. You will feel comfortable in this room because it is equipped with a sofa which is also equipped with some throw pillows and two chairs that are placed opposite each other. Large glass window from architecturaldigest.
Welcome guests or your family who come to the bungalow house with a simple foyer decoration. This foyer decoration only uses a set of tables and chairs which are perfected with two table lamps that can be used as main lighting when the room starts to feel dark. The use of this minimalist furniture makes the foyer area have a wider and open floor area so you can move freely and of course it will make it easier for you when doing daily maintenance. Try this decorating idea as best as you can. Simple foyer decoration from idesignarch.
The bathroom is one of the room decorations that must be owned in the house. One way to make this room feel comfortable is to decorate it as well as possible according to your taste. The first thing that is recommended is to free up more floor space and use wooden furniture that looks natural and sturdy. Large glass windows are useful for entering more sunlight into the room and can also be used for views with a very beautiful outdoor view. Minimalist bathroom from idesignarch.
The sofa is a comfortable sitting area for any stylish living room decor. You can choose a sofa with linen material that is perfected by the use of neutral colors such as gray so that it is easier to combine with other colored interiors that are around it. The U-shaped sofa is the best design choice that you can choose for decorating a limited-sized living room. A nesting coffee table is a combination of furniture that will allow you to put a few more items. U shaped sofa with linen material from hgtv.
The kitchen decoration, which is equipped with modern and minimalist style furniture, will make the room look more elegant. Start using the kitchen island as a dining table as well as an area for serving food. When you are going to make it a dining table, then you can add three chairs that have the appropriate height so that it can be used as a comfortable sitting area. Choose and use a chair with iron material to make it more sturdy when used by anyone including family members. Modern kitchen furniture from hgtv.
So that the decoration of your bungalow living room looks more different, you can also use furniture with a unique shape. Start by using a tiered nesting coffee table made of marble so that it looks more shiny and clean. Furthermore, you can use sofas and chairs with velvet material without legs which have a smoother, softer and softer surface. Use a sitting area with a bolder color so that it can be used as a beautiful and elegant focal point. Unique shaped furniture from homedsgn.
The living room is always the most comfortable area that you can use to gather with your friends or family. Therefore you can choose and use the right furniture. Also pay attention to the layout of your sofa to save more floor space. The open space with the use of minimalist furniture is one of the characteristics of the bungalow decoration that never goes out of style and is always a favorite every year. You can try decorating this room right now. Open living room decoration from homedsgn.
The straight living room which has a wider and open floor area becomes a very comfortable gathering area for use with your family or guests who come to your house. You can use a minimalist style so you don't use too much furniture. This white sofa which is perfected with spotlights will become a warmer sitting area. Lamps that have dim lighting make the room more dramatic. Straight living room design from homedsgn.
If you want a minimalist and comfortable room decoration for your bungalow, try applying an open bedroom decoration so that it seems to blend with the living room. Use sufficient furniture for decoration this time, so the room will not look messy and will actually look spacious. Enough with a large bed for the bedroom and a large sofa complete with a coffee table in the living room. Bedroom living room combo from homedsgn.
This minimalist bathroom which is perfected with a fairly large closet has become a much needed room for bungalaw home decorations. That way you can decorate it properly and optimally. Put a leather bench in the middle of the wardrobe as a comfortable sitting area and can also be used when you choose the clothes to use. Don't forget to cover the wooden floor with a faux fur rug which has a softer and smoother surface. Minimalist bathroom from homedsgn.
The white nuance that dominates the living room of this bungalow will never fail. This neutral nuance will make it easier for you when combining it with other interiors that are around it. In addition, this room is also perfected with two different decorations that will save more space in the house. This combo dining room living room is a favorite combination that can work well together, arrange all the furniture neatly and orderly. White nuances room from onekindesign.
It's a good idea to add a few chairs in the kitchen island area so that it can function more optimally. This is done so that the kitchen island area can also be used as a dining table area. Besides being able to be used as a dining table, it can also be used as an area to serve cooked food. Adjust the use of chairs according to the number of your members so as not to use too much floor area. Multifunction kitchen island from onekindesign.
Use shades of white in this Scandinavian-style bathroom decor for a neutral room impression. You can add a transparent glass window to be used as a light source while making this bathroom room not damp and smelly. Cover the floor with a runner rug which has a thicker material so that the surface of your feet is warmer. The blooming flower corner becomes a fresh decoration that adds color to the room to be more pleasant. Scandinavian bathroom from onekindesign.
Change the appearance of your small bungalow to make it look spacious and comfortable by using white to dominate the room. You can apply white on the sofa, walls, and ceiling, so your bungalow lighting will be more perfect and the room will be more spacious. In order to get a warm impression, you can incorporate wood accents into the room, choosing a wooden floor is a smart idea. To beautify your appearance, you can also add a faux fur rug to coat the floor under the sofa. Warm nuances bungalaw from housebeautiful.
Bringing an artistic atmosphere to the bungalow decoration but still maintaining a comfortable and neat atmosphere is a decoration idea that you should try. Choose the right color for the decoration this time, using a monochrome theme is an easy way to bring an artistic feel to the bungalow. Using several painting frames to decorate an empty wall is the right step. In order to provide a focal point you can use a sofa with a different color and of course a lighter color. Artistic bungalaw from housebeautiful.
(Visited 64 times, 1 visits today)
bungalow
,
decoration
,
interior
Last modified: May 9, 2022