Living at minimalist modern home design forces you to be more creative for having beautiful outdoor garden. Designing small garden is the most possible way. You need to pay attention for the space. You may get hanging plants, containers, or potted plants at your porch. See these following fall planting ideas that applicable for small garden space.
Fall Window Box
Let your window be more charming at fall by planting various flowers. Just combine strappy sedge, silvery dusty miller, jewel-toned plants, medium purple Persian shield including ornamental cabbages, bronze canna, and dark purple ornamental peppers. You are pleased to plant other plants as well.
Fiery Reds
Dwarf heavenly bamboo is great for small garden in front of your house. Red berries also look awesome to remind us about the beauty of fall season. Feel free to add rosemary to welcome morning sunlight. Then, see how beautiful your small garden is.
Potted Trees
When you don't have any space to plant trees, please use some pot. It will minimize the space and give aesthetic value towards your porch. Put the pots around seating area. Even you can plant sweet potatoes and Purple Heart.
Hanging Basket
No more space needed with this simple idea. You just need a basket as the place to plant your favorite flowers. Furthermore, you can plant anything you wish whether flowers, herbs, succulents, or just simple green plant.
Grassy Entrance in Seattle
You can use your entrance to plant your favorite flowers to welcome fall as well. Karl Foerster' feather reed grass tells you more about the beauty of autumn with green plants. Moreover, it gives you better visual drama before entering your house.
Gold and Bronze
Create your new garden at porch with bronze-tipped autumn ferns, bamboo, carex and a magnolia tree. Let them grow up very well at seating area. This design is not only to give you nice view but also provide clean air.
Bronze Containers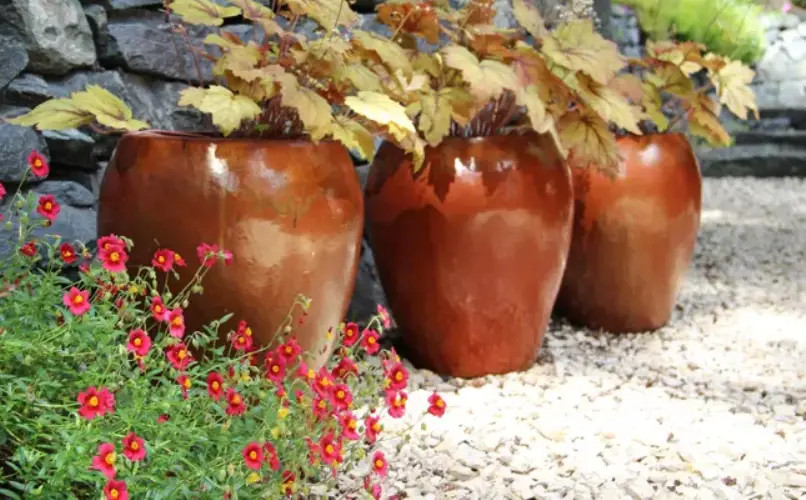 When you want to add warm sensation towards your porch with limited space, you can use containers. These three pots provide you beautiful Sweet Tea. No wide area needed. However, you have to keep care of them every day.
Layers of Foliage
This Parisian rooftop let you to see a sophisticated small garden. With minimum maintenance you can plant heavenly bamboo, cotoneaster, and latin american fleabane. Those plants will dramatically change your balcony to be a fantastic tiny garden.
(Visited 126 times, 1 visits today)
Last modified: April 19, 2021