Romantic will be the basic thing when talking about valentine home decoration with the romantic interior design. In this case, the simplest way that you can do is by adding the room with romantic ornament such as the flower touch. Moreover, the balloon and any heart shape ornament are also worthy to have. Since decorating your home to celebrate valentine's day is quite important, then check these easy ways to have the romantic one.
Living Room Decoration
If you look at this living room decoration, you might think that it is really simple. However, you can't refuse that the decoration is really cute and romantic with its simplicity. All you should do here is just applying the pink roses here and there, whether with vases or simply put the roses that way. Then, top off the decoration with soft pink cushion cover for the last touch.
Dining Table Decoration
For you who love the festive thing, then this dining table will really fit you. With red and pink color scheme, this decoration is beyond perfect. Anyway, this dining decoration designed to be used as family dining event to celebrate the valentine. Well, it is not surprise since valentine is the celebration of love which means that it is for everyone you love. If you want more romantic designs, check out Valentine dining table decoration.
Bedroom Decoration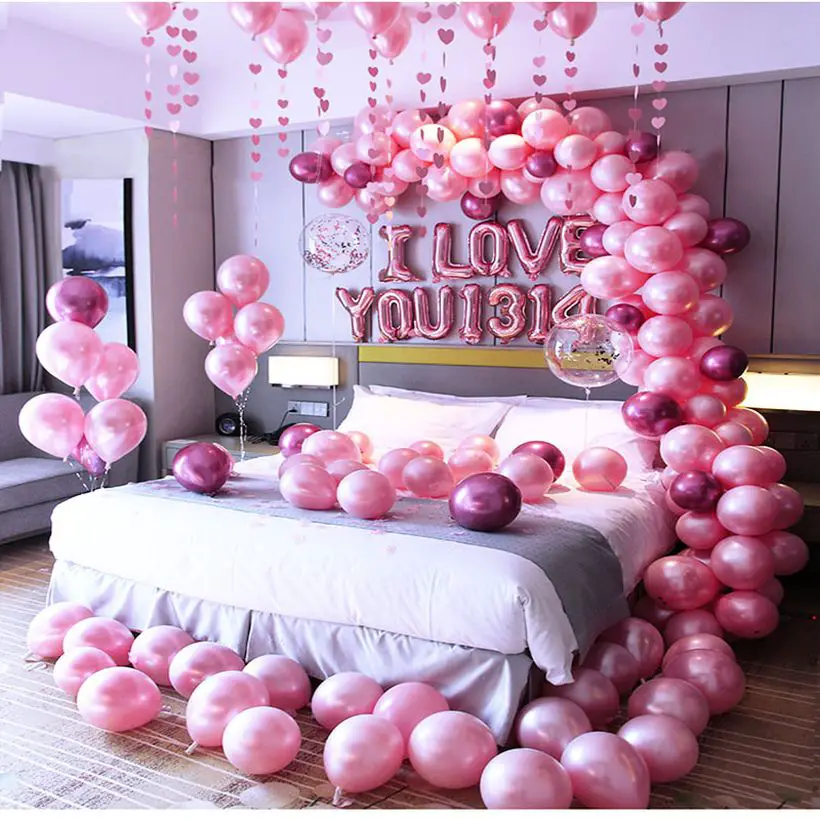 Not only for roses, balloon can always worthy too for your valentine decoration. Just like what we have here, you can use pink balloons to decorate the bed, wall, and even the ceiling. Additionally, buying the word balloons will be such a great idea. Choose the words then arrange it to create the sentence you want. See more at Valentine bedroom decoration for more romantic designs.
Bathroom Decoration
By simply spreading the red rose petals, you can make your bathroom has its romantic atmosphere. It is great how simple thing can create such a big influence. In hence, if you want more romantic touch, then just put the others rose petals into the sink, vanity, or even the bathtub.
Fireplace Decoration
Since the weather during valentine celebration is still cold, then don't forget to give your concern into your fireplace. Look at how pretty and romantic this fireplace decoration could be. Here, you just need the pink balloons and lot of vases with pretty blooming to create the romantic atmosphere.
Kitchen Decoration
For your kitchen valentine decoration, you can do it with some snack and drink ornament. The reason is simply because kitchen will be closely related with food and drink preparation. Choose the pink or red ornament to really strengthen the valentine impression. At last, don't forget to put some flowers for the perfect touch.
Ceiling Decoration
Applying the heart shape ornament into your ceiling decoration could be the best yet easy way for you. It is because by looking at the pretty pink and red hearts hang seems to be enough. Indeed, it is really easy to create the heart shape. As your consideration, adding the ornament with glitter can be the stand out one for the decoration.
Front Porch Decoration
Because the weather is cold, you could focus on how to bring the warm feeling for your porch decoration. In this case, providing the red blanket will be the right choice for you. You can even have it from your last Christmas decoration. In hence, put some matching red stuff to be paired with the red blanket.
(Visited 169 times, 1 visits today)
Tags:
romantic decoration
,
valentine decoration
Last modified: September 25, 2020