Elegant Small Bathroom Decor Ideas on a Budget
Do you plan to renovate your tiny bathroom and have no idea how to start? This article can be your reference to get some inspiring ideas and we guarantee you will have an on-budget bathroom renovation. As we know that we sometimes get challenged in arrange and maximize a minimal space, especially the bathroom. For those who have a limited budget, trying to get a cheap renovation does not lessen the sense of being practical, functional, yet totally stylish for the bathroom itself. Now, the following description will lead you to make an elegant and cozy tiny bathroom.
Fresh Bathroom Paint
Some designers suggest choosing a neutral and fresh paint for a tiny bathroom. It surely helps you on making an airy ambiance. Moreover, it is not a secret that choosing white as a dominant color will trick the eye and brain that the bathroom looks larger than the reality it is. In addition, you are allowed to combine white with another bright color like blue, green, grey, purple, and so on. A fresh color scheme absolutely will create a cozy ambiance and relaxing feeling though the space is not large enough.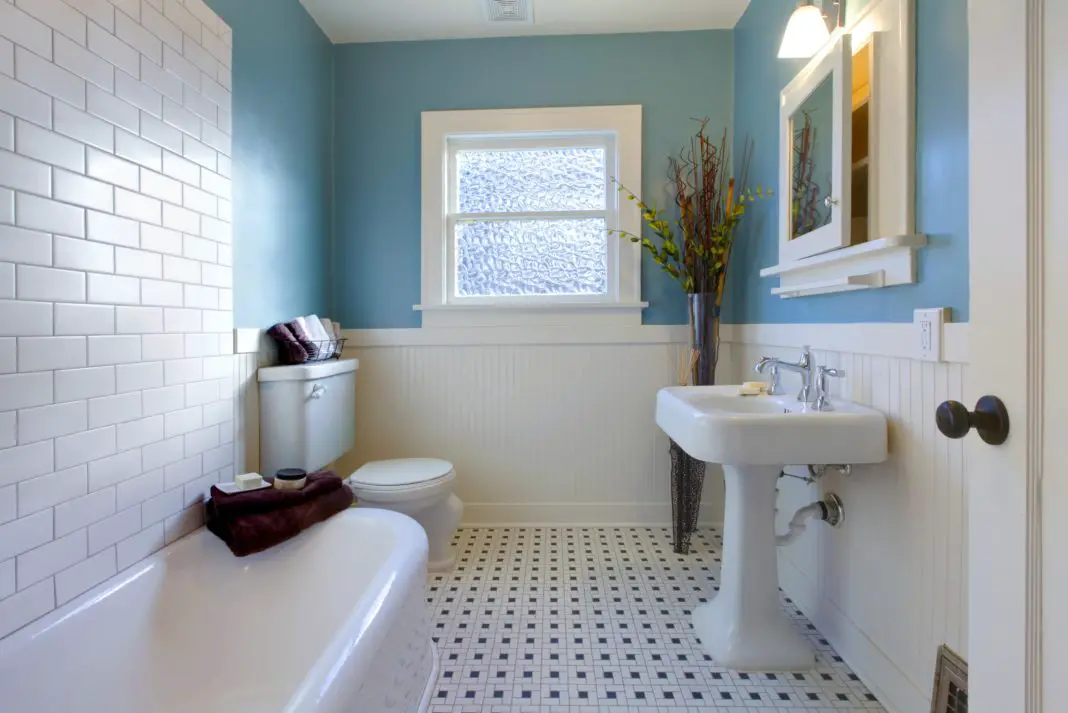 Do you need a color inspiration to make your tiny bathroom look bright and spacious? You can combine it with a light blue color for your bathroom color scheme. Pair it with patterned tiles that can make your tiny bathroom look attractive. Some white furniture is added to complement your bathroom decor on a budget. Light blue and white color bathroom ideas from moneycrashers.
It's really a fresh tiny bathroom decor and can make your bathroom feel natural. Just use blue to paint your bathroom walls and complete it with a natural accent in the form of flowers blooming in a vase to let fresh air into the room. Paired with white it provides the perfect contrast that will create the perfect look. Blue and white bathroom from hgtv.
Fresh and cheerful are the right words for this tiny bathroom color scheme idea. blue is a great color to improve your mood and make you feel refreshed when you shower. And also this color can make your bathroom look elegant. With a classic bathroom style equipped with hanging crystal chandeliers and thin white curtains, it will create the perfect decoration. Classic bathroom with blue and white nuance from hgtv.
This is a simple way to make your small bathroom look elegant. All you need to do is applying fresh and bright paint to brighten up your bathroom and make it look bigger. bright colors can brighten up the look of your small bathroom. Choose a gray color to provide the perfect contrast to your bathroom. Gray and white bathroom from airtasker.
Unique Lighting Fixtures
Thinking about some efforts to make a tiny bathroom looks more stylish and has a larger impression, you cannot ignore its lighting aspect. Appropriate lighting is another element that helps to create a spacious impression. Install the main lighting fixture and add some additional lightings for your vanity with wall lamps or shower bathroom with downlights.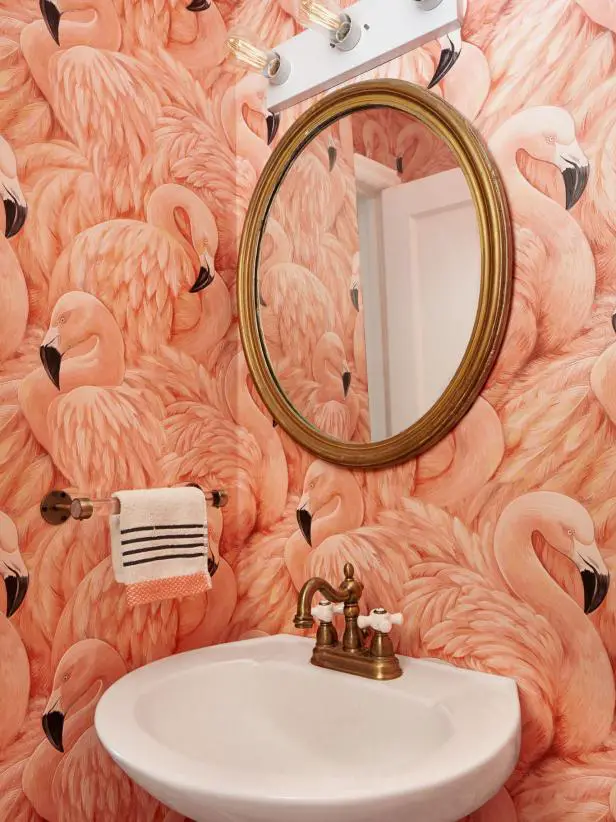 If you only have a limited budget to decorate your tiny bathroom, you can use light bulbs for your bathroom lighting fixtures. It's easy to do, use a plank to set the bulb and attach it to your bathroom vanity. With a mix of pink vlush swan wallpaper it can change your tiny bathroom to look elegant. Light bulbs above the sink from hgtv.
Another decoration that can make your bathroom look elegant is installing the right lights. You can choose a vintage wall lamp that you can find at flea markets. This is a small bathroom decor that is on the rise but can create an elegant look. Combined with wooden walls and some vintage furniture to complete the look of your bathroom on a budget. Vintage wall lamp from hgtv.
Finding the right lighting fixture for your tiny bathroom is very important. because it can make your bathroom look elegant. You can choose a scone lamp and attach it to the side of your dressing mirror. This can change the decor of your bathroom to make it look more attractive. The downlight in this shower room provides the right lighting. Downlight and Scones lamp from hgtv.
Bathroom Wallpaper
Wallpaper is chosen by some people who want to transform their bathroom instantly. As well as, wallpaper brings both functional and aesthetical values for tiny bathroom decoration. The patterns like floral, stripes, animal, or hexagon will amaze everyone who is in the bathroom. Beautiful wallpaper with soft colors creates a peaceful ambiance. And, applying wallpapers for your tiny bathroom means you put texture through artistic elements.
If you need an instant way to make your bathroom look elegant and attractive, cover the bathroom walls with wallpaper. You can choose a wallpaper theme that suits your style. If you want a cheerful atmosphere, choose a wallpaper with colorful flowers. So that your bathroom will look attractive and stylish for you to try. Colorful flower wallpaper from apartmenttherapy.
This gray wallpaper is suitable for those of you who want to create a fresh atmosphere in your tiny bathroom. Choose an attractive motif and give it a touch of gold to give it an elegant impression. Gold accents on the wall lamps, mirrors, and faucets will give your small bathroom a glamorous look. Gray wallpaper from apartmenttherapy.
Better Storage in the Bathroom
It is a must that you have to keep your bathroom clean, stylish, and tidy. To make it true, you had better consider the best storage for your tiny bathroom. Since you only have a small space, you have to organize your stuff and towel as well as possible. Use cabinets to keep your stuff in closed storage. Clean towels will be kept clean in this kind of storage. Furthermore, to save the space, provide floating shelves to put your stuff and as a display for some ornaments, greenery, or artwork.
Apart from being able to save on your tiny tiny bathroom, a storage area that is mounted above the toilet can create a graceful and charming look. You can make your own open shelves with wooden blocks so that it will have bathroom decor on a budget. Combined with several other pieces of furniture to create an elegant look. Wooden open shelf from homebnc.
Well, those are some tricks for you who get challenged on decorating a small bathroom. These tricks are easy to apply and you know it will save your money more. Then, to make an airy impression for your small bathroom, consider having a large window so that you can get natural light and air. So, which idea will you apply first?