5 Tricks to Make Your Small Apartment Design Look Neat
Are you still looking for a certain formula to deck your tight-space home living? Thanks to the recent increasingly advanced interior designing inspirations, creating your small apartment design look neat, as well as look even more spacious, may be more achievable.
Read the following breakdown of several clever tricks to make your small living space look roomy and less cluttered.
Trick 1 – Multi-Purpose Furniture
Choosing furniture pieces that have multiple functions would be a great contribution to decor your limited-space home living. To name some of the furniture pieces with double-duty specifications are a sofa that can be converted into a bed, a coffee table with hidden drawers underneath, a coffee table which can turn into a dining table, etc.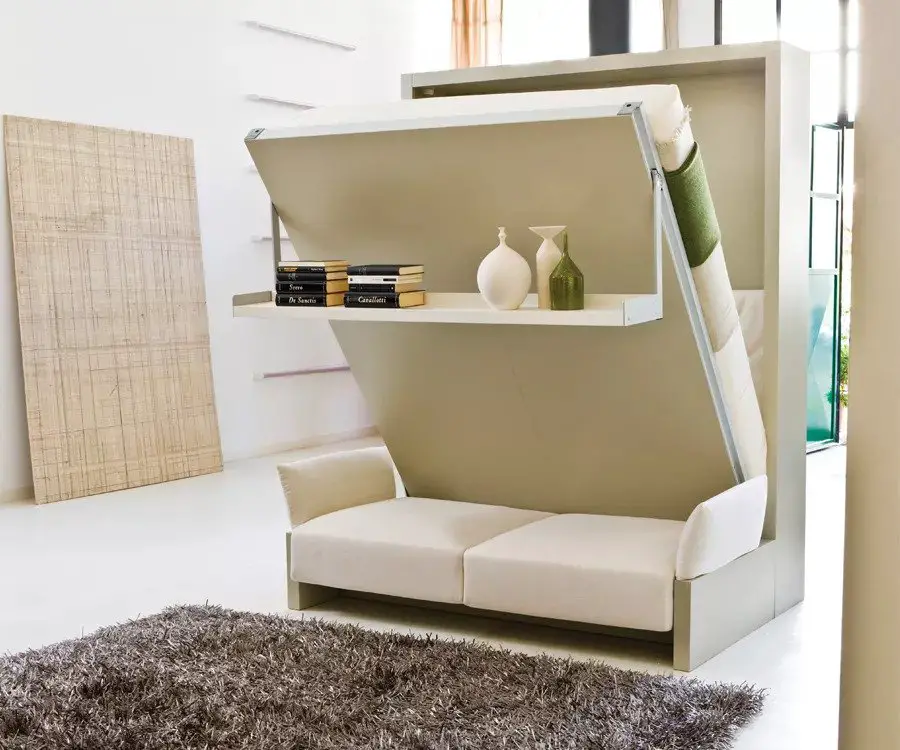 Versatile furniture suitable for decorating your small apartment. The sofa that blends with the bed is the best furniture that you must have, you just have to pull it out when you are going to use it. With this decoration, your apartment space will create a neat and airy room. You will get the perfect apartment decoration. Murphy bed from thespruce.
This sofa bed will provide the perfect decoration for your small apartment. You can pull out the sofa to make the perfect mattress. With this furniture you will save space in the living room of the apartment. You can also use white colors to give the illusion of a spacious and airy space. Wooden floors will also give a warm feeling if you mix them with this geometric patterned carpet. Green sofabed from hgtv.
Trick 2 – Storage Camouflage
For a tidier space, you may "hide" your storage ideas. Multi-purpose furnishing can be the first common idea. Or, you may opt for storage furniture in the same color that blending well with your walls. For a more brilliant example is storage ideas under your staircases. They will make your storage efforts look invisible, in functional and decorative ways.
Storage under the stairs is a hidden storage idea that you should try in decorating your small apartment. This storage will help you place small items so that they are easy to find when you need them. Install some neatly arranged iron wine miniature racks so that you will give yourself an interesting treat and this will attract guests when entering your little apartment. Rack wine bottle under staircase stoage from shelterness.
Using under-staircase storage is another idea to try in your small apartment. That way, you can store a few items safely and make your room tidy and avoid clutter. This is a brilliant idea to decorate the space in your apartment. Using a large drawer storage system will make it easier for you to store items. Under-staircase storage from shelterness.
Trick 3 – Wise Space Partition
Separate your space wisely can be the next step to make your small apartment design look neat. Using your bookshelf as a divider is one of the smart ideas. Another tip can be applying not-too-high room separators that allow light at the same time. Alternatively, you may put different colored carpets or area rugs for each space to create a distinctive effect.
Use a room divider with a size that is high up to the ceiling of your house to create neatness in your living room. Using white curtains that can beautify this room. This way you won't run out of chaayas because this decoration is equipped with the right natural lighting and will make the apartment look more attractive. Some greenery is added to create fresh air into the space. White curtain divider from apartmenttherapy.
Living in a studio apartment can be socially intimidating because your bed is right next to the sofa. This high shelf unit is the solution to separating these spaces without blocking out light. The shelves allow light to filter through while still offering visual separation of space. Open shelves allow access from both sides. This method is worth trying so that it will create an interesting room. Open shelves divider from homebnc.
Trick 4 – Retractable Furnishings
Not only saving a lot of space, but pull-out furniture also provides a more uncluttered look to your petite apartment living. Give a space with multiple functions with, for example, a wall-mounted retractable bed or dining table.
Pull out the bed when you want to use it. The work desk under the bed is also very useful in this space as it will give a small apartment plenty of space. wood is a warm and natural touch that makes the room even more beautiful. This way you will save space when decorating your small apartment. Add vertical greenery to the walls and a few pots for a fresh look. Pull out the bed from thespruce.
Folding furniture is suitable for decorating small apartments, because it saves space effectively and efficiently. The dining table which is equipped with vertical storage is the focal point in this kitchen. You can use wooden furnitures to provide a rustic feel to the kitchen of your apartment. Adding a wooden pallet shelf will give your room extra storage. Folding furniture dining table from remodelista.
Trick 5 – Wall-Mounted Tips
Wall mount your functional and decorative interior decor ideas surely make the most use of your existing limited-space. For instance, you may turn to a wall-mounted flat TV screen or wall-mounted bookshelf to display your books or other decorative collections.
A wall cabinet equipped with a TV and vertical storage you can use to store your books. This idea is very useful for complementing a small apartment decoration so that it won't look cluttered. applying white paint to make the room look brighter is a brilliant idea so you should try it. Combined with a soft sofa and an acrylic coffee table to make your apartment more stylish. Wall cabinet with a TV from sebringdesignbuild.
If you have limited space in the living room, then taking advantage of the free space on the wall is a brilliant idea for you to try. The TV screen and wooden shelves make for a functional interior decoration so you will give your floor space and won't take up much space. Using wood furniture is chosen because it gives an upward appearance. TV screen and wooden shelves from sebringdesignbuild.
Those are some not-so-hard ways to get your small apartment design look neat and more spacious thus ultimately comfy.