Recommendation for Your Living Room Curtain
Having a window in your living room is really great because you can have access to enjoy the outdoor scenery while spending your time there. Moreover, it also allows you to get the sunshine in for a fresher living room atmosphere. Related to the window, you will also need the curtain for sure. Here, you can't underestimate the existence of the curtain because if you can provide the right one, you can even use it to beautify your interior designs. Here are some recommendations that you can have.
Plain Neutral Color
For you who love simplicity, the plain neutral color is the right one for you. You don't need to be worried because even the plain one could be beautiful if it is applied with the right decoration combination. Especially when you have the simple modern decoration concept for your living room. Basically neutral color could be in several different colors like white, beige, grey, or black. However, if you want the calm and simplest one, you can choose white or beige colors.
This living room is truly magnificent! Using thin white curtains will make sunlight enter your living room. The designs are bold and incorporate everything from bright blues to earthy tones to black and white and lots of greens. Using high curtains to the ceiling will create the illusion of a tall room. Don't forget to add a subtle rug in white and black placed on top of the burlap rug. White sheer curtain from airtasker.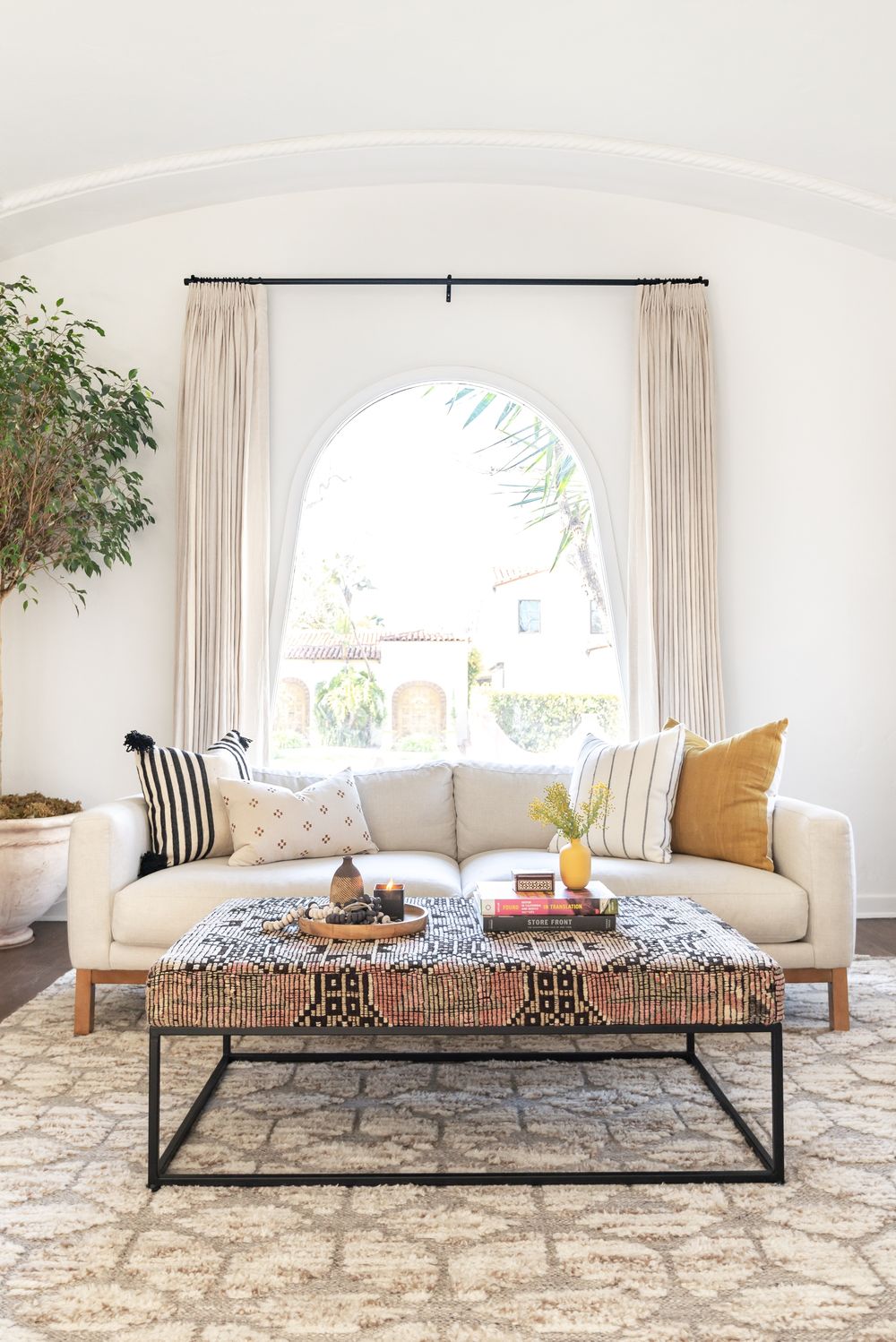 Applying a simple boho living room decor by choosing a beigi color on the curtains will give a stunning look for you to try if you combine it with the right furniture. This loveseat sofa and boho ottoman coffee table will complement your living room décor. Applying curtains to the ceiling will give the illusion of a tall room. Beige curtain on boho living room from airtasker.
Completing the decor of this boho living room with high white curtains really makes the illusion of a bright space and the room looks tall. Add a lovely blue-green sofa, and a lovely single green chair on the right will make your living room even more comfortable. You can use wooden floors to give a warm impression to this boho living room. White curtain high to celling from airtasker.
Natural color curtains are very useful and balance the living room to make it look attractive but collected. In addition, natural color curtains can present a brighter atmosphere. Combined with white nuances and a mustard sofa this makes for the perfect focal point of the room. The wooden floor, which is completed with geometric patterned rugs, will give a warm feeling to the space. White curtain and mustard sofa from airtasker.
Patterned
Something pretty and festive could be reached by using the pattern. It will work well for the curtain too. There are some patterns that are possible for you just based on your living room decoration concept. Anyway, if you want something pretty but still simple, then you can still use the pattern by choosing the simple one. In this case, the stripe is a common pattern that could create a simple impression.
The two-tonne grid pattern offers sufficiently interesting detail without looking too busy with the main color in the scheme. This helps the room feel larger and more relaxed.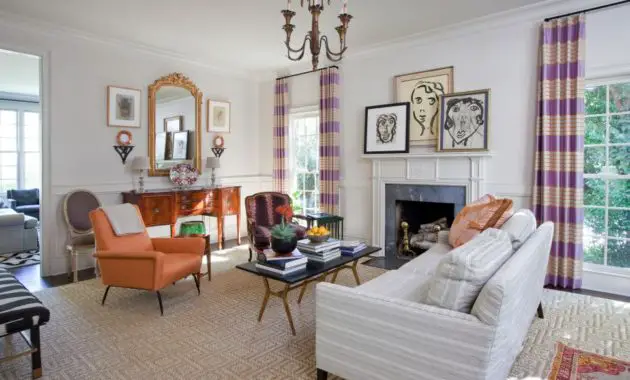 The striped pattern chosen for this curtain works like a well-chosen piece of art. Using purple and cream colors will give the room a simple impression. Decoration Will help the room feel larger and relaxed when combined with white nuances like the picture above. Use soft rugs throughout the room to give it a warm look. Striped pattern curtain from hgtv.
Make your room look bigger and luxurious by hanging the curtains at least 12 inches above the window frame or to the ceiling. Using gray and white patterned curtains will attract people's attention. Also try extending your curtain rods 3 to 6 inches on each side for maximum effect. This decoration is worth trying so that it will make a simple yet attractive living room decoration. Gray and white patterned curtains from hgtv.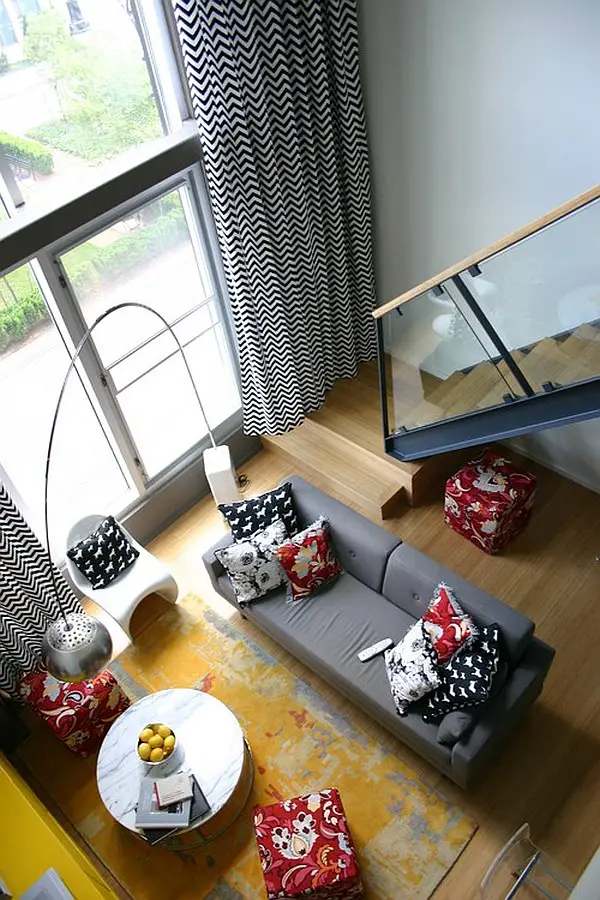 The geometric pattern on the curtains can give a unique impression to your living room. You can choose black and white tribal patterned curtains to present a calm atmosphere. These floor-to-ceiling curtains give the illusion of a room that looks tall and creates the perfect room look. Complete with wooden floors and patterned rugs in matching colors to make it look harmonious. Tribal floor-to-ceiling curtains from decoist.
Layered
In case you want to have more privacy in your living room, then the layered curtain is the answer for you. You can apply the sheer material first then you can layer it with the solid one. Commonly the sheer curtain is in white color, then for the solid curtain, you can choose whether with the plain or the patterned just based on your needs. Hence, the layered curtain not only can be used to add privacy but also really useful to add the style for your living room.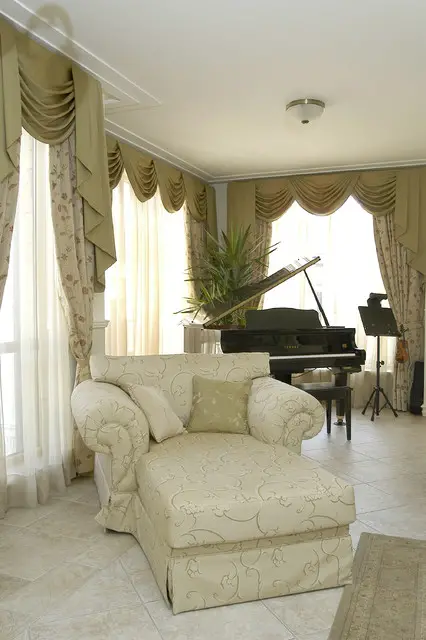 In the living room adding color through the curtains is a great idea and is also suitable for designing a flow throughout the room without going over the top. The use of thin and thick curtains will enhance your living room decor. Layered curtains can not only be used for added privacy but are also very useful for adding style to your living room. This classic living room will look luxurious with gold on the linen drapes. Clasic living oom with sheer curtain from architectureartdesigns.
Curtains are accessories that can be easily replaced. To feel a more elegant vibe. The touch of layered curtains will make the living room concept more stylish. Using light white curtains and gray linen curtains will add an interesting impression to your living room. This floor-to-ceiling tiari creates the illusion of a lofty space. Light white curtains and gray linen curtains from architectureartdesigns.
The living room with muted colors on the walls is combined with accents layered with soft curtains. Bringing the feeling of the living room will be more perfect. These sheer white drapes and beige linen drapes create the perfect room decoration so you should emulate them. layered irises can not only be used for added privacy but are also very useful for adding style to your living room. Layered with soft curtains from architectureartdesigns.
Basically in choosing the right curtain design, you can adjust it based on your living room decoration style. You can choose by using the consideration that we have explained before. Anyway, whether the plain or the patterned, you can apply both of them in layered style if you really need it. Although it will need more budget, it is worth especially when you need privacy for your living room.