There will be so many choices for the ornament of your living room decoration to deal with the beauty of your room. Here, you should choose the best one for your living room, since you can't apply all things at once into your living room. That won't be good because you will make your living room crowded. From all of the ornaments that exist, there are three things that you can apply which will be discussed more down below.
Wall Gallery
You can't let your wall looks plain and empty for sure because that will be such a waste. Utilize the wall to beautify your living room and you will get an awesome and functional wall design. Moreover, for you who have a painting or portrait collection, it will be really great to have your own gallery in your home. You can enjoy your collection while watching Netflix or playing the game. In hence, you will impress your guests as well so that you can make your guests to come again visiting you.
If you have a favorite collection of art, family photos, or postcards that you really like, grouping them on your gallery wall creates an authentic and eye-catching display. Combined with a light gray background, this will result in a stylish room decor that will attract the attention of many people. The selection of various sizes on this frame will produce an attractive room decoration. Asymmetry gallery wall from realhomes.
Enhance your gallery walls even in small living rooms by maximizing the size of your prints and frames. Choosing a variety of frame sizes will give you a higher visual impact, then keep your color scheme simple, so hues and other design details flow seamlessly with the rest of the room. Combined with a white color scheme and a gray sofa will create a spacious and comfortable room decor. Gallery wall from realhomes.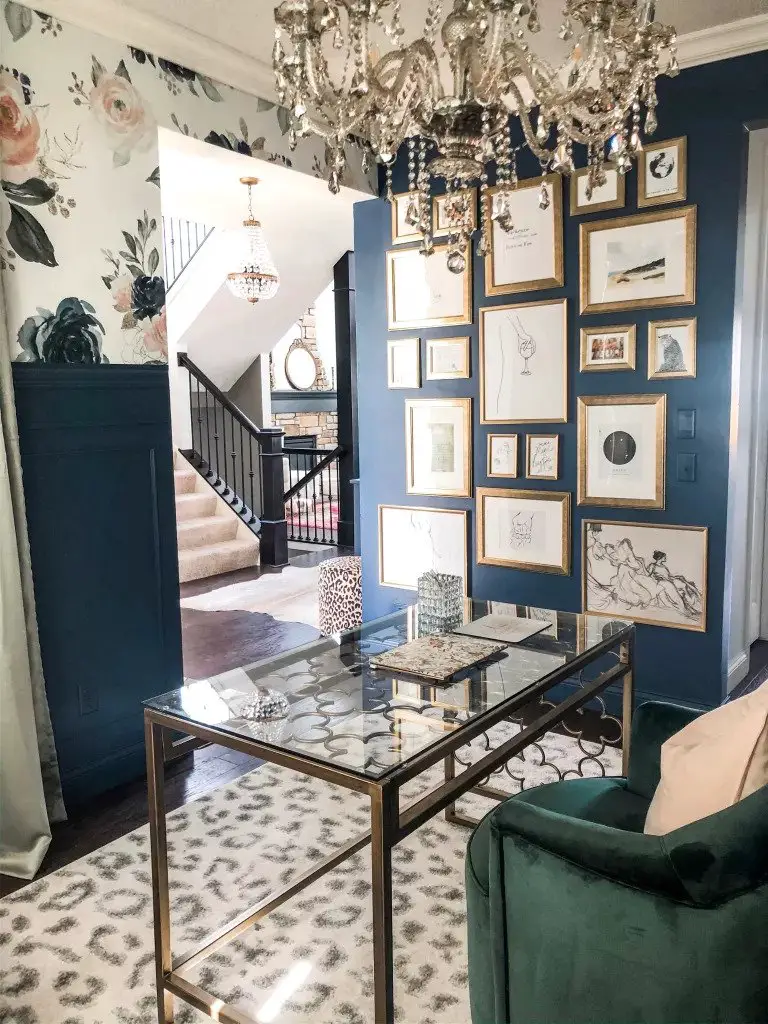 The walls in this living room are equipped with several gold-framed wall galleries that will produce a luxurious and elegant look. With various sizes, this wall gallery will be a focal point and a perfect display. Pair it with navy walls and crystal chandeliers for a warm and luxurious look. Gold-framed wall galleries from realhomes.
Take advantage of the walls to beautify your living room and you will get a cool and functional wall design. Using wall galleries of various sizes and shapes makes this an attractive guest money design. The addition of open storage shelves will help you to store various ornaments and your book collection. Wall galleries living room from realhomes.
This artist's eclectic gallery wall transforms a dull, standard-looking canvas into one full of dramatic character and charm. Mixed media will add depth and make a statement. This black frame with several photos in pop colors will present an attractive room decor and will steal the attention of many people. A black leather sofa and armchair will also provide extra comfort. Artist's eclectic gallery wall from realhomes.
Wall Art Work
What is meant with artwork here is something that is made of certain material to be used in creating the artistic form. It will give a different impression with the painting or portrait because the artwork will have texture and dimension. It can be useful not to make your room looks boring with the dimension. Moreover, if you can provide the stand out one, you can even use it as the focal point where you don't need any other ornament.
This living room captures the feeling of a sunny winter day. Geometric snowflakes hanging on the wall enhance the theme while adding a bit of modern texture. This yellow wall paint gives the room a bright look and still looks fresh. A roaring fireplace, plush white rugs, and an adorable sleigh-shaped coffee table all come together to create a fun atmosphere. Geometric snowflakes wall art from homebnc.
Triptych is a work of art expressed in three panels. These artistic prints all match the fun pineapple theme. The matching gold frame ties the pieces together and adds a touch of class to the design. A neutral sofa has cushions selected to match the color of the sofa. the result is warm, playful, and decidedly modern for a stylish look. Artistic prints wall decor from homebnc.
This artwork in the form of a painting of the tree of life arranged with fire gives an attractive appearance. This piece of art makes a great addition to an ornate living room. Hang this piece in the center of the room where everyone can appreciate it. Combined with a beige color background and a beige leather sofa also provides a contrasting look. Artwork wall decor from homebnc.
Abstract art is a great addition to any modern living room. Adding this painting will fill the space on your wall. It can be useful not to make your room look boring with its dimensions. Combined with a white background and a soft sofa, it offers the appearance of a spacious and comfortable room. Abstract wall art from homebnc.
This beautiful wall art piece uses color and texture in a visually stunning design. Each block of wood is immersed in yellow and white. The light playing on these slanted beams really brings out the colors in them. Placing it on the sofa will create a stylish room decor and make it the perfect focal point. Wooden wall art from homebnc.
Coffee Table Ornament
Not to make your coffee table looks empty, it will be great if you can provide the ornament to it. From the decorative candles, jar, vase, or the planter for the decorative plant all will be great. What you have to make sure of is that you still left the space to put some beverages and snacks. In hence, too much ornament will make your coffee table looks crowded which won't be good at all. Here are some references that you can adapt for the proper coffee table decoration.
Flower vases and some other ornaments on the coffee table will make your living room look more perfect without being overwhelming so that it can inspire everyone who sees it. Choosing a modern coffee table with marble countertops and geometric legs will create an attractive and perfect-looking room. Flower vases on top coffee table from homebnc.
Modern living room decorations with ornaments on the coffee table will give it a special charm. You can add decorative candles to make your living room look more beautiful. In addition, this stack of books will complete the look of your coffee table. Choosing a coffee table design with gold accents will produce an elegant and luxurious room. Gold candle holder from homebnc.
Placing decorative candles and flower vases on your coffee table will bring perfect beauty and freshness to your living room. In addition, some marine decorations will complement the beach decor in your living room. Using this shabby wooden coffee table produces the perfect look and will steal the attention of many people. Seashell ornament from homebnc.
On this coffee table, you can complete the look with some stylish ornaments and steal the attention of many people. The wicker basket keeps the various elements well grouped. Some of these green moss and ceramic vases make for an eye-catching display and make the perfect focal point of the room. Green moss and ceramic vases from homebnc.
Warm and inviting lighting also doesn't hurt you to try on your coffee table decoration. Macarons and Jordan almonds are a surefire way to please your guests. These blooming flowers in a glass vase are a great example of creating a fresh and stylish-looking room. Glass candle holder from homebnc.
It will be great if you can provide all of the ornaments in your living room as long as you know the right measurement. The point is that, if you have provided the one that can be the focal point, don't put any other ornament again because that will give a crowded impression. You might still provide the other ornament but in a small one or in a simple design. The key is how you can create such a harmonious decoration!
(Visited 29 times, 1 visits today)
Tags:
living room ornament
Last modified: June 7, 2022