A timeless grace that is always favored throughout centuries, these French country bedroom decor idea collaborates a delicate detail of old France and more rustic and shabby-looking ornaments from the countryside. Seemingly elegant and out-of-touch, this French country bedroom decor idea is actually comfortable and gentle to live in.
Being feminine without looking overly, added with soft pastel that gives off gentleness and delicate feeling, here are the five finest French country bedroom decor ideas you can install immediately.
1. A Lavish Bed Crown
Less expensive and troublesome than a bed canopy, a bed crown is an elegant, Paris-Esque decoration that will perfect your French country bedroom decor idea. Not only that the bed crown makes your room looks bigger, but you can also customize it so that it matches your room's decor.
The charming French country bedroom décor boasts an attractive gold iron bed crown with white lace fabric. Complete the appearance of this bed crown with a vintage-style painting that is large enough, after that you can hang it on the wall between the two beds that are used. Gold iron bed crown with lace fabric from hgtv.
Usually, French country-style bedroom decorations use neutral colors, this time you can try using a bright yellow color on the bed crown with elegant patterned fabrics that are not too bold. Furthermore, you can use some white interiors to harmonize the color tone of the room which is still beautiful when used as a view when entering the bedroom. Yellow patterned bed crown from hgtv.
This bed crown design with floral fabric is the focal point of a very striking French country bedroom. Match the pattern and color of the bed crown fabric with the bedroom wallpaper as a harmonious bedroom decoration without losing its perfect appeal. Floral bed crown from hgtv.
Two layers of fabric that coordinate well for a bed crown design is an eye-catching and attractive decoration that you can use in a French country bedroom. This bed crown will protect you from the excess light generated by the lighting of the chandeliers installed above it. Combine white satin with green for a prettier look. Satin bed crown from homedit.
2. A Set of Gilded Frames
A classic, elegant touch that is easy to find, try to arrange these gilded frames around your bedroom's furniture such as bed or dresser. Voila, you'll instantly achieve that rustic, princess-like look for your French country bedroom decor idea.
French country bedroom decoration is incomplete without a touch of gold that is applied through some of the interiors around it, for example, you can use several hanging mirrors of different sizes and shapes. Use a mirror frame that is equipped with beautiful carvings that give a vintage impression. The gold frame on the sign is a sweet finishing touch. Gold mirror frame and signs from homedit.
The gold frame of the bed that is placed in a bedroom decoration gives the impression of luxury that is not excessive so you can try it easily. This gold color will display a more glossy surface when exposed to reflections of lights or sunlight. Combine with a tufted mattress for a warmer, softer surface and of course comfortable to use throughout the day. Gold bed frame from homedit.
3. A Dangling, Beautiful Chandelier
Every French country bedroom decor's must-have, your Parisian bedroom won't be complete without the dangling crystal chandelier on your head. Find one that matches the color of your bedroom, and you'll instantly get a lavish space to lay around.
Lights are one of the important accents that must be in a room as lighting that will help your activities while in the bedroom. Choose and use hanging chandeliers made of transparent crystal which looks more luxurious. Hang this lamp just above the bed to get a maximum light reflection. Hanging crystal chandeliers from shelterness.
Glass chandeliers that have orange lighting are the best choice for decorating a bedroom with a romantic and warm theme. Usually, these decorative lights are hung on the ceiling of a French country-style bedroom. If the chandelier is not bright enough, then you can add wall scones and table lamps as additional lighting that can be used simultaneously. Combination of glass chandeliers with wall scones and table lamp from shelterness.
The best lighting option that you can try for a French country bedroom decor is white crystal chandeliers that have a color that matches the feel of your current room. This lamp is able to illuminate the room maximally at night so it is highly recommended for you. The shutter window adds to the sunlight in the morning before noon. Hanging white crystal chandeliers from shelterness.
4. Vintage Bedsheet
Your French country bedroom decor idea adventure won't be whole without the audience of a cozy, inviting vintage bedsheet Whether it's decorated with frills, ribbons, or laces, sleeping on it will definitely make you feel like the Marie Antoinette herself.
Choose and use ruffle bedding with a plaid pattern to complete the French country bedroom decor this year. Combine this plaid pattern bedding with a layer of plain white fabric as an additional warming accent that can be used simultaneously. Nightstand reclaimed wood becomes vintage furniture that really supports your current room decor. Combination of plaid ruffle bedding with a plain pattern from homebnc.
The ruffle accent on your bedding is made of lace material so it looks more attractive. The pastel colors on some of the fabrics above the bed make the room more colorful, you can try combining it with a plywood headboard to have a smoother and softer surface. The use of a rug with a wider size becomes warm footwear. Lace ruffle bedding from homebnc.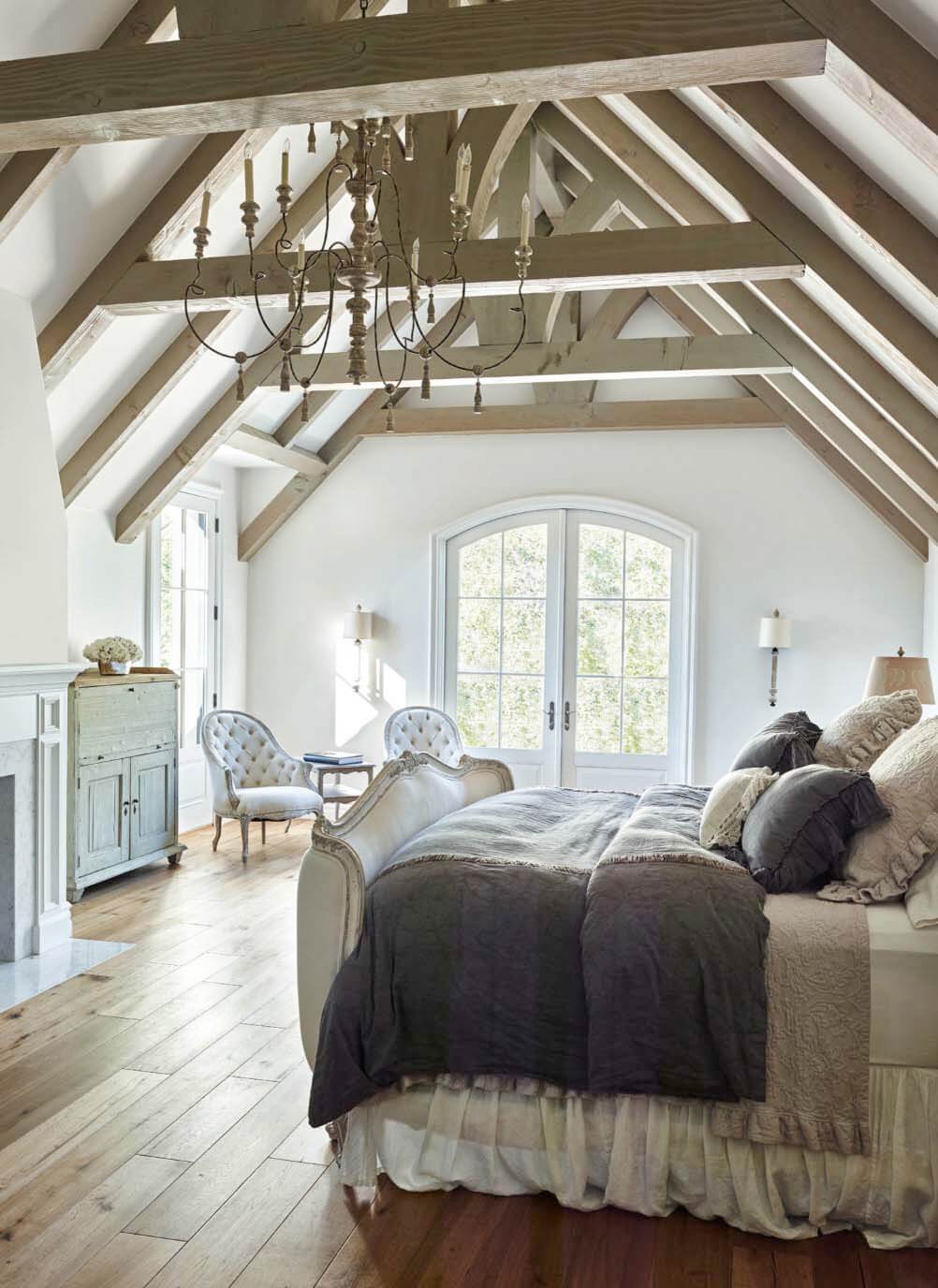 Several layers of bedding fabric applied on top of this bed will warm your body at night or during the day. In the ruffle accent bedding section, you can use white lace fabric that is equipped with an interesting pattern so that in addition to being comfortable to use, it is also a beautiful different sight. Gray is a blend of fabrics that have a darker color. White lace bedding from homebnc.
5. A Warm, Welcoming Wooden Walls
One of the easiest ways to achieve a French country bedroom decor look is by installing a wooden wall. Combining a relaxed and elegant look, wooden walls are also timeless and suitable for any occasion, in every era.
The wooden walls that are repainted in white make your bedroom decor look more spacious and clean. Match the interior or furniture used with your current wall color so as not to damage the elegant color tone of the room. Decorate the walls with some hanging greenery with flower wreaths for a more colorful and less boring look. Wooden wall repainted in white color from shelterness.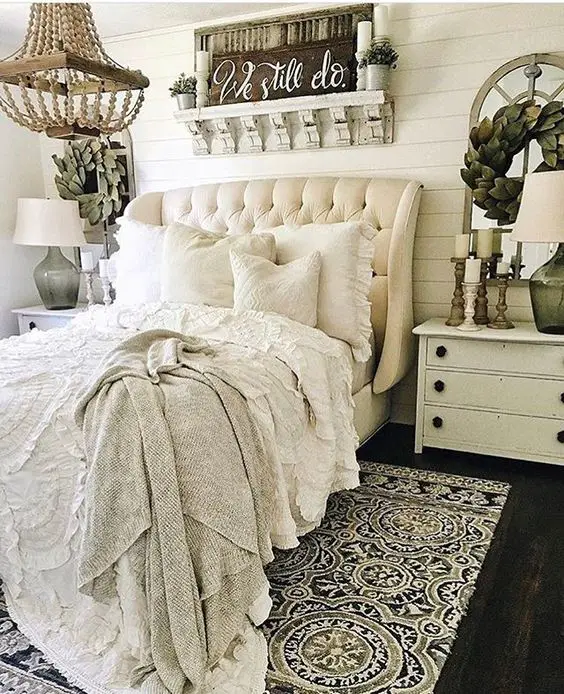 To emphasize the French country bedroom decoration in your home decor, you must use the right interior, avoid using bold colors that will damage the color tone of the room. This white wooden shiplap has a smoother surface and looks more natural. Hang recycle mirrors and wreaths on empty walls as inexpensive decorations and of course very easy to find around your home. Wooden shiplap walls from shelterness.
So that your wooden walls look more elegant and clean, then the thing you can do is repaint them with white. You can apply this white paint through the walls and headboard. The use of hardwood floors is a compliment that you can do easily without spending a lot of expenses. Repaint wooden walls from shelterness.
The French country bedroom decor idea will never get out of style. While it's already far beyond the timeline, many still fancy its elegance and want to display it in their own room.
(Visited 83 times, 1 visits today)
Tags:
Bedroom decoration ideas
,
French Country Bedroom
Last modified: June 13, 2022