Something that becomes a focal point for the garden is the plant itself. Then, it will be closely related with the planter since the plants need the planters for sure. In this case, providing the pretty and impressive planters are really worthy to create the pretty inspiring garden design for your perfect yard. Since there are so many different kinds of planter, then let us talk about the most common planters that have the beauty and strong characteristic.
Wooden Pallet
Wood can be said as the most popular material for a planter. Not only cheap, it also really easy to find and flexible to be formed to any planter shape. Moreover, it is also won't be out of style no matter what. The other interesting about the wooden planter is that it could be created into any style you want to bring into the garden. What you have to do is just giving the color or pattern based on the style characteristic.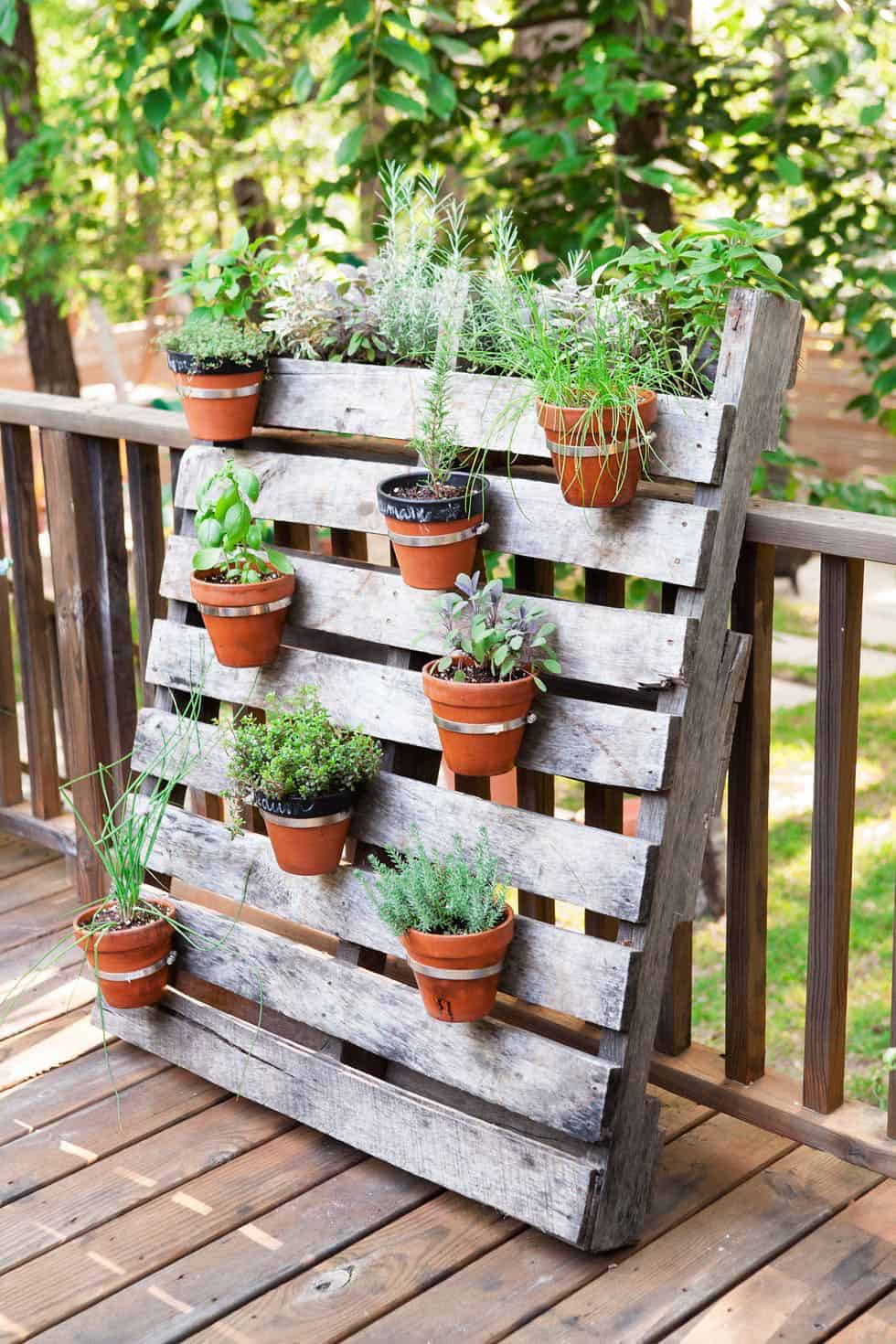 Standing pallets with a size large enough are easier to move anywhere according to your home decorating needs, now you can put them on the patio in the backyard of the house by leaning it against the fence area. This pallet is equipped with several terracotta pots planted with herbs that can be used when needed. This terracotta pot consists of rosemary, basil, mint and others. Standing pallet with hanging terracotta pot from onekindesign.
If you have a terrace with a wider floor space, then you can use a pallet wood bench which is equipped with a built-in planter pot filled with fern plants that are stronger against all weather changes outdoors. Cover the surface of this pallet bench with a throw pillow to make it more comfortable and soft when in use. No need to repaint for a more natural look. Pallet bench with built-in planter from homebnc.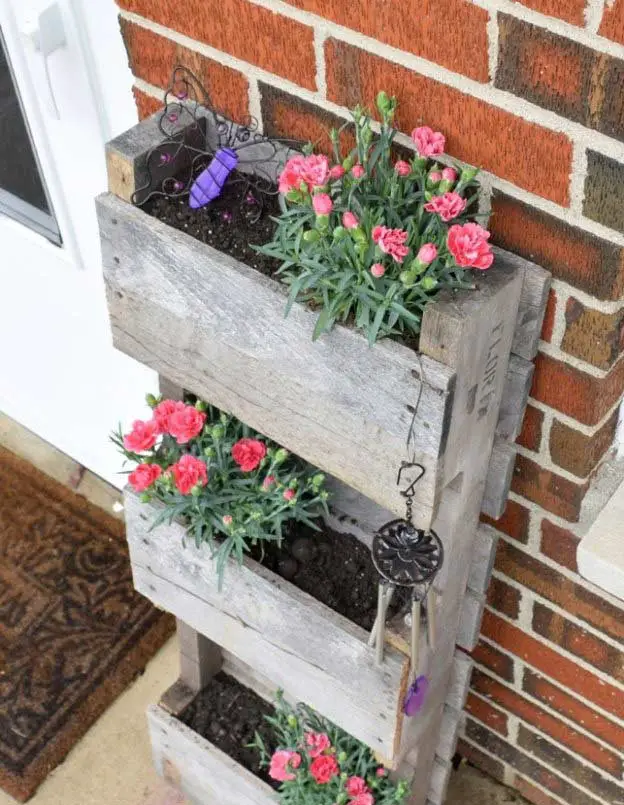 This shabby chic recycled pallet planter is filled with blooming pink flowers so that it can be used as a decoration for your front yard that can be used as a first welcome for guests who come. This shabby chic pallet material gives a vintage and rustic feel at the same time so that it adds a natural vibe to your patio decor. Rest this planter pallet against a wall area to prevent it from falling and causing a mess. Shabby chic pallet planter from homebnc.
Grow your potted herbs by planting pesticide-free herb seeds in your backyard. Use some small terracotta pots and place them on a pallet that has been adjusted with black paint writing. Repaint this wooden pallet with a bright yellow color to make it look clearer and more contrasting when complete with writing. Do the treatment regularly to get maximum results. Yellow palette with plant name from homebnc.
This planter pallet box equipped with wooden legs is a backyard garden decoration idea that is easy to make and looks taller. You can fill this planter pallet box with one type of flower so that it can grow more optimally, make holes in each surface of this pallet box so that the planted flowers can come out and get enough sunlight. DIY planter pallet box from homebnc.
Recycle Material
Not only because of the cheap reason, the recycle material can bring the unique impression and artistic value sometimes. It will be depend on how decorate the stuff so that it could have the good value. In case you are confused on how to make the recycle materials become the functional and artistic planter, here we have some references provided on down below.
Repaint this fairly large drum in pastel colors like light blue and pink to make a cute planter idea that you can easily try. Add paintings of women and men on the outer surface to add real personality to your garden decor, umbrella accents are a perfect ornament idea that you can apply together. Large drum planter with umbrella accents from icreativeideas.
Check out this chandelier garden planter idea that has a maroon color, its striking appearance makes it used as a unique and unusual garden focal point. When you are going to use planter chandeliers, first take and switch the lamp or bulb to make it safer when reached by children. Hang this chandelier planter on a tree branch at a standard height. DIY chandeliers planter from icreativeideas.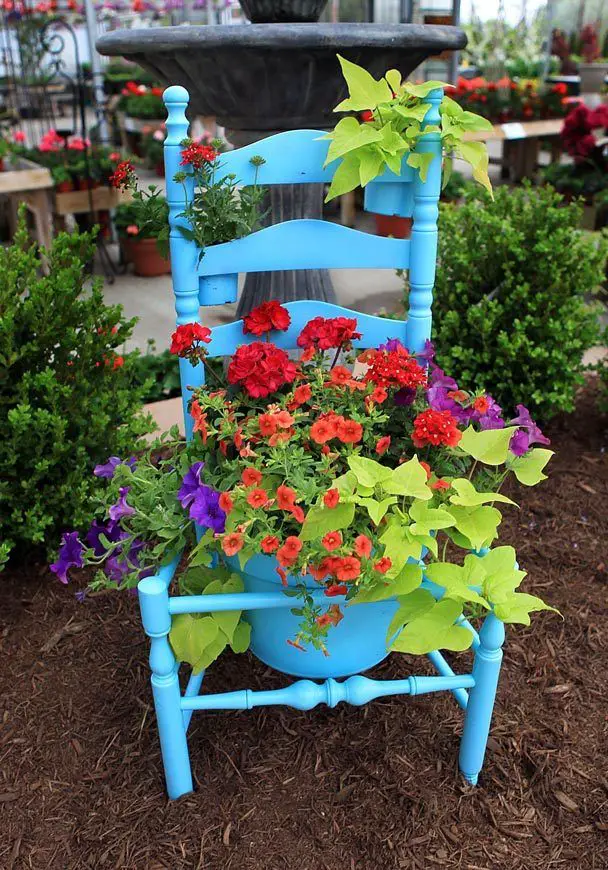 You can reuse old chairs that are shabby and damaged you can reuse as planter ideas in decorating your backyard garden. You can remove the seat on this wooden chair and replace it with a planter pot that is painted in blue so that it has color harmony with the shabby chair that is used. The various colors of flowers planted in one pot provide fun colors that you can enjoy whenever you want. Shabby garden with chair planter from icreativeideas.
An easy way to bring vintage style to your garden decor is to use a cage bird planter made of shabby iron without polishing and repainting. Because this cage bird planter has a size that is not too big, you can place it on an iron chair so that it is not stepped on by people who visit your garden, there is no need to fill this planter container too full for a more real look. Vintage cage bird planter from icreativeideas.
Do you have boots that are no longer in use? If so, then you can turn it into a garden planter idea so that it can be used even better and of course you can decorate garden decorations cheaply and very on budget. The first step you can take is to fill these boots with fertile soil and then apply the same type of flower to make it easier to carry out routine maintenance. Boots planter ideas from icreativeideas.
Mozaik Pots
Mozaik pot is also made of unused materials like glass or ceramic. Although in random arrangement, but it still surely looks really artistic. Anyway, if you want the neat one, you can apply it in a good arrangement with design pattern. Here, you might need to give your more effort since you have to match the mozaik form and color well. It is important because the pattern needs to use the same mozaik material.
You can stick colorful ceramic shards to one surface of the planter container for a different and more unique garden decoration impression. You can fill it with blooming flowers that will make this pot look more beautiful, do regular maintenance on this flower so that it can grow more fertile and fresh throughout the day. Colorful mosaic pots from thegardenglove.
Try attaching a few pieces of china ceramic plates to the surface of the pot for a different display of planter container ideas, you can add faux flower accents in various colors as a sweet finishing touch. Use this mosaic pot to plant succulents that are not too big so they don't cover the surface of this pot, which will make it look less than optimal. Mosaic pot from thegardenglove.
One fun way that you can apply to your garden decoration is the use of unique planter containers that are not usually used, now you can use mosaic flower pots equipped with butterfly accents. You can play this pot design according to your wishes, take advantage of ceramic plate shards with various colors so that they can be of better use to avoid a lot of waste. Mosaic flower pot from homebnc.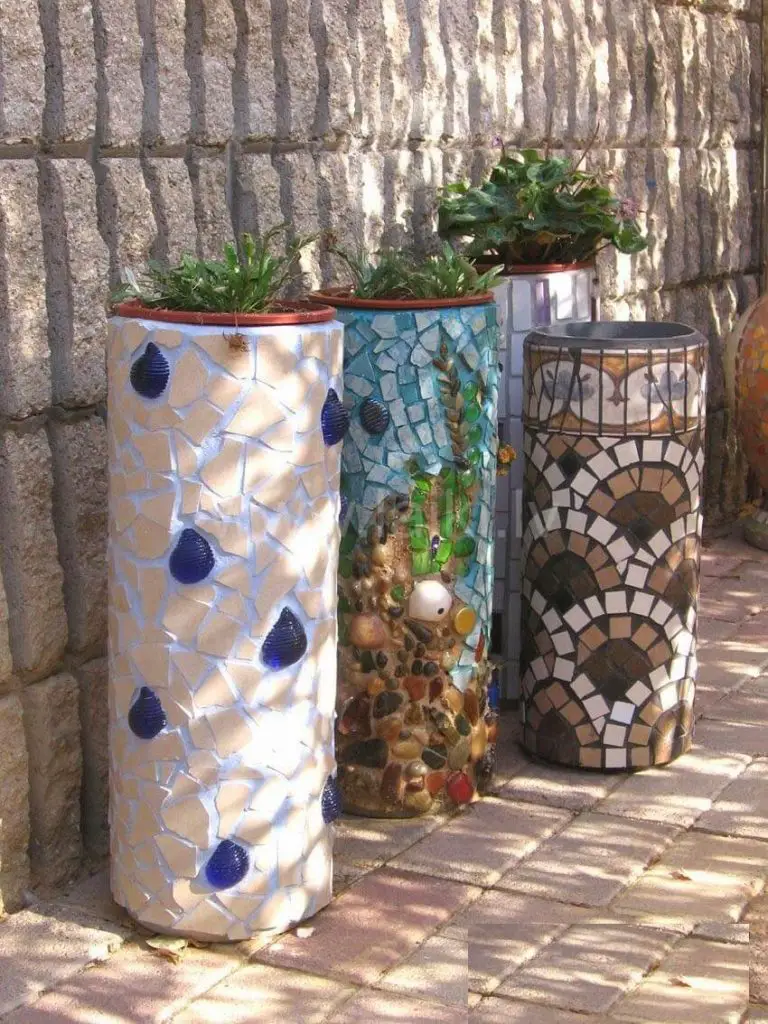 The green plants in your garden will look more alive and fun when you use a DIY cylindrical mosaic pot that is quite large and tall. You can use this pot more than one with different patterns and colors so that it can be used as a focal point of the garden which is used as a beautiful view when you are in this garden. Place this pot with a distance that is not too far away so that it can be seen more clearly. DIY cylindrical mosaic pot from homebnc.
If you have shards of ceramic floor, then you can turn it into something more useful by applying it to the outside of the pot so that it can be used as a unique planting container. Combine these ceramic colors in one mosaic pot to make it look more colorful and ready to be used to decorate your garden more perfectly. This mosaic pot does not require a lot of money so it is perfect for those of you who want to save on expenses. Blue mosaic ceramic pot from countryliving.
Those three kinds of planter have the difference characteristic and value as you can choose it based on your personal taste and the garden style you are going to bring. Moreover, you can also adjust it based on your budget and garden condition. For the mozaik, you can use your old clay planter that simply added with the mozaik. Go create and provide your garden planters that will be even more affordable since you can make it with DIY project.
(Visited 75 times, 1 visits today)
Tags:
Garden Planter Ideas
Last modified: October 13, 2022