It seems that your every-day mirror is getting worn out, means that it's time for little touch-ups to your old mirror. Express your spring spirit into your interior decor with flower-themed DIY mirror frame crafty ideas. You may use some stuff around your house or purchase some other items that won't burn a hole in your pocket.
1. Fresh Flower
Bring the flower garden inside. Pick some, for example, peonies, roses, tulips, and other fresh, colorful flowers from your own garden or get it from the florist. You have to tape your flowers along a circle or rectangular heavy-duty wire, and after finished, attach the flowered wire to the mirror frame by using several binder clips.
A round mirror with a fresh floral frame that uses peach roses and is combined with cute leaves. This wall-mounted mirror gives a more elegant impression and is not only for reflection but can also decorate your home. This gold frame will produce an elegant room and look more luxurious. Round mirror with floral frame from homebnc.
Charm is given to this beautiful flower-framed mirror. Using pink roses glued together can give a rectangular mirror an elegant look. Combined with the white frame this gives a sleek and clean look. Placing it on the bedroom wall creates a stylish room design and steals the attention of many people. Pink flower frmaed mirror from farmfoodfamily.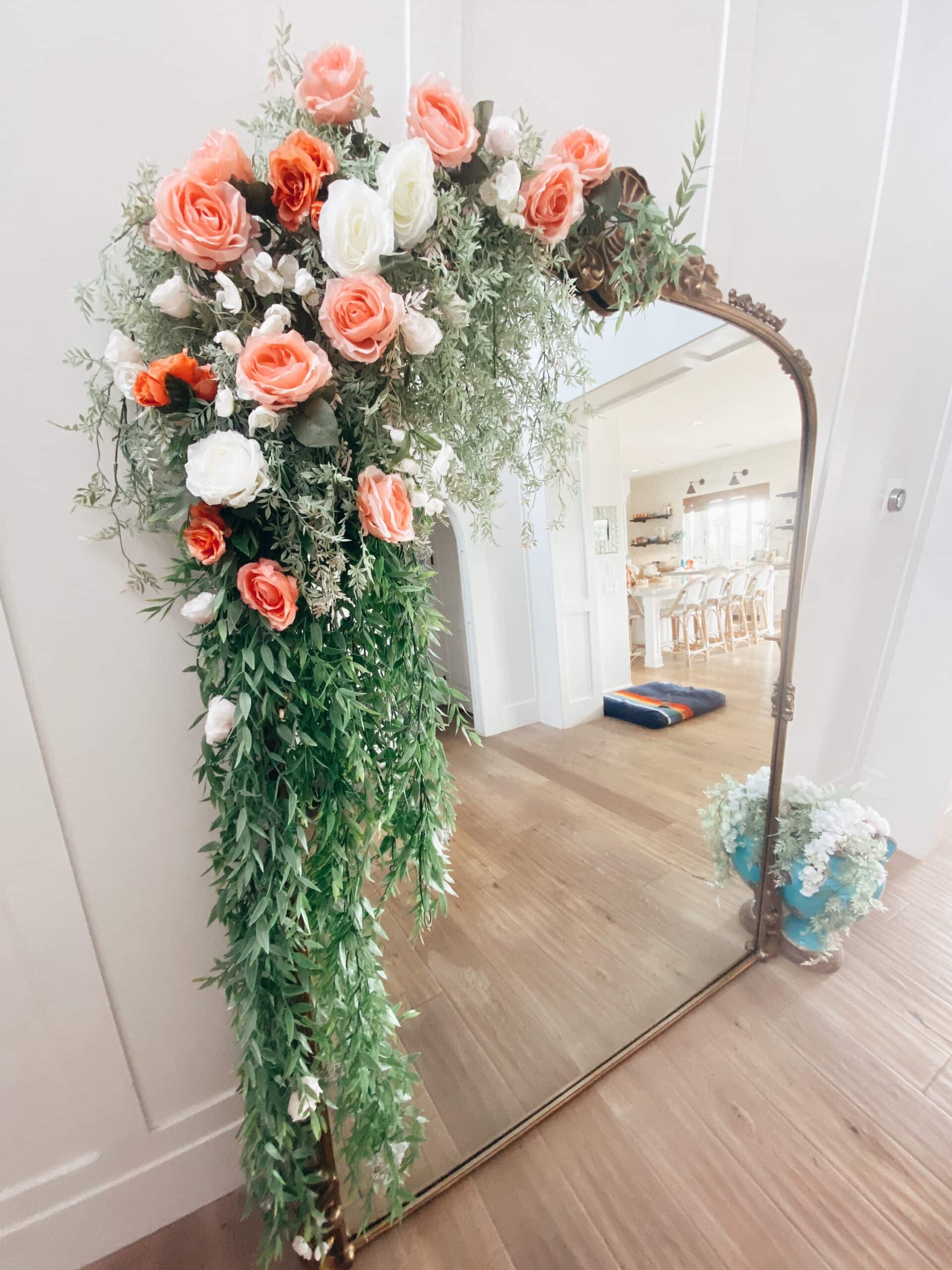 Decorate your home decor with a mirror framed with fresh flowers. By using a rose combination of beautiful green leaves and string lights which adds to the special look of the mirror. This garden vine will add a natural touch to your mirror design. Using a mirror with a classic pattern with a gold frame will give the room a luxurious look and look more elegant. Fresh flower mirror frame from citygirlgonemom.
Attaching flowers to the mirror frame makes it look more elegant. With pink peonies and white roses accented with beautiful leaves, this mirror enhances the beauty and charm of any space in your home. Choosing a mirror with a round shape will give an attractive appearance to your home decor. Flower mirror frame from papernstitchblog.
2. Faux Flower
Artificial flowers are also welcomed here, a multicolor or same-color frame. It simply that you use hot glue to attach those flowers onto your old mirror frame. And, voila! It turns into a completely different look. For a more whimsical effect, place fairy or string lights around the flowered DIY mirror frame.
This mirror features using a white and teal fake flower frame to look more charming, giving an increasingly beautiful and dramatic impression. Putting it on this dressing table will be the focal point of your bedroom. This decoration is suitable for you to try to create a feminine impression throughout the room. White and teal fake flower mirror frame from sweetteal.
Rectangular mirror decoration with a fake flower frame accented with wire combined with light rope can add a charming impression. Choosing these colorful flowers will result in a stylish room design and look more attractive. You can put it on the wall of your house so that it will steal the attention of many people. Faux flower mirror frame from amazinginteriordesign.
The dazzling square mirror concept with fake flower frame accents and string lights gives your room an elegant and warm impression. Choosing these colorful fake flowers will make your room decor more stylish and will steal the attention of many people. Colorful faux flower frame mirror from amazinginteriordesign.
3. Egg Carton Flower Frame
Truly creative craftwork by using stuff lying around in your kitchen. Making rose-shaped flowers from the egg carton cups and then paint them in different colors by using paint spray or hand paint. As the last touch, attach them along the mirror frame with glue.
Creative idea by using egg cartons for mirror frames. Round mirrors and egg carton floral accents on the walls create a dazzling impression. Let the natural color of your cardboard create an attractive mirror design and steal the attention of many people. Egg cartons frame mirror from icreativeideas.
Elegant decoration ideas on mirror frames with egg cartons in the shape of beautiful flowers are a good idea to give a different look. You can stick flowers on the right and left side of the mirror. Decorating this makeup mirror will give a more elegant impression. Putting it on the table and complemented by green plants in this vase will present a stylish look and will steal the attention of many people. Mirror frames with egg cartons from diyncrafts.
The square mirror frame design using flowers made of egg carton in a beautiful light brown color can create the perfect mirror. This will make your home design look stylish. Making your own will save your budget and will increase your creativity. Square mirror egg flower frame from diyjoy.
The appeal of this mirror will focus more on the frame. By using a flower-shaped egg carton and attached to a round mirror using glue. This is an interesting decoration idea for you. You can hang it on your wooden fence to produce an attractive garden design for you to try. Flower-shaped egg carton from howtoinstructions.
4. Fabric Mirror Frame
DIY mirror frame in floral theme also can be pursued by having a floral-printed fabric. In this case, you can have any delicate fabric material in stunning patterns and colors. A leftover or unused pillowcase or table cloth can be some examples to start with.
You can use old fabrics, especially florals, to decorate your mirror frame. You will get a stunning look and can refresh your home decor. Choosing a pink color with this classic floral motif will make your room decor look more stylish. Installing this wall will create the illusion of a spacious and airy room. Classic floral motif mirror frame from agirlandagluegun.
This charming decoration idea with a shaby chic style mirror equipped with a floral patterned fabric frame makes this the perfect room decoration. By utilizing unused and reused fabric for the mirror frame, it creates a charming and adorable mirror decoration. Combined with several other shabby chic ornaments, this will give a sophisticated look. Shaby chic style mirror from mydesiredhome.
This is a simple way to beautify your mirror look. Just use an unused floral cloth and stick it to the mirror frame and it can do a great job of enhancing the look of the mirror. Choosing a mirror with this unique style makes your room decor more stylish and will steal the attention of many people. Mirror frame decor from mydesiredhome.
To give your plain rectangular mirror frame a different look, make use of unused fabric and floral tape or to cover the frame. With navy, orange, green, and gray colors can make your mirror look beautiful. Attached to the wall above this table will make your room look more stylish and steal the attention of many people. Fabic floral mirror frame from modpodgerocksblog.
With some creativity you can have a stunning mirror frame. Those are some flower-theme DIY mirror frame crafty ideas that you can try.
(Visited 277 times, 1 visits today)
Tags:
DIY flower-framed mirror ideas
,
DIY ideas
Last modified: October 18, 2022