When talking about the cozy bathroom decoration, it might be a little bit difficult to bring out the beauty. The cause is that there are some limitations for the bathroom that will be different from the other rooms related to the humidity. Well, here we are going to show you on how you can make your bathroom pretty with each consideration.
Providing Wall Art
Providing the wall art will give a beauty touch for your bathroom for sure. But here, what you need to consider is on how your wall art can stay durable inside your bathroom. The first one is by installing the glass window that allows the sun to expose your bathroom. The next one is by providing the good air circulation. Those two things are the key to maintain the humidity.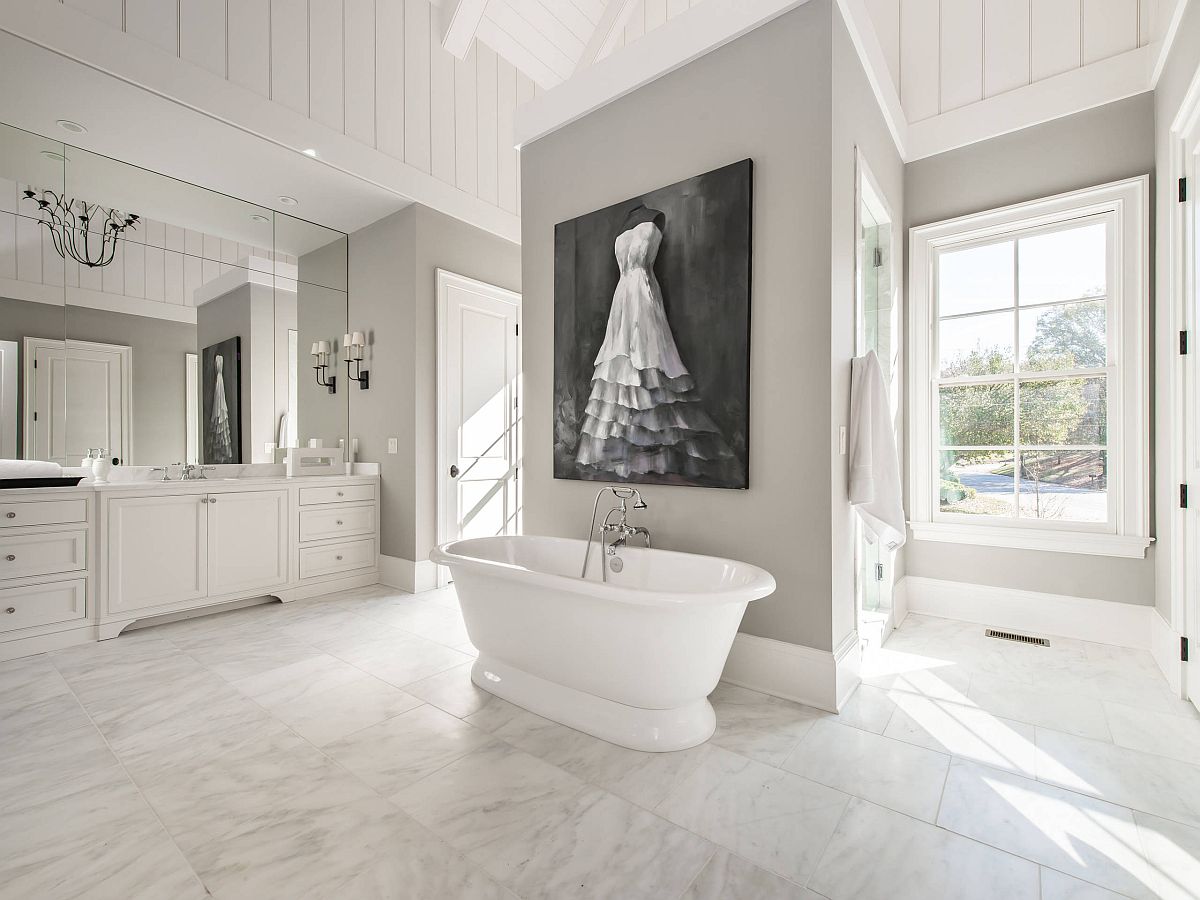 There is always a way to decorate the bathroom walls with a wider size so it doesn't look plain and boring. For example, you can use wall art painting with a picture of a luxurious dress that has a splash of black and white. This large wall art is perfect when applied to a contemporary bathroom décor where there is very little color and pattern. The glass window in the corner of the room is a source of sunlight that is highly recommended to be imitated. Big dress painting wall decor from decoist.
To decorate the shabby chic bathroom that you currently have, you can hang several botanical frame prints with more than one number, you can use four botanical print frames of the same size. You can get this wall decor print easily and of course more choices at a price that is not too expensive so you don't spend money. This botanical print with wood frame looks more trendy this year. Botanical print with wood frame from decoist.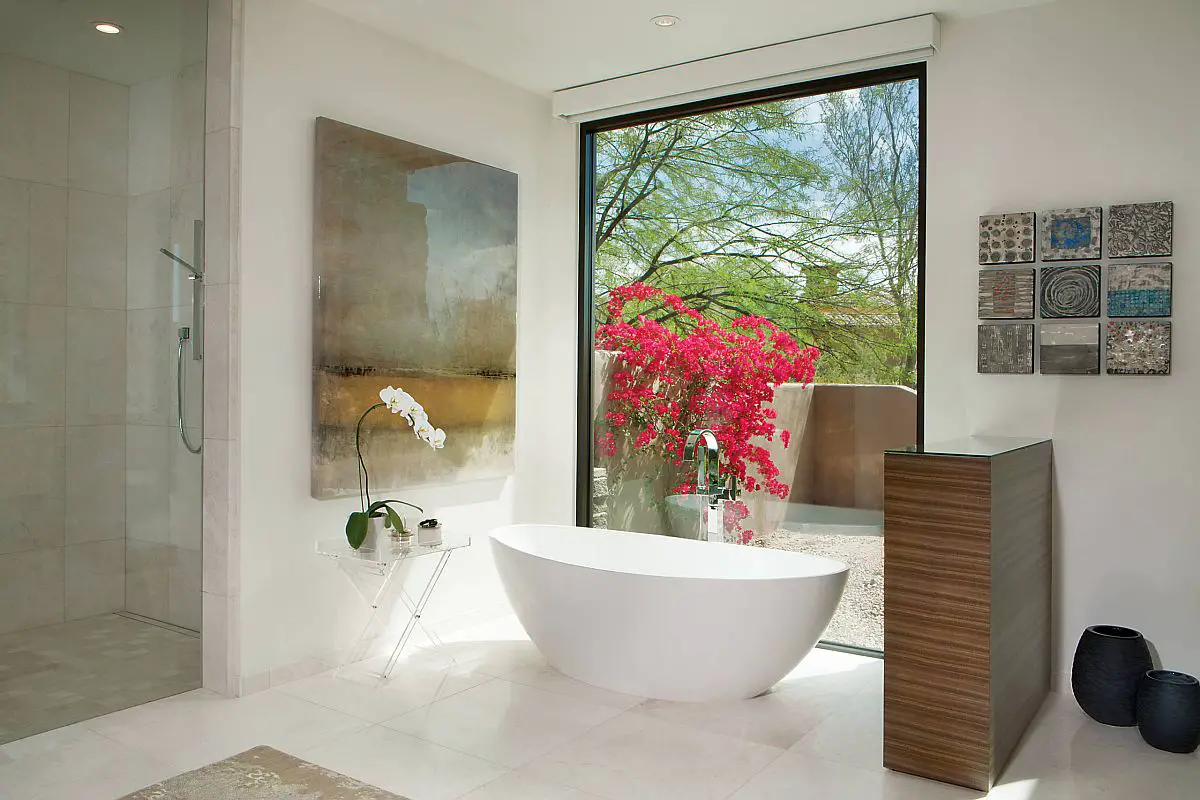 When you have hung an abstract canvas painting with a large enough size, then to complete the wall as a whole you can also hang several other wall paintings that have a small size in quite a large number. Give the distance between this painting to make it look neater and of course it can be used as a different eye view. Instead of using a wall with large glass so that the bathroom room is not musty and not humid. Abstract canvas painting in the bathtub area from decoist.
To fill the void on one of your modern bathroom walls, hang an abstract painting that has a bold color so that it can be used as a statement room with a splash of beautiful color. This glass window with two different materials helps in lighting while minimizing humidity in the room which causes unhealthy and smelly. Furthermore, the blurry glass wall limits the excessive sunlight that enters the room. Abstract painting from decoist.
Putting some Flowers
It can't be doubted that flower is something pretty. Then, it will be really easy to create the beauty for your bathroom by providing the flower. Here, you can put the real growing flower or simply have it in a vase. Or, if you don't have much time to take care of the flower, you can simply have the fake one. Really easy right?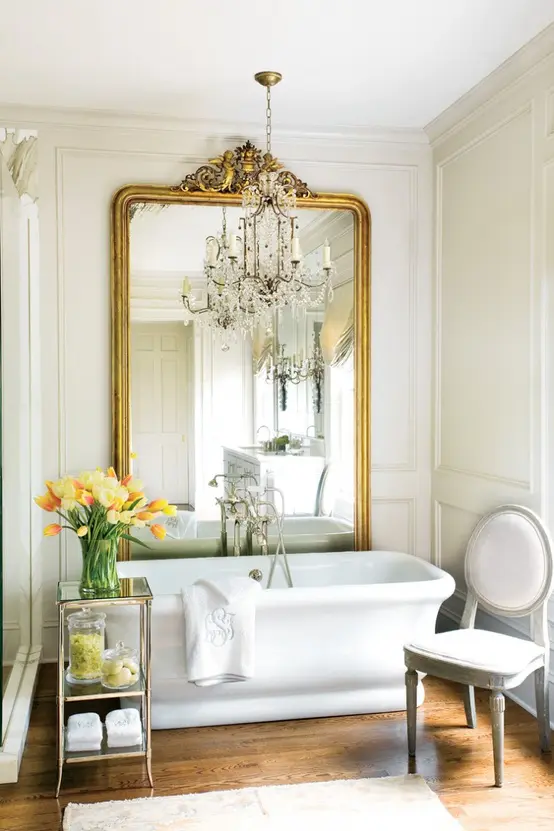 To add color to the French country bathroom decor, you can use a yellow and orange tulip flower arrangement that is applied to a transparent glass pot with a fairly large height. The mirror carving frame with a splash of gold also adds a beautiful color that you can use in one room at the same time. Place this flower on the table so that it can be seen more clearly the first time you enter this bathroom. Yellow and orange tulips from digsdigs.
Install and use two colors of roses that are blooming directly into your bathroom decor to breathe new life into your room. The indoor use of this flower is really better than living wall art, you can use a transparent glass vase as the right container to freely see the planting media used. Water being a planting medium that is easy to get also keeps your flowers blooming and does not wilt easily. Rose flower with transparent glass vase from digsdigs.
Mosaic bathtubs that are perfected with tulips on top are smart ideas that you can try into feminine bathroom decorations. One wall with a wavy pattern gives the impression of a more modern room. Take care of this flower by changing the water in the vase regularly so that your flowers can develop properly and according to your expectations. Tulip flowers on the mosaic bathtub from decoist.
There is nothing wrong with using two different types of flowers in one vintage bathroom decoration, now you can combine roses with orchids that have the same color tone. Place these two types of flowers on both sides of the sink as a beautiful view that provides a new, healthier atmosphere and life. Mirrors with unique frames are the main interior must-haves because they are used to check your appearance. Combination of roses with orchids from decoist.
Applying the Wallpaper
In case you already have the unpatterned tile, then you can have the pattern for your bathroom wall. Simply apply the wallpaper then the beauty will directly comes to your bathroom. In hence, it is also more affordable than installing the tile so that it is really recommended. You can even choose the pattern of the wallpaper since there are so many different pattern of it.
If one of your walls is already using plain white tiles, then to add to the pattern and texture of the bathroom you can use neutral colored wallpaper with a classic toilet pattern that gives a timeless and light atmosphere. Complete this bathroom decor with the use of a transition mirror and a geometric lamp that hangs just above the white sink with a size that is not too large. Classic toilet wallpaper with a splash of neutral color from housebeautiful.
Make the atmosphere of your bathroom feel more colorful and fresh, one way that is highly recommended is to add swirls of marble wallpaper that has splashes of three to four different colors. This wallpaper pattern is neutralized with a repainted wall liner using a solid black color so that it can blend easily when combined with any patterned and colored wallpaper. In addition, this wallpaper also makes the bathroom room more luxurious without being excessive. Colorful swirls of marble wallpaper from housebeautiful.
This sweet blue and white bathroom wallpaper won't bore your eyes easily, especially when you combine it with retro blue tiles. You can choose classic and casual patterns. Complete the decor of this wallpaper with a framed painting for a nice balance. This leaf wallpaper is perfect for a contemporary bathroom decor. Blue leaf wallpaper with white from housebeautiful.
To perfect your classic black and white bathroom decoration, you can try the remaining empty tile walls by applying striped wallpaper with a vertical pattern that makes the bathroom room seem more attractive and unusual. The existence of this wallpaper is perfected with crystal chandeliers and a classic rectangle frame that is hung right above the standing sink with a fairly high size. The incoming sunlight makes this wallpaper more clearly visible. Classic style striped wallpaper from housebeautiful.
Installing Patterned Tile
Well, basically without any ornament you can create the beauty for sure. One of the ways is by installing the patterned tile. You know that pattern can create the beauty just like an art. That is why it could be the choice if you want the simple one. Here, simply choose the best tile pattern based on your own taste.
You can try this hexagon tile with three different color combinations on the floor and some of the backsplash which is perfected with floating vanity so that this tile is seen more clearly and can be used as a statement room. The presence of a glass window really helps the room temperature in the bathroom to avoid the occurrence of humidity in the room which is very uncomfortable. Hexagon tiles with three different colors from housebeautiful.
The two tile patterns that are applied in this bathroom have the same color harmony so that they are combined with the brass industry to add sufficient contrast by painting some of the walls in pale purple. The combination of subway tiles with leaf shaped tiles has full energy that can make your bathroom space more fun and not easily boring. Combination of subway tiles with leaf shaped tiles from housebeautiful.
To play with patterns and colors in your bathroom decor, you can use geometric floor tiles that are dominated by black and white splashes. Adjust the use of this bathroom paint with one of the tile colors to unify the color tone of the room that gives a modern impression and never goes out of style. Greenery placed on a windowsill makes for a very fresh, low-maintenance addition to the decor. Black and white geometric tile from housebeautiful.
To add a tropical touch to the bathroom, you can combine palm leaf wallpaper with tile waves which have a combination of black and white. Gold chairs and abstract paintings with reclaimed wood frames are additional interior ideas that give the room a more vintage and simple feel. You can try it and imitate this bathroom idea right now. Waves tiles from housebeautiful.
To give a glamorous impression to your bathroom, try using cystal chandeliers and gold clawfoot tubs that look shiny when exposed to the sun's reflection. Furthermore, you can also use hexagonal tiles with black and white splashes that look dynamic. High white curtains regulate the entry of sunlight into the room as needed. Hexagonal tiles with luxurious interior from housebeautiful.
In choosing the right idea for your bathroom beauty, you can adjust it with your budget since those different ideas bring the different cost. Moreover, you can also choose the one that fit well with the style you want to have for your bathroom. Choose the best one for you and get your pretty bathroom! See more at perfect bathroom for the other considerations.
(Visited 54 times, 1 visits today)
Tags:
Bathroom Design Ideas
Last modified: October 18, 2022