Having a backyard at home should be maximized. When you have people over, a nice backyard will make an ideal place for an outdoor dining party or just a hangout place. Therefore, it is important to have a creative winter backyard decor.
So, what do you have to do with your winter backyard decor this year? Here are some creative ideas you can try.
1. The winter window box idea.
If you have a farmhouse, the winter window box idea can be applied to beautify your backyard. Dress up your straw bales with cozy throws. Then put them between two classic, wooden rocking chairs. Fill the window box with fresh greens from your own backyard. The soft string lights make a nice, night-time ambience.
To welcome winter this year, you don't just decorate the porch, now you can decorate the backyard by installing a window winter box filled with fresh green pine leaves, red berries are the perfect combination that can make this winter box design even more beautiful. looks colorful and fun. Give a splash of water periodically so that these pine leaves do not wilt easily when used for a long period of time. Combination of fir leaves with red berry window winter box from blessmyweeds.
You can place this miniature Christmas tree with green leaves in a window wooden winter box that has been repainted using a darker color to make a pretty stunning backyard decoration. Not only a Christmas tree, but you can also combine it with the use of white flowers in the same container so that they can work together well and maximally. Wooden winter box with Christmas tree from blessmyweeds.
The appearance of the window winter box will be more colorful and look brighter at night when you add string light accents that are applied through the use of a small Christmas tree which is perfected with other green leaves and hanging wreaths that are right above it. The appearance of this wreath can also be sweetened with a blue satin ribbon that looks shiny when exposed to the reflection of light from your current string lights. Elegant window winter box with string light from blessmyweeds.
So that the design of your winter box can be made as a statement in the winter decoration of the backyard, then you can add some beautiful ornaments such as snowflake ornaments and snowballs that have white splashes. This winter box has a fairly long size because it adjusts the use of your home window so that it looks clearer and can be used as a focal point for outdoor decoration. Window winter box with snowflake and snowball ornaments from blessmyweeds.
You can apply a monochromatic look and style through the use of a winter box window design which is dominated by black and white splashes. Next, you can fill this winter box window with several types of lush green plants and blooming flowers that have red and white colors. All of these plants and flowers can work well together to decorate your backyard. You can try it easily without having to spend a lot of money. Monochromatic style window winter box from southernliving.
2. The snow sculptures.
If more snow has fallen on your backyard, make the most of it. Ask your family members to help you to create the cutest snow sculptures. Let's not limit your imagination to the famous Mr. Snowman. A variation of snow sculptures (from penguins to turtles) will make your winter backyard decor look more creative this year.
This snowman statue that is made as a voice box will definitely look hits in your home area, add two doll eye accents of the same color as an easy complement to do. You collect a considerable amount of snow and then sculpt it to the maximum into a snowman which is equipped with an accent tie and a hat that has a simple pattern with splashes of black and white. Snowman sculpture snow from sortra.
You can use the snow in the backyard as an amazing decoration, now you can collect a large amount of snow and then turn it into a big scary dragon statue. The last decoration you can do is add bright lights that can be installed in the area around this dragon. Lights with white lighting are the best choice that you can try. Snow dragon statue with white light from sortra.
Another umbrella option that you can make from this snow material is a bear statue with a fairly large size and is equipped with a cloth tie that has a bold color so that it looks more beautiful and fun when viewed as a backyard decoration. This snow may cover some of your house but it's also a good idea to make it a winter statement this year. Big snow bear statue from sortra.
To take advantage of the pile of snow in your backyard, try turning it into a penguin statue large enough to serve as a focal point around your surroundings. This statue idea is quite easy to make and you can start with a smaller version. Repainting the legs, nose and parts of the penguin's body can also be done to make it look more real. Penguin snow sculpture from lushome.
3. The winter planter ideas.
Is your backyard big enough? Fill them with large, winter planter ideas. They may consist of birch branches, pinecones, and curly willow branches for examples. Have some fake snowberries as well for more colors. Other alternatives include evergreen branches.
An easy way to beautify your backyard decor in winter is to install and use a large pot containing winter plants such as spruce, red berry, pinecone and red ribbon as a sweet finishing touch. You can put this pot in the middle of your garden so that it can be used as the focal point of your garden which is full of different colors. Big container winter planter from houseofhawthornes.
Do you want to decorate your backyard in winter? If so, then you can use a ceramic pot that is large enough to be filled with winter plants that can withstand very cold outdoor weather. Shiny ball ornaments with various colors become decorations for this winter plant so that it looks more different than usual and certainly looks more unique and beautiful. Winter planter ceramic pot from houseofhawthornes.
During winter, maybe the land or vacant land in the backyard cannot be planted because it is filled with snow, but you don't need to worry because you can use winter planter pots with thick plastic materials which are more sturdy and resistant to any changes. outdoor weather. This pot can be filled with a series of cypress leaves, pieces of tree branches and stainless steel ornaments with a sweet round shape. Winter planter pot made of thick plastic from houseofhawthornes.
Black pot design with a striped pattern is one of the best choices that you can apply in a backyard decoration in winter. In this pot you can fill it with various types of green plants, red berries, pinecones and birdhouses that seem classic and vintage. You can place this pot close to the backyard wall so it doesn't interfere with your movement while in the garden. Winter planter black pot from houseofhawthornes.
4. The open fireplace.
This winter backyard decor also has another function, which is to warm it. You can also set up a patio with the open fireplace as the center. There, you have a nice, cozy hangout spot in the backyard during winter.
So that you can feel the warmth in the backyard decoration, you can use a rectangle stone firepit that is surrounded by a built-in bench that has a U shape shape, this fire pit creates an irresistible light. The green throw pillow is an additional heating accent that you can use according to your needs. In addition, you can also use this firepit for a coffee table because it has a wider top surface. Rectangle stone firepit from hgtv.
If you use outdoor furniture in the backyard during winter, then you can add a firepit accent made of white stone that is arranged neatly and regularly. This chair can be used to relax when gathering with your family or friends. This firepit makes you feel excited to enjoy a chilly evening in the backyard. White stone firepit from hgtv.
You can also use the firepit design, which is equipped with a wider top surface, as a coffee table that can be used at the same time. You can make this firepit with two different materials, for example, make it with concrete with red bricks which has a more solid surface and is not easy to mold when the outdoor weather changes. Outdoor coffee table firepit from hgtv.
Or it's a good idea to use the patio in your backyard in winter to avoid the snow falling, it's not enough to get here but you can also add a high firepit accent which is equipped with hanging TV on it as shared entertainment that can be enjoyed with family You. On this patio you can enjoy the outdoor atmosphere comfortably and warmly, use a firepit according to your body's warmth needs. Firepit patio design with TV on top from hgtv.
The wooden lounge chairs arranged in a layout around the firepit become an outdoor gathering place with a different room atmosphere. You can use white stone for simple designs that don't cost too much money. The sweet round shape is one of your favorite choices that you can apply in this backyard without taking up much of your floor area. White stone round firepit from hgtv.
5. The wooden partition.
The wooden partition can be used to mark between the front yard and the backyard. You can also use it to hang some plants, like ivy or some other hanging planters.
This unpainted wood partition gives a vintage and simple impression to your backyard area in winter, use this partition as an area to hang some green plant pots that have different types and colors. In addition to being a barrier to the backyard and front yard, this wooden partition also makes this area more private and is very suitable for dining with family with a different atmosphere. Privacy backyard with wooden partition from thespruce.
Avoid using outdoor area dividers with permanent materials and designs that make your home page feel narrower and limited. Now you can try a standing wooden partition that is perfected with a string light that can be used as lighting at night. This winter backyard decoration is also equipped with a sofa and fireplace that can be used as a warm gathering area with your friends or family. Wooden partition with string light from itsoverflowing.
The best option for limiting the backyard and front yard outside your home is to use a wooden partition that has a herringbone pattern so that it has a more different and unique appearance. No need to repaint, let this partition appear more natural so that it can blend in perfectly when applied to your backyard garden. Wooden herringbone partition from itsoverflowing.
Or if you want your backyard decoration to look more colorful, then one of the decorating ideas you can do is use a wooden partition that has been repainted using a bright blue color. This painting takes a long time so it can be done on weekends with your family, of course this will be very fun and very useful. Repaint wooden partition from itsoverflowing.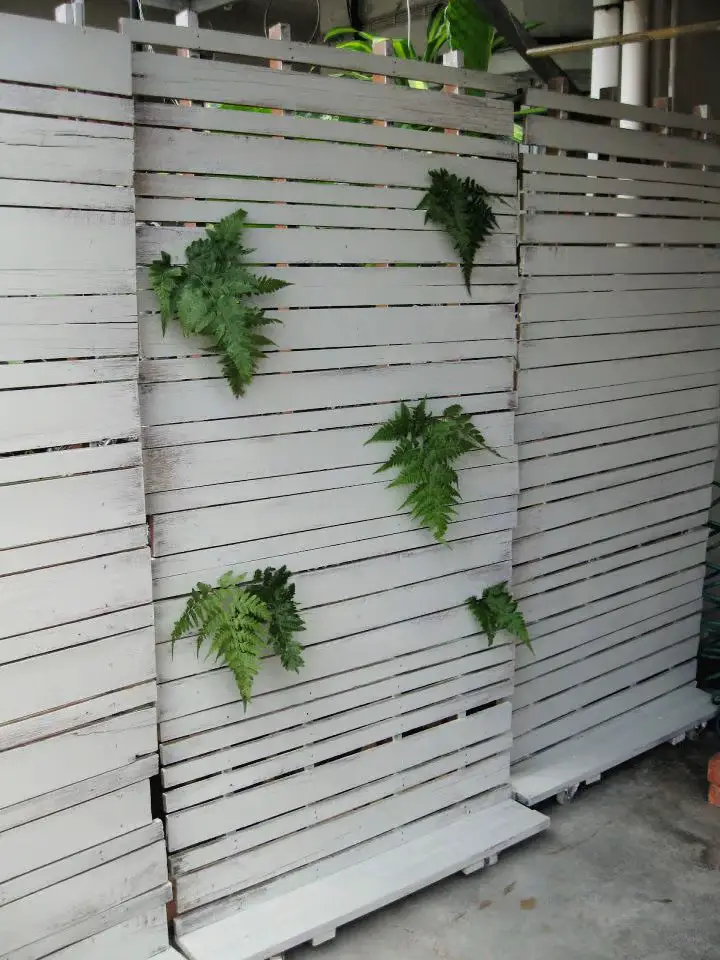 Repaint the wooden partition that marks your front and back yard with white paint to make it look more contrasting when used to hang the ferns you have. This painting is done so that the appearance of your partition is not shabby and of course it will be cleaner. This wooden partition consists of three parts that can be used according to your needs. White paint wooden partition from itsoverflowing.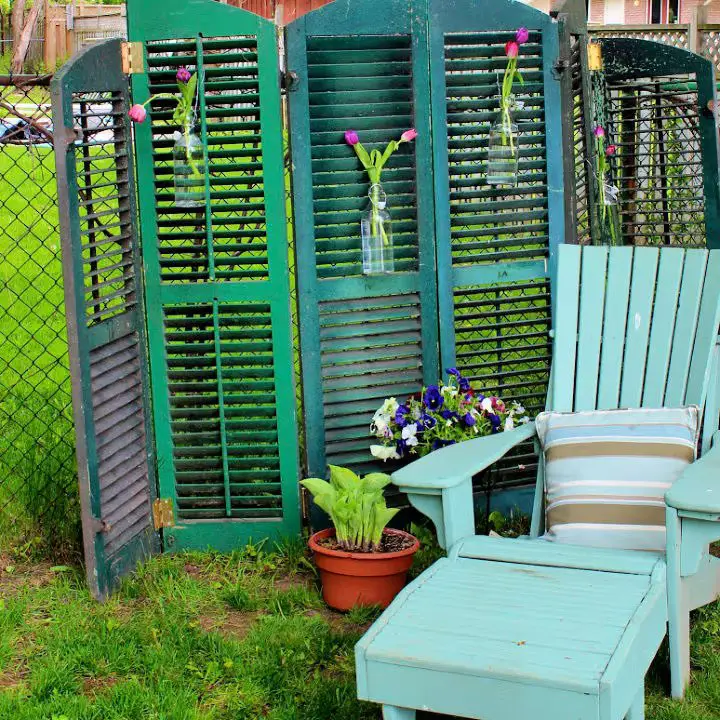 Do you want to bring a vintage and rustic style to your backyard decoration in winter? If so, then you can reuse the shutter window that is no longer in use as a backyard and front yard partition that doesn't cost much. This shabby wooden partition can be decorated with some orchids with a transparent glass vase that will give its own beauty when hung. Shabby chic wooden backyard partition from itsoverflowing.
There are always ways to get creative with your winter backyard decor. Besides these five, what else do you have in mind?
(Visited 57 times, 1 visits today)
Tags:
Winter Backyard Decor
Last modified: December 23, 2021