Having a living room with a fireplace is a nice touch that will give pleasantries and warmth at the same time. Is there anything else that can make one space feel much cozier than a fireplace, anyway? Regardless of what main interior style you're going for, you're the only one who can make your very own living room.
Mainly since the existence of a fireplace can pull everything together, remodeling or reconstructing a living room with a fireplace will always become an attractive weekend plan. By the end of it all, notice how much the living room has changed (and how much you want to keep staying there)!
1. Contemporary
Definitely not a modern interior style, a contemporary fireplace requires no such thing about standing out and overpowering impact. Create a contemporary living room with a fireplace that mixes perfectly to the surroundings, featured with a stone wall.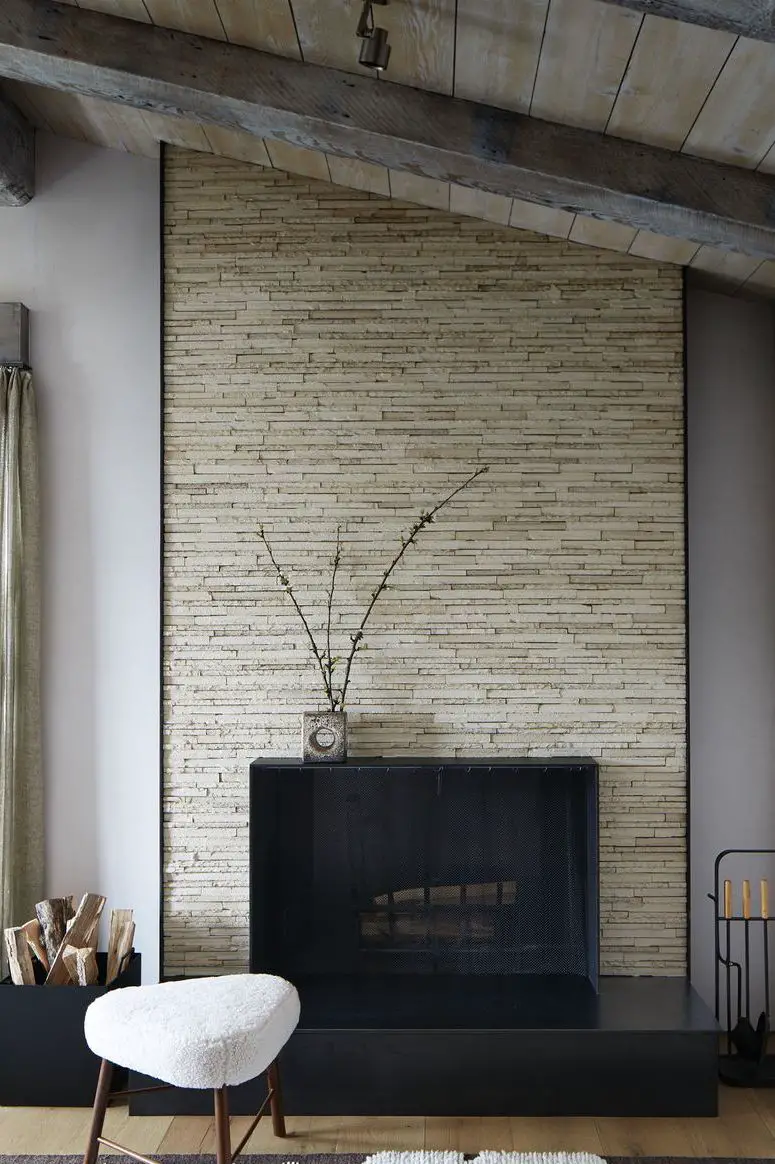 The design of this stone-stacked fireplace is supported by the outer surface of the fireplace which is coated with thick glass, creating a contemporary style that never goes out of style. You can use stone material with lighter colors such as white so that it can be combined easily with other furniture around it. Contemporary stacked stone fireplace from elledecor.
To perfect this bohemian contemporary living room decoration, you need to use an earth tone color interior to give a warm feeling into the room instantly, right now you can add a stone fireplace that has been repainted using white to have a matching color. with the use of your current wall paint. Contemporary bohemian stone fireplace from elledecor.
Stone fireplaces are not only used in rustic or farmhouse-style living room decorations, now you can place them in a classic contemporary living room by repainting the stone fireplace using a glossy black color that looks cleaner. Don't forget to decorate the mantel using several layers of frame painting with different sizes. Repaint the stone fireplace black from elledecor.
This contemporary rectangular glass fireplace is complemented by the presence and use of flagstone walls that surround this fireplace in a beautiful and colorful way. To add a warmer atmosphere to the room, you can use the right furniture, such as suede chairs in solid black. Contemporary glass fireplace with flagstone walls from elledecor.
There's nothing wrong with using a stone fireplace in a contemporary living room decor for a different style and look. Currently you can use stone slabs that have a smoother surface so they are very safe for the reach of your children. No need to repaint for a more natural look. Stone slab fireplace from elledecor.
Contemporary style furniture in this living room can be combined with a stone fireplace that has a sweet square shape. This fireplace can be perfected by hanging a canvas painting that is applied right above it as an amazing artistic touch. Patterned curtains also add color and texture to a room instantly. Contemporary style stone fireplace from elledecor.
2. All-Glass
Glass is well-known to be the material that exudes endless elegance, and it's time to stray away from the traditional one. An all-glass fireplace can take as little or big as you want, but make sure you aim for a modern look.
If you need interior heating in a modern minimalist living room decoration, then you can use a big square fireplace which is dominated by transparent glass material so that the fire that is produced can be seen clearly. This cozy warm fireplace is meant to keep the environment from getting cold or looking too harsh. This is one of those timeless designs that fits in any room in your home decor. Big square glass fireplace from thespruce.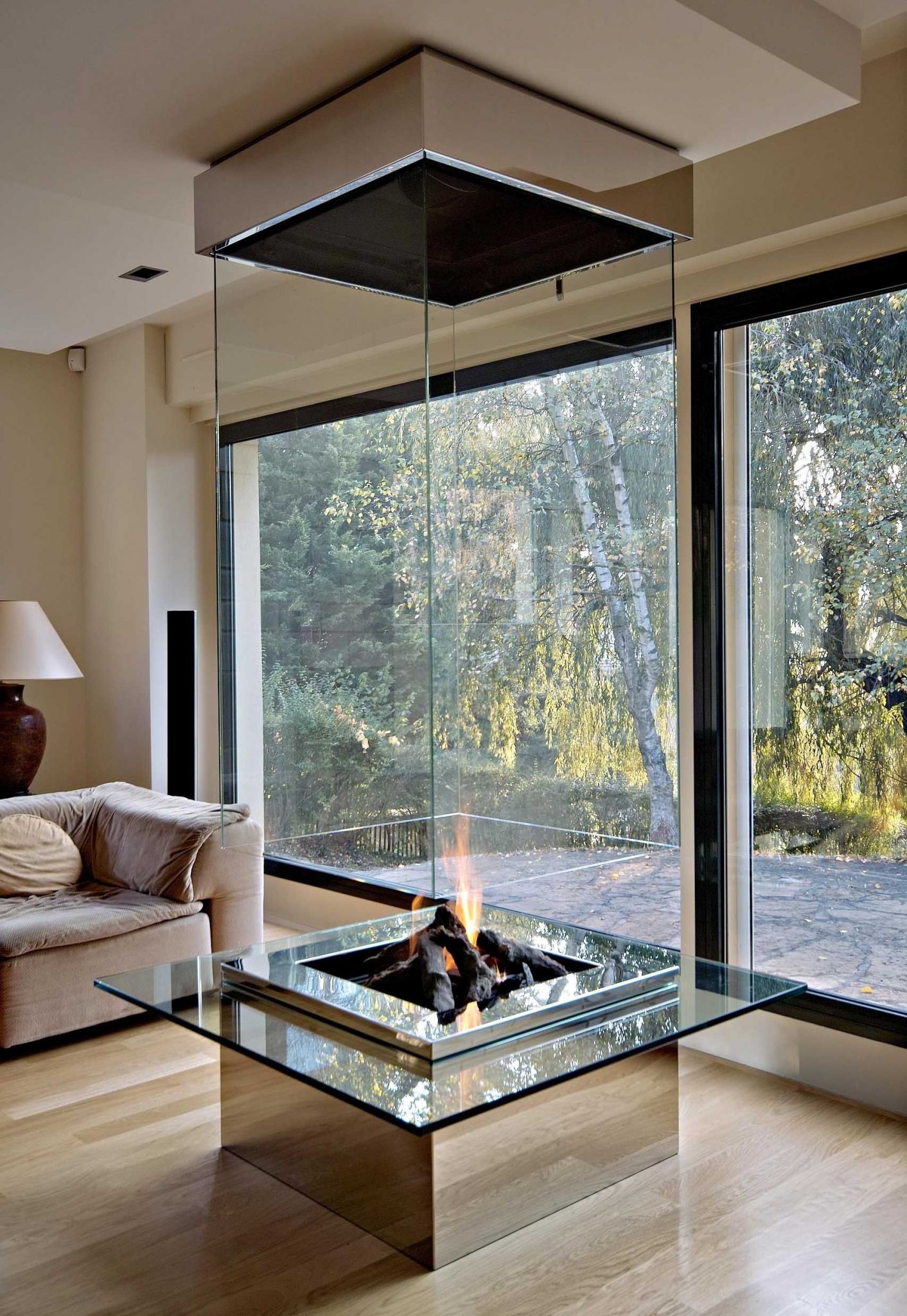 This does not mean that the fireplace has to be traditional, now you can use a modern fireplace design that is very suitable for decorating a living room filled with natural light that enters through the use of glass walls without blocking the view to the outside at all. This fireplace also has an empty side surface and can be used as a coffee table so it can also be used as the perfect center of attention for your guests or family who come. Modern glass coffee table fireplace from homebnc.
This geometric glass fireplace design which is dominated by white paint is perfect for decorating a living room that has an open and large room because this fireplace design is also able to give the illusion of creating two separate spaces. This empty space next to the fireplace can be used to put some of your small items so that they can be of better use. Geometric glass fireplace divider from homebnc.
The wavy texture of this permanent room divider is complemented by a transparent glass fireplace that looks modern and certainly gives a different, pleasant atmosphere. This fireplace design certainly has a calming effect and makes the room temperature feel warmer. This fireplace design is enclosed so there is no worry about unattended fires. Corrugated room divider with built-in glass fireplace from homebnc.
Wall mounted fireplaces may have become commonplace, now you can apply a glass fireplace rectangle on the room divider as a more different look. You can use a room divider with a neutral color and then continue with the use of matching colored furniture to add visual appeal. Transparent glass walls make the atmosphere in the room brighter and not stuffy. Rectangle glass fireplace from homebnc.
3. With Built-In Shelving
A fireplace with built-in shelving is best implemented in a floor-to-ceiling structure. You're going to have more storage for your stuff, and this is the best function every little home needs at the moment.
If you have a living room decoration with a limited floor size, then you can install a fireplace on the wall which is equipped with built-in racks that are applied to both sides of the fireplace with the same size, material and color so that it looks more elegant and harmonious. You can use this shelf with the same height as the fireplace to make it easier for you when storing or closer to your reach. Fireplace and built-in shelves of the same height from thespruce.
Take advantage of a little part of the wall in your living room as an area to apply the fireplace as well as the built-in open shelf right next to it. This fireplace is made of plywood with a contemporary style that is suitable for the feel of a modern living room. Then use this open shelf to put some ornaments that can decorate the room to the maximum. Plywood fireplace with built-in open shelving on the side from thespruce.
To warm the room temperature in your living room decoration, the modern fireplace is one of the important interiors that can be used. You can make this fireplace from stone that has been repainted with black so it looks more shiny and clean. In addition, you can also install storage shelves on the right and left sides as areas to put some beautiful ornaments that can be used as room decorations. Repaint stone fireplace from thespruce.
The square design of the fireplace that is placed on both sides of this storage rack becomes a heating accent that can provide a warmer room temperature. Next, you can install this built-in floor to ceiling shelf with the same height and color to provide an elegant color tone harmony in the room. These open shelves have several shelves that are stacked vertically so that they can be used to store a number of books that are often read. Square fireplace with vertical built-in shelves from thespruce.
Match the use of the fireplace in the room to the style of the room itself so that it works well together. When you have a traditional living room style, the use of a large fireplace that dominates is a smart idea that can be done. In addition, this fireplace is also squeezed with two sides of open storage shelves that have a curved shape with sufficient area. Pastel colors are a choice of paint that can be tried on the outside of this fireplace. Traditional fireplace in the living room from thespruce.
4. Copper
A copper fireplace rather than standard material like bricks or stone is also appealing enough to imbue that unique design you need in a simple living room. With its unique application and warm finish, it can also create an eye-catching focal point.
Do you want to use copper in one of the interiors of your living room? If so, then you can try to apply it through the use of a fireplace that is perfected with some contemporary style furniture. Look at this copper fireplace, it will look more shiny when exposed to the reflection of the sun or the reflection of the light, so that it makes the room feel more luxurious without being too much. Sleek copper fireplace from homedesignlover.
The fireplace design in this living room decoration is wrapped with copper material so that it can be used as the focal point of the room that is able to make the atmosphere around it feel warmer. The use of this tall copper fireplace also balances the high ceilings, transparent glass divider and light walls painted in plain white. Tall cooper fireplace from homedesignlover.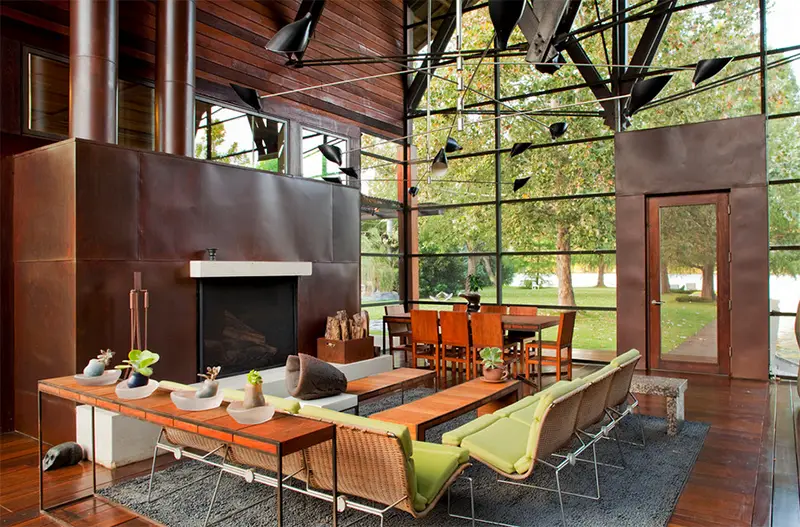 Or you can also use a big cooper fireplace in a contemporary-style living room decor. This fireplace dominates your living room so that it can be balanced with the use of transparent glass walls so that the room still looks bright during the day without the need for lamps so that it saves electricity. Cooper material is cheaper and not easily porous so that it becomes the choice and favorite this year. Big fireplace cooper from homedesignlover.
The corner of the living room that is used to put the fireplace will be more effective and efficient so that it can be tried by those of you who want to make the most of the room. Choose and use a tall fireplace made of copper which has a harder, stronger material and is not easy to rust, even though the room temperature in the living room is changing. Copper fireplace corner from homedesignlover.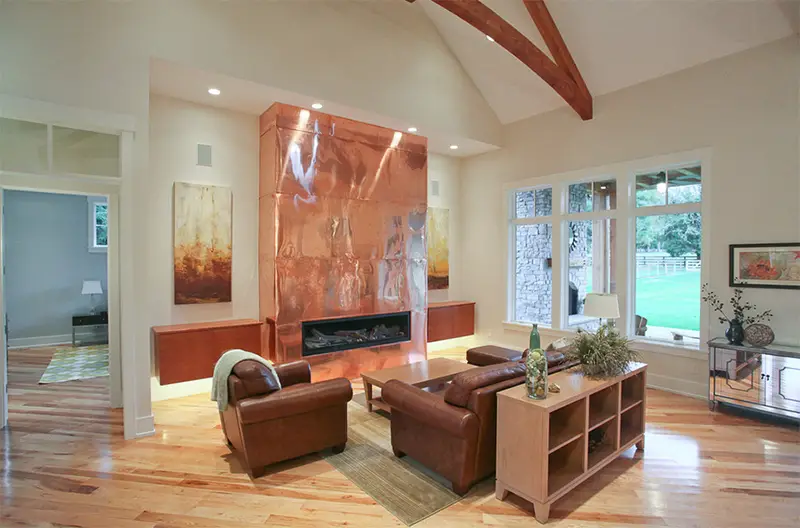 Face the sofa and armchair set in this living room decor towards a modern fireplace made of copper that has a sleek and glossy surface. This fireplace will be very suitable when combined with brown leather chairs and floor tiles with an earth tone color that does not damage the color scheme and tone of your current room. Furthermore, you can also use the glass window as a source of sunlight that can be obtained easily. Modern copper fireplace from homedesignlover.
5. White Painted Brick
All-white doesn't only apply to the walls or furniture. You can try a white painted brick fireplace for that seamless mixture to overall room design. Just remember that once you wash them, there's no going back. However, isn't it a reasonable price to pay for a more stylish living room?
This brick fireplace, walls, ceiling and some use of white interiors are perfect for those of you who have a limited size living room decoration so that it gives the impression of a wider and open room. White is always the best color choice that is easier to combine with other colors around it. Then you can enter a type of green plant that is large enough as a natural decoration that can be easily obtained in your backyard garden. White nuances of living room interior including brick fireplace from thespruce.
If you have a living room decoration with limited space, then you can use just enough furniture, for example using a small ottoman and two tufted chairs placed on both sides of a brick fireplace that has a square shape that looks cute. This fireplace design is equipped with several ceramic ornaments that are right in front of it so that it can be used as the focal point of the room that will be of better use. Square shaped white brick fireplace design from thespruce.
Match the color of your brick fireplace with the use of furniture that is around it for a more elegant look and not tacky or easily boring. Now you can repaint it with white because the chair used is also covered with plain white cotton cloth. This fireplace is complemented by a mantle decoration decorated with a transparent glass vase filled with a bouquet of fragrant and fresh roses. Natural white brick fireplace from thespruce.
Don't let your white brick fireplace appear plain and boring, you can use herringbone tile with beige color to be applied to the inside of the fireplace which will be seen more clearly when the fire has not been lit. This fireplace design is perfect for use in any room with any style, including modern and minimalist-style living room decorations. Brick fireplace with herringbone tiles from thespruce.
This brick fireplace that appears with white paint comes with navy blue walls that seem to have a darker color. These two colors will appear more optimal when you add other colors through the use of a snake plant which is planted in a white pot with a wooden shelf stand that has a fairly high size. All the colors in this living room decoration are not tacky and easily blend into the same room. White brick fireplace with navy blue walls from thespruce.
To maximize the use of the walls in a minimalist living room, then you can use it as an application of the built-in white brick fireplace which is perfected with open vertical shelves that are installed on both sides of the fireplace with the same color, material and size. The wall right above the fireplace can be used to hang your TV as entertainment when gathering with your family or friends who come to the house. Sparkling fireplace with built-in open shelving from thespruce.
Which living room with a fireplace is your poison?
(Visited 126 times, 1 visits today)
Tags:
Living room with fireplace
Last modified: January 9, 2023