A fireplace is meant to be nice and warm. It is the place where you can linger so long in front of it. While you get cozy, enjoy the flickering fire in a modern fireplace for winter. It can increase the room's value and look clean.
Get inspired by the following ideas. Whether it's restyling the mantel or updating the screen, you will get the most of it.
1. Black and White
Modern furniture and design are about clean lines and geometrical shapes. One classic color combination that never goes outdated is black and white. This is a perfect design for white walls. Use black slate with white accents. Then, you can place a log holder and metal screen to tidy up the look.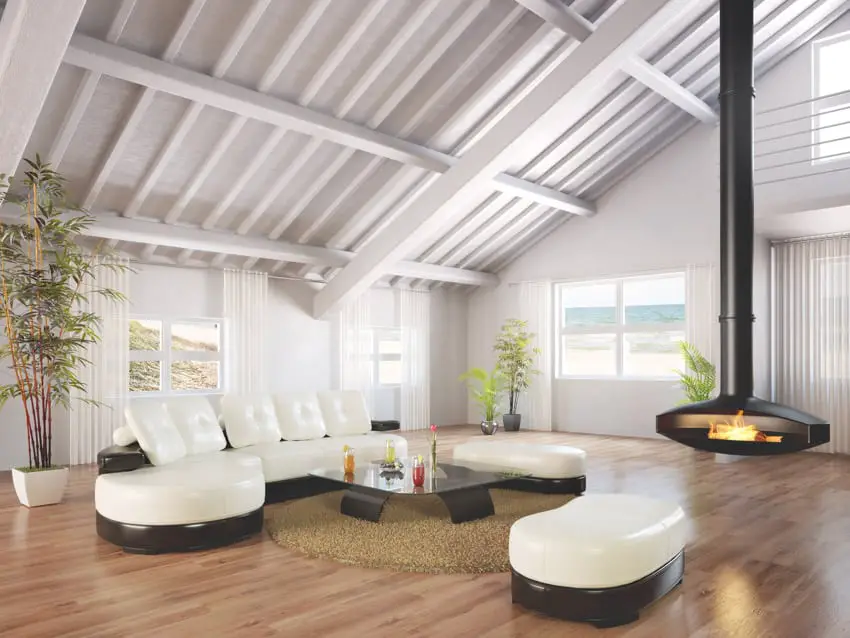 Choose and use a fireplace for a living room decoration as a heating accent that can be applied in winter. When your living room is dominated by white, you can use a hanging iron fireplace that has a solid black color to bring a monochromatic style and feel that never goes out of style. White living room shades with black hanging fireplace from designingidea.
The high fireplace, which is dominated by white, is a piece of furniture that has a neutral color. When your fireplace has used a neutral color, then you should be able to choose a sofa, rug or chair with another color to make your living room decoration feel more colorful and of course have a more pleasant atmosphere. Glass windows are large enough to provide natural lighting that doesn't cost a lot of money. High white fireplace with colorful furniture from designingidea.
A white fireplace with a little splash of black in the hole is an accent that can be had for a winter living room decoration. You can place sofas and chairs right in front of the fireplace to make it more affordable with the warm feel produced by this fireplace. White paint fireplace in front of the sofa from designingidea.
The white nuance in the decoration of this living room will be more suitable when combined with a black fireplace which is equipped with built-in storage on it. This fireplace will produce sparks that can warm the room to the maximum, you can use it according to the needs of the room. Green plants are one of the room decorations that are able to provide natural colors. Living room dominated by white with black fireplace from designingidea.
Black and white are two colors that can be combined perfectly in the same room. Currently you can apply black to the stone fireplace area and white paint to the mantel design, entryway and window frames. Usually these two colors are applied in a modern style room. Black stone fireplace with white mantel from thespruce.
Minimalist fireplace with a combination of black and white is one of the favorite choices that is often used in a winter living room decoration. In addition, this fireplace is also ready to accompany you with your family or friends with a warmer and more comfortable room atmosphere, of course. If the fireplace is too plain then you can decorate it with greenery and a standing mirror. Minimalist fireplace design from thespruce.
The rectangular fireplace design which is dominated by black and white is ready to accompany you when you are in the winter living room. Another thing you can do is use some throw pillows that have been neatly arranged on the chair as a heating accent which can be perfected by using a faux fur rug that has a black and white pattern. B/W rectangle fireplace from thespruce.
2. Bright Colors
Bright colors are no strangers to a fireplace. Although a fireplace is meant to let out light that brightens the room, you can paint it in any bright colors you want. You know that bright colors make a clean and neat environment, right?
Use some bright patterned to create a statement. You can also choose tone-on-tone white tiles to get a brighter look. Combine it with colorful items to make the modern fireplace for winter look fun.
White marble can be used as one of the main ingredients of a modern fireplace design that you can use in winter. So that the appearance of this fireplace is not too plain and boring, then you can decorate it with a Christmas garland and a shiny gold reindeer statue. Glass candles and pine tree ornaments on both sides of the fireplace are additional decorations that are easy to find. White marble fireplace winter from elledecor.
Light colored fireplace designs will never fail to decorate a room in winter. You can try a fireplace with a beige color that is perfected with a colorful paper garland that is hung right in front of your fireplace. Don't forget that around this fireplace is perfected with a Christmas tree that is tall enough so that it can be used as a statement for Christmas decorations this year. Beige fireplace with colorful garland from elledecor.
When you want to decorate a room with a different appearance in winter, you can start with the use of a brightly colored fireplace such as light blue-green which is complemented by other red and green ornaments. Greenery garland strands are decorations that are very easy to assemble without having to spend a lot of money. Light blue turquoise fireplace from elledecor.
This white tile with a herringbone pattern is combined with neutral colored wood to make a fireplace design that has a splash of bright colors. Don't let this fireplace look too plain, now you can decorate it with a small snowflake garland and string light which can also be used as proper lighting at night. Combination of tiles with wooden fireplace from diys.
White has always been a bright color of choice that is very neutral when combined with other interiors and colors around it. You can apply this white color to the design of the fireplace and then to the gold color to the ornament that is above the fireplace or in front of it. Ornaments that you can try are deer statues, miniature pine trees and a series of garlands that are perfected with candle holders. White and gold fireplace winter from diys.
Complete your winter living room decor with a fireplace design that has a bright gray color. This fireplace is made of stone and wood so it is very suitable to be combined in one furniture in this living room. Candle holders and tropical trees are decorations that can be placed right above the fireplace with a neat and orderly layout. You can try it right now. Light gray fireplace from bhg.
If you want to have a fireplace decoration that is not easily porous, then you can use a cement-based fireplace that is refined and then repainted using a light gray color. On the wall just above the fireplace, you can use to hang round mirrors and wall scones lamps which can be used as lighting which is very suitable when used together when the room temperature starts to feel colder. Gray fireplace with cement material from thespruce.
3. Ceiling Height Fireplace
An idea to disguise the smokestack is by designing a ceiling height fireplace. You can use the empty space above it to hang a wall décor or TV. However, leaving it empty is acceptable as well.
While the fireplace stretches up to the ceiling, any colors would fit. Black, white, bold, or natural colors won't upset its height that stands out. Be prepared to have a great point of view.
The fireplace is the main interior that you can have in your living room decoration in winter, because this fireplace warms your body enough when the temperature in the room starts to feel cold. Make this fireplace with the main material of bricks repainted in clean black and white colors so that it is easier to combine with other interiors that are around it. These two colors will present a monochromatic style. Monochromatic high fireplace from thespruce.
The floor to ceiling fireplace in this living room has a splash of bold color that can be used as the focal point of a beautiful room. Currently you can use a fireplace with a combination of wood and marble so that it is more sturdy and not easily porous because it has a harder surface and is resistant to all weather changes in the room. Floor to ceiling fireplace from thespruce.
Choose and use a fireplace design according to the style of your room, now you can use a classic-style fireplace that is dominated by white paint. It doesn't quite end here, but you can also add vintage tile accents that have a splash of brown color and are arranged on the outside of the fireplace in a neat and orderly manner. Wall scones lamps on both sides of this fireplace are lighting ideas that add a classic feel. Classic style fireplace from thespruce.
The layout of the fireplace in the house must be considered carefully so that it is more precise and can be used optimally in this winter. The living room has always been an area to gather with your family so it is very appropriate when you put a fireplace in the decoration of this living room. You can make it with the main ingredients of natural stone to make it seem cheaper and environmentally friendly. Natural stone fireplace in the living room from thespruce.
The high fireplace that is on both sides of the fireplace shelf is an important interior part for a classic modern living room decoration. Because this part of the fireplace has a higher size, you can use some of its surface for the area to place your canvas painting by hanging wood beams shelves that have been re-polished so that it looks more shiny. High fireplace on both sides of the standing cabinet from thespruce.
If you have a living room decoration that is dominated by white, now you can also use a high fireplace design with a beige color so that they both have a splash of neutral color. Transparent glass windows that are large enough to make the room feel brighter, open and spacious. You can copy the neutral color fireplace design right now. Neutral color high fireplace from thespruce.
Get ready to get a different view of the room, now you can use a floor to ceiling fireplace design right in front of the living room sofa. This fireplace has a splash of neutral color, namely pure white, don't forget to use more natural materials such as wood pallets which are arranged vertically so that the room feels wider. High vertical pallet fireplace from thespruce.
4. Dark Fireplace
A dark wall around the fireplace increases its cozy atmosphere. It helps you unwind and linger a little longer, especially during the cold winter. The dark color absorbs all heat and distributes it to the surroundings. If the mantel looks so empty, place a vase or pot to keep everything clean.
Do you have a small living room decoration? If so, then you can use the hanging fireplace to warm the living room in winter. You can place this fireplace right behind the sofa with a splash of black which is perfect when combined with the atmosphere of the room which is equipped with walls made of transparent glass. Hanging black fireplace from designingidea.
An easy way to bring a masculine style and feel to your living room decor is to use some interiors with dark colors like jet black. One of the interiors is wall paint that is perfected with a metallic fireplace that hangs on the ceiling firmly and doesn't take up much of your floor space. Black wall paint with metallic fireplace from elledecor.
It's better when you use a black marble fireplace with a brighter colored sofa so that it can blend in perfectly in a living room decor. This floor to ceiling fireplace has a size large enough so that it can be used as a focal point for a room that looks elegant and very modern. Black marble fireplace with bright colored furniture from elledecor.
You can easily create a monochromatic style in the living room, one of which is by combining a black fireplace with plain white walls. Not only the walls, but the shelves can also be painted with white to show a room color scheme that is not tacky. This fireplace has a simple shape so it is very easy to combine with other furniture around it. Black fireplace with white shelves and walls paint from elledecor.
You know that logs of wood can be a threat to your clean, modern house. That's what we call great ideas of a modern fireplace for winter.
(Visited 188 times, 1 visits today)
Tags:
fireplace design
,
Modern fireplace ideas
Last modified: January 12, 2022