When we talk about winter living room décor, there are a lot of parts of a living room that would elevate the feel. Everything can be elegant when you know what to choose for your living room. So, here are some elegant ideas of warm living room décor this winter that you can choose from.
1. Ski Lodge Inspiration
If you love the idea of a small country house by the mountain, this ski-lodge inspiration can be an elegant way to decorate your living room. A large fireplace with a well-polished wooden mantel, lumberjack-looked plaid armchairs, bold color combination, and a table chest with a lot of ornaments are some of the key things that characterize this living room décor idea. It is elegant in a rustic way.
To warm the living room atmosphere during winter, you can use the Ski lodge style which is equipped with some bold colored furniture such as plaid chairs and geometric carpets. At this time you can also use a fireplace accent as a room heater, don't forget to complete it with a shiny wooden mantel decorated with two large enough jars. Ski lodge living room with bold color furniture from countryliving.
The design of a stone fireplace with a size large enough to be a heating accent that you can apply in this year's winter country living room decoration with a splash of vintage-inspired Ski lodge style. The brick walls and wooden beams ceiling are an interior blend that you can apply in this room, don't forget to add a chair covered with a plaid blanket as a comfortable and warm sitting area when used. Stone fireplace design with wooden beams ceiling from countryliving.
Ski lodge style is usually applied in a room decoration during winter, because basically this style gives a warm feel to the room by using a brick fireplace with a larger square shape. Not quite up here, but you can also use two types of chairs with different patterns and colors as a sitting area that can be placed right in front of the fireplace in a neat and orderly manner. Brick fireplace designs from countryliving.
This open country living room decoration is equipped with the use of transparent glass walls that are able to provide outdoor views that will accompany you when you feel bored. The natural stone used as the main material for the fireplace and mantel is a smart idea that can instantly bring out the Ski lodge style. Don't forget to use some warm furniture such as chairs and sofas with a layer of rugs underneath. Open space country living room from onekindesign.
The use of earth tone color that is applied in decorating the country living room is the best choice that you can try. In addition to country decorations, you can also use the Ski lodge style in the same room to make the living room look more different and attract attention, of course. This mosaic stone fireplace, which is equipped with wood beams mantel, can be used as a warmer as well as a different view when in the living room. Earth tone color Ski lodge living room from home-designing.
You can try the open concept applied in this living room decoration through the use of high stone fireplaces and large glass windows. Currently you can choose wood panels as the main material for your floor. While the stone fireplace and beams of wood coats are a statement of the interior of the Ski lodge that you can copy along with the use of a sofa or chair made of leather. High stone fireplace with wooden beams coat from home-designing.
2. Open-Air Concept
Bring an open-air concept to your indoor living room with some changes. Large windows can leave an impression that your living room is spacious and gets enough sunlight that it will have some outdoor feel. A large fireplace built with limestone, oak wood floor and wall, and some greenery on the pots will also add back-to-nature ambience.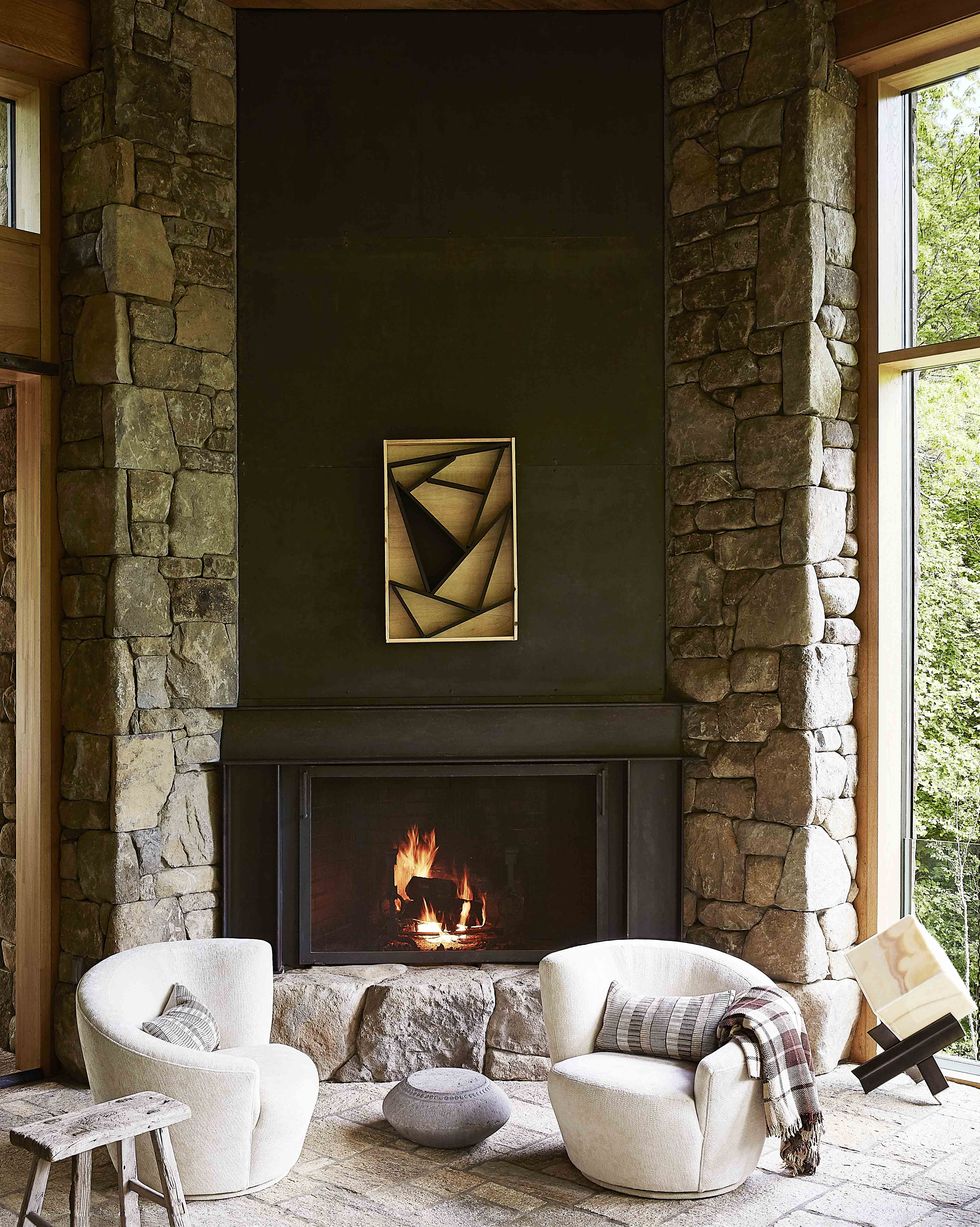 High limestone fireplace makes your winter living room decoration more open and spacious, to support the decoration of this room, you can use a large transparent glass window. Don't forget to put two chairs in front of the fireplace as a comfortable sitting area and of course it will be an area that will get maximum warmth. High limestone fireplace and glass windows from veranda.
The atmosphere of the winter living room will be warmer when you use the ceiling and walls with oak wood without polishing and repainting. In addition, you can also use a high stone fireplace as a heating accent that can spread evenly to all corners of the room, it's not enough to stop here, you can also use a large glass window to enter sunlight at sunrise. Oak wood interior with high stone fireplace from veranda.
Instead of using walls with glass windows that are large enough to make your room feel brighter and open. You can also arrange and arrange the furniture in the living room decor neatly and not excessively to get a wider floor area. This fireplace is made of limestone so it is more sturdy and not easily damaged when used for a long period of time. Instead of using walls with glass windows from veranda.
An easy way to make your living room decoration more open is to use a high ceiling and several glass windows in different corners of the room. You can use a wooden ceiling for a warmer material to use in winter, besides the function of the glass window is to enter sunlight when it is up which can warm the room. High wooden ceiling from veranda.
3. Minimalist White
Who says a small, minimalist living room cannot look elegant? It can, with a modern touch and white color palette. An off-white L-shaped sofa with some fluffy cream faux fur cushions on it, a white square-shaped coffee table with a light brown wooden top, a white wall, and a white rug will elevate and warm living room decor this winter.
Look elegant in a small living room by using an all-white living room style. White walls, a large white sofa complete with some throw pillows that are deliberately prepared on it and a white and unique round coffee table that you can apply to fill your small living room in winter. Not only that, you can also add a faux fur rug and some candles as room lighting ideas. White living room with candle lighting from curatedinterior.
In order to get more warmth in your small living room in winter, try adding a faux fur rug over the long sofa. To look more elegant, you can choose a black and white faux fur rug. Balance this black color with the use of a ceiling and some walls that have been repainted with plain white. White living room with a little black splash from realhomes.
Elegant decoration and very suitable to be applied to your small living room is to use white in every part. In addition, the white color will also help the lighting in the small living room to be maximized, and produce the illusion of a wider appearance. White walls and white ceilings will also reflect light throughout the room perfectly, as well as provide warmth when winter comes. Elegant white living room from realhomes.
White is always the right color for any room in your home, including the living room decor. You can use this white color to paint the walls and wooden doors leading to your bedroom. Another warm interior that can be tried in this room is a double layer rug with faux fur fabric which has a smoother and softer surface. You can add natural color through indoor greenery. Winter living room decoration with two layers of rugs from realhomes.
The white nuance in decorating your living room can be perfected by using several interiors that have opposite colors such as black. You can use black on the sofa, mirror frame and some ornaments placed on the open built-in shelves. These two colors will give a monochromatic touch that is suitable for the appearance of a modern minimalist living room when winter arrives. Monochromatic style winter living room from realhomes.
4. Going Green
This idea is both literally and figuratively green. The green palette—chartreuse, olive, seafoam, and mint—is chosen for the living room's color scheme. Some furniture and accessories also used figuratively go for natural approaches; a wooden walled fireplace, a wooden bookshelf and tabletop, and some foliage on the pots and vases. Not to mention a faux cowhide rug overlapping on a sisal fiber one.
It is a good idea to look elegant in your small living room by using wood accents. You can use a wooden cabinet with a green paint finish to give a natural impression to your small living room. You can also add a touch of green to your coffee table by placing a pot of greenery on it. Wooden cabinet with green finish from housebeautiful.
In order not to look darker you can also use light green paint on the walls of your small living room. The green nuance in the living room will give you a cool and peaceful impression, besides that, you can also feel an elegant appearance at the same time. Furthermore, the use of furniture with a splash of earth tone color is the perfect combination that you can try right now. Light green wall paint with earth tone color furniture from housebeautiful.
If you use green wall paint, then it's best for the idea of ​​chairs and fabric curtains you can use a brighter color. This green color makes the feel of the room feel brighter and not tacky when equipped with some classic furniture that still looks clean and well-maintained. Finish off this whole living room decor with a neutral rug that covers the floor completely. Green wall paint with classic modern furniture from housebeautiful.
It's good when you use green wall paint then you can use some furniture made from natural materials such as teak wood. This wood material can be applied to the use of a standing cabinet which is used as closed storage. Furthermore, the use of patterned chairs adds texture and color to the room so it doesn't look plain and boring. Green wall paint with wooden furniture from housebeautiful.
5. Monochromatic Feel
Black and white combo has always been stylish. A black leather sofa, white covered cushions, and black fireplace mantel with white decorative stuff like socks and papier-mâché topper will work.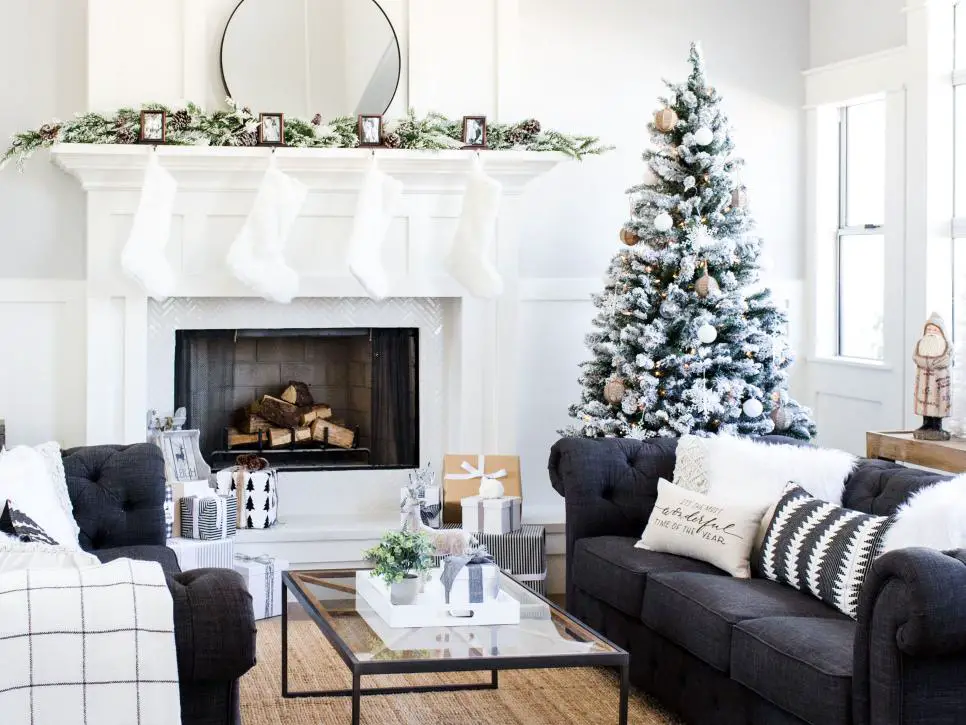 An easy way to present a monochromatic modern style in living room decor is to use two black and white colors in the same room. Currently you can dominate the room with white, while the black color is enough to be applied to the sofa and fireplace pit. The Christmas tree and white socks hanging from the fireplace accentuate the winter this year. Modern monochromatic Livingroom from hgtv.
This year's black and white living room decoration will never fail, this color combination can also welcome winter with enthusiasm. You can apply a splash of black to the walls and fireplace decorated with a deer head statue. While the white color you can try on the fireplace and ceiling which is equipped with wooden beams which is very suitable for this winter. The combination of a black fireplace with a white ceiling from hgtv.
The two sides of the wall that are converted into a glass window design make your living room decoration feel naturally brighter, this window is suitable for a monochromatic-style room decoration that is dominated by black. Make this window a room view that you can enjoy whenever you want. Monochromatic living room with double-sided glass windows from homedit.
So that your living room decoration looks wider then you can use more white splashes than black. You can use black on some furniture, including the use of chairs, fireplaces and hanging pendant lamps. Accent fireplace is very important to use in winter. The living room is dominated by white from homedit.
Choose and use black and white paint as a monochromatic-style living room decoration idea, this style is usually used for a modern minimalist room. Use a splash of both colors equally, when your fireplace has a dark color then you can balance it with the two sides of the walls and clean white furniture. Black and white balance from homedit.
So, what is the waiting? Try to apply one of the above elegant ideas of warm living room decor this winter.
(Visited 126 times, 1 visits today)
Tags:
living room decor
,
Warm Living Room Decor
Last modified: January 18, 2022