Do you have a lot of unused objects at home? Do not rush to throw it away, the object can still be useful but with different functions. Let's change the unused objects into DIY home decor craft creations. Making crafts, or Do-It-Yourself (DIY) items is not just an activity that makes you happy during the process, but also produces its own satisfaction.
DIY Hanging Ornament
Decorate a house or room does not have to always use expensive decorations. Beautiful decoration can also be made by yourself with simple materials such as beads and ropes. Add a hanging decoration accent in your home both in the living room and in the bedroom. This right can make the room look more beautiful and more attractive. You can stick the decoration on the living room wall to make it look cool.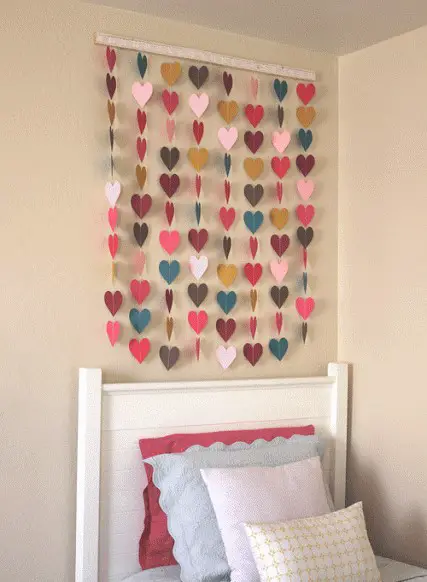 Don't let your white walls look plain and boring, now you can use paper ornaments that have been cut into love shapes with a variety of different colors. After being cut, you can combine some of these paper love using thread to become a wall ornament that dangles beautifully. Paper ornament craft from woohome.
Do you have some origami paper with different patterns and colors? If so, then you can turn it into a wall ornament that can be applied using a red rope and hung on a hook that has been provided on the wall. Cut this elephant ornament to the same size to make it look more harmonious. Elephant ornament from origami paper patterned from woohome.
The hanging tassel garland which is used as a living room wall decoration can be used as the focal point of the room because it has a fairly large size. Make this tassel with raffia rope which has a variety of different colors so it is cheaper and very affordable. Complete the existence of this DIY tassel garland with string light lighting that hangs long to the floor area. DIY tassel garland raffia rope from woohome.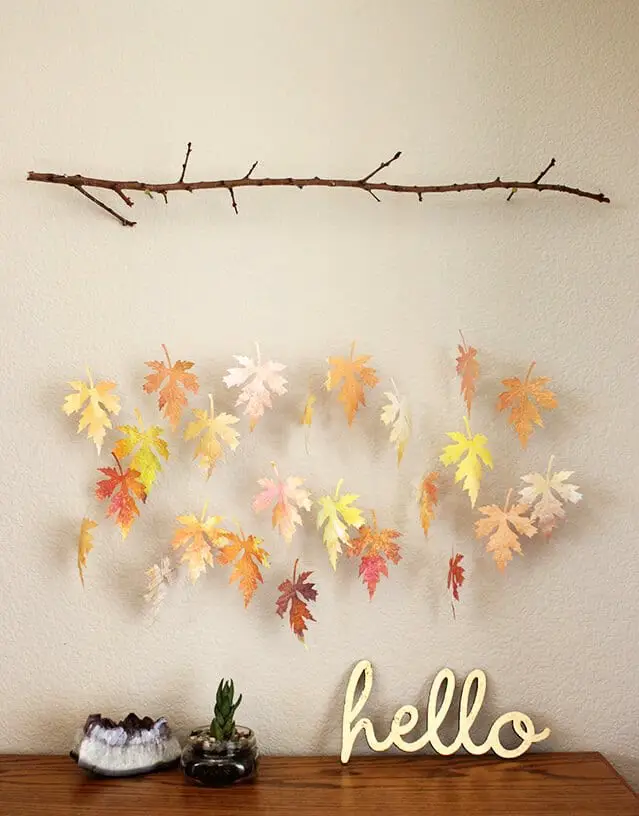 Choose and use some paper to make it as a wall ornament that can be shaped into beautiful fall leaves. After cutting this paper is done, then you can color it with a combination of yellow and orange to make it look like real in accordance with the original color. Fall leaf paper ornament from woohome.
DIY Decorative Candle
In addition to emergency needs, candles can also be used as lighting and decoration for your home decor. Besides the candle will also add a romantic atmosphere and more intense when you're alone. When using candles for a candlelight dinner, also use a candle holder that can add decoration to be more beautiful.
Besides being able to be used as room lighting, candles decorated with knick-knacks can also be used to decorate different rooms. After all these knick-knacks have been attached to the candle, then you can place them on the table area that is often visited, don't forget to put this candle with pine leaf accents and pinecones ornaments. Candles with knick-knacks jewelry from homebnc.
Wrap a red glitter ribbon on the candle as a decoration as well as a dining table lighting that can be easily turned on. Of course, this candle can also be obtained easily and at a price that is not too expensive. This red Christmas ball becomes an additional luxury ornament that attracts attention. Wrap the red ribbon on the candle from homebnc.
Make the appearance of your dining table more luxurious with gold candlesticks, then you can use several different patterned glitter candles with matching colors. You can use a white tablecloth as a neutral color balancer and match it with other interiors around it. Gold glitter candle decoration from homebnc.
DIY Table Ornament
Before decorating the dining table, you must determine the idea first. Make sure the tablecloth is adjusted to the plate as well as flower and food decorations to be put on the dining table. You can enrich the dinner table decoration at dinner by using glass-shaped glass. In addition, the glass can also create an elegant impression.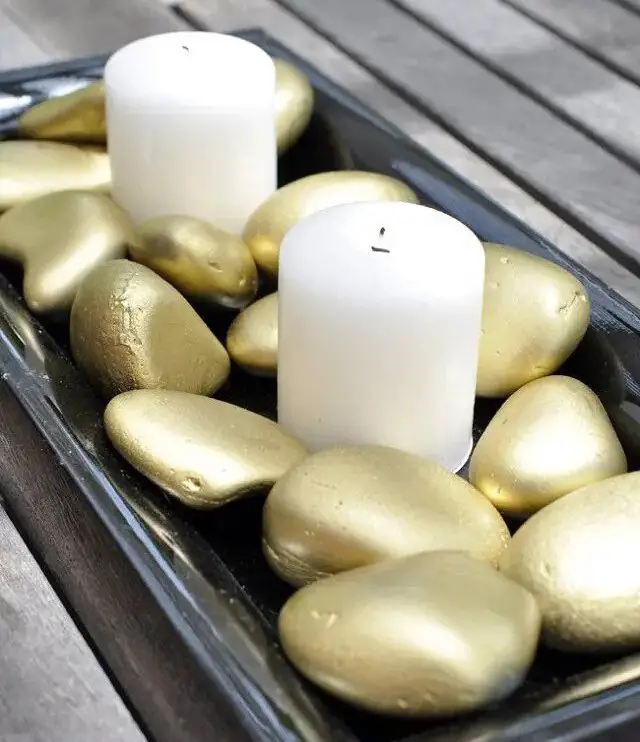 This long wooden tray design can be filled with stones and candles as an easy dining table decoration. But it's good that the natural stone used is repainted with a shiny gold color, don't forget to combine it with candles as warm lighting that is suitable for cold room temperatures. Combination of gold stone with candle from balconygardenweb.
Do you have a glass mason jar that is no longer in use? If so, then you can use it as a table decoration that can be filled with string lights that have different colors. Mason jar lighting will look more dramatic when used at night, you can try it now. Mason jar glass lighting from balconygardenweb.
This snow globe design filled with DIY snowman becomes a table decoration that can be moved anywhere easily according to the needs of the room. You can perfect the existence of this snow globe with greenery and colorful Christmas balls, so that this snow globe is safer then you can put it on a wooden frame that is equipped with legs. DIY snow globe design from balconygardenweb.
DIY Frame
Displaying your photos can be done with a unique frame. Not only as decoration, but the various photos also provide flashback memories when the photo was taken. Proper arrangement and placement will make the eye comfortable to look at as well as to enjoy the picture. Make your own varied DIY frame to get a really proper frame for you since you can make it based on your budget and imagination.
Use your old books as DIY photo frames that don't cost a lot. Here you can simply produce it using hemp rope which ends with a ribbon loop at the top corner. You can install this photo vertically or horizontally, just adjust it with the photo that will be displayed on the dresser table. Old book and hemp rope photo frames from homebnc.
Collect a sufficient number of tree branches to assemble into a DIY photo frame to make as memories. To make it easier for you when installing this tree branch, you can use the bottom surface of the cardboard with a fairly thick material, then attach it using a strong adhesive glue. As much as possible you cut the branches of this tree with the same size length. DIY tree branches photo frames from homebnc.
DIY photo frames made of ice cream sticks are very easy and inexpensive. You simply arrange it in a square shape that can be assembled with adhesive glue. It's not enough to stop here, now you can choose and use ice cream sticks with several different colors and patterns to make it look more festive and not tacky. DIY frames photos ice cream sticks from homebnc.
DIY Napkin Folding
To produce an elegant table layout, quality tablecloths, and neatly, the folded napkins are one of the important components to note. So that the order of the table is more harmonious, adjust to the theme and color nuances of the tableware used. Including placemat, tablecloth, and other additional accessories. With complete planning, a celebration party with the family will definitely be more lively.
To make it easier for you when folding flower bouquet napkins, you can see some of the existing tutorials. This DIY folding napkin design has a simple technique that can double as a card holder when needed. Place this napkin on a black plate to make it look more contrast because it has a bright mustards color. Flower bouquet napkin folding ideas from countryliving.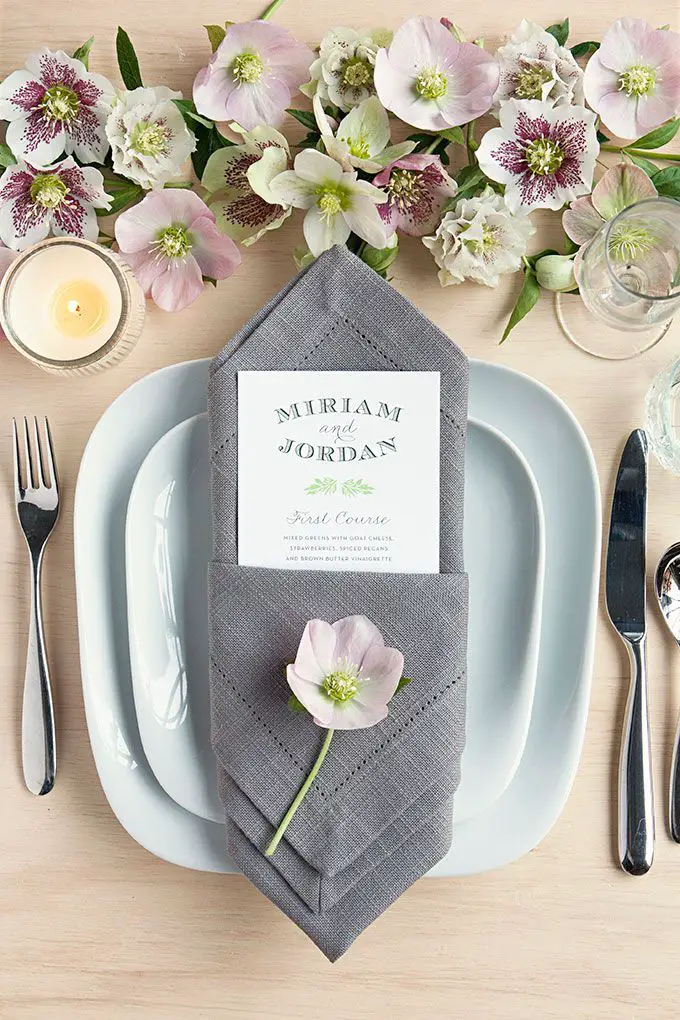 Beautiful dining table decoration arrangements can be created easily, one of which is through the use of card pouches folded napkins. Look at the look of this folding napkin, doesn't it look more formal? You can choose a napkin color with a neutral color such as gray so that it can be combined with some other tableware easily. Neutral color folding napkin pouch from countryliving.
DIY Indoor Planter
Indoor ornamental plants today have been applied by many people. That's because they are bored with the shape and color of their interior spaces. People need refreshment in the house. The existence of ornamental plants in the house or the room you normally use becomes an ornament that beautifies the interior space.
This leather pot filled with indoor snake plants is a DIY pot idea that gives the room a more different look. You can use synthetic leather material that is not easily porous or torn when used for a long period of time. Choose and use brown leather to make it easier to combine with other interiors around it. Synthetic leather pots from thebudgetdecorator.
The white cable used as a DIY vase is an easy part of home crafts to do. You can wrap this cable around the pot container that has been provided to make it more neat and organized. Fill these two cable pots with two different types of plants so they can be placed in the same room. White cable pot from thebudgetdecorator.
Used cans that are used for a DIY pot are the best choice when you want to decorate your home more efficiently and on budget. You can repaint it with white for a more elegant and beautiful look. Use this pot more than one as a beautiful room decoration. Green plant tin pots from thebudgetdecorator.
DIY Flower Vase
Making vases for flowers can use a variety of objects. Even things that do not seem possible and you will most likely get rid of them if they will not be used again such as light bulbs, cardboard boxes or cans. If you have small cardboard that has been damaged and cannot be used, do not throw it away. You can use it to become another item with a different function, which is a flower vase.
Pieces of tree branches that are turned into a flower vase are DIY room decoration ideas that can be made easily with your family. You can tie the branches of this tree using hemp rope and then tie it with a ribbon. Fill this vase with roses and place it on a wood slice to make it look cheaper and natural. DIY tree twigs flower vase from balconygardenweb.
These used cans that are repainted in white can be reused as cheap DIY flower vase ideas and of course look elegant. Beautify the outer appearance of this vase with floral patterned fabric and a pink ribbon that looks beautiful and feminine. After everything is neatly installed, you can put it in the table area that is often visited by guests. DIY repaint flower tin vase from balconygardenweb.
DIY Mason Jar Storage
At first, this jar was used for food. But as time goes by, more and more creations that you can use from this mason jar. In fact, there are also brilliant ways you might not have previously thought of. You can use a mason jar to put cotton, pencil and flower decoration. Surely it will be neat and easy to take.
So that your brushes are not scattered on the dressing table, then you can use several mason jars as storage containers that you can easily get in your home. When this mason jar has a plain surface, then you should sprinkle glitter as a cheap and not excessive luxury accent. Glittery mason jar brush storage from homebnc.
Before being used as storage, it's a good idea to wash your glass mason jar first and then wait for it to dry first. After everything is ready to use, you can fill it with stationery according to its function and use. For example, you can place pencils, pens and paper clips in different mason jars to make them more organized. Mason jar for stationery storage from homebnc.
Glass mason jars can also be used as open storage in your bathroom decor, now you can simply hang them on the wooden part that has been attached to an empty wall. Use several mason jars to store toothbrushes and other toiletries so they don't scatter on your countertop. Mason jar bathroom storage from homebnc.
Decorating your home with DIY project, interesting right? Hope those ideas above will inspire you.
(Visited 154 times, 1 visits today)
Tags:
DIY Home Decor
Last modified: December 2, 2021