Your exterior home designs should be given an equal portion of care, just like the interior and other parts of the unit. With countless ideas for this particular issue, plan your chicer living façade by smartly mixing material like concrete, glass, bamboo, plaster, and many more. If you're stuck, feel free to use our ideas below.
There are tons of great creative and innovative ways you can improve your home's curb appeal and valuation. From installing a brilliant pool that comes with the best pool drain, to using natural rocks and stones for your front yard's landscaping, we cover four options that are sure to help you create your home's attractive external abode. 
1. Highlight a room with one different material
Look around your home and observe the most dominant element in each space. If it tends to lean more on glass, concrete, or steel, feel free to experiment with one stunning addition in a completely different material. For instance, you can pick wooden panel to help mark the path to the front door.
Do you want to bring Scandinavian style to your home's exterior design? If yes, then you can use wood and concrete as the main ingredients, re-polish the wood for a more glossy appearance. As for the walls, you can paint them with a darker color such as dark gray. Install stone square all the way to your house. Scandinavian decoration exterior home design from roohome.
Modern style is certainly quite popular this year, now you can try it on home exterior decoration with a combination of transparent glass and iron on door and window frames that are repainted using a solid black color. Bring a dramatic feel by using dim lights that have a warm yellow color. Combination of glass with iron exterior home from roohome.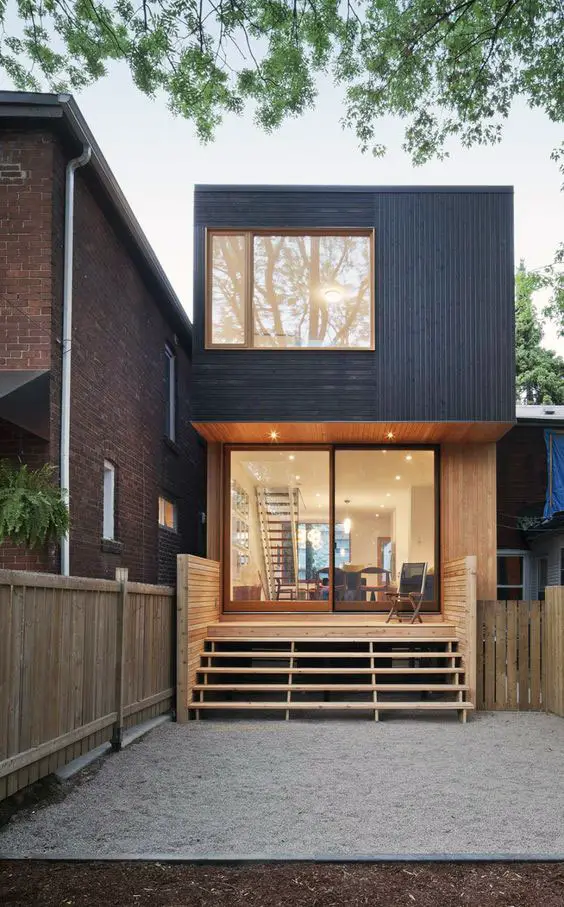 This tiny house decoration, which is dominated by wood and glass, becomes an exterior home display that is never boring and out of date. Currently you can paint some wood materials on the walls with a solid black color. While the door and glass window with a size large enough can be used as a natural room lighting idea. Tiny house decorations that are dominated by wood from roohome.
The farmhouse style looks simple but is quite a favorite this year, you can use several different materials for the style and appearance. The combination of wood, glass, shiplap wall and red bricks will work well together to bring the feel of a farmhouse, apply brick material on the exterior stairs for a more classic look. Farmhouse style exterior material from roohome.
If you have an on-budget cost when decorating a house, then the recommended choice of material is wood. You can use some wood materials in different parts. Stone and glass only as a complement as in general. Next, take advantage of the empty front area of the house with greenery for a fresher exterior appearance. Wood, glass and stone exterior home design from roohome.
Red bricks and wall tiles will work well together to decorate an exterior design of your home. Both of these materials have pretty good resistance with different outdoor weather changes. In addition to providing a classic feel, brick material also provides a different color. You can repaint the shiplap walls with solid black for an exterior home that seems to have a masculine style. Combination of shiplap walls with red brick material from roohome.
2. Find rocks to sculpt the exterior garden
The power of natural stones for any construction types seems not to fade any sooner. Consider changing the entrance and stairway into stone-based, and complement the stone décor with vertical glass panes or slatted wall of blinds.
Incorporating natural elements in outdoor decorations will never lose its appeal. An easy step you can take is to use natural stone for garden paths and garden stairs to your home. You can also use natural stone mosaics on the main pillar in front of the entrance of the house to make it more sturdy and don't need to do repeated home renovations. Stone paths and stairs from sebringdesignbuild.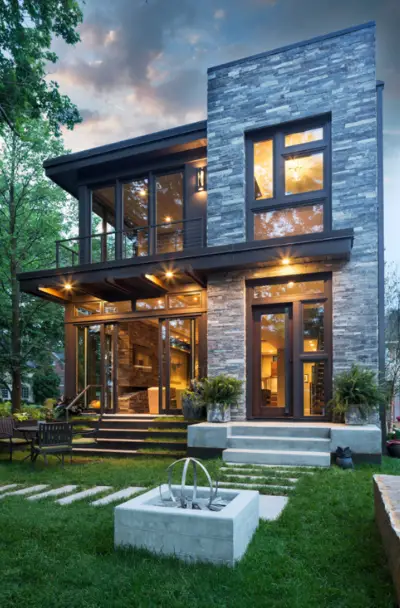 To keep the green grass area well maintained in your garden, a path is needed to help you through it. Enough with rectangular natural stones that are neatly arranged in this section of the path can avoid you stepping on the grass. Adjust the shape of the path according to your wishes or adjust to the width of your front page. Rectangular stone path from sebringdesignbuild.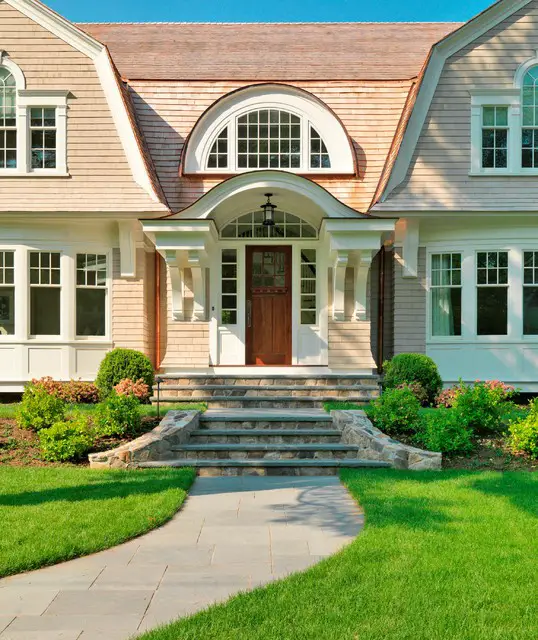 The exterior decoration of this modern French country style house is incomplete when it is not equipped with stone elements. Currently you can apply it to the stairs leading to your home, this material has a harder surface so it is not easily porous and of course more resistant to all weather changes outside the room. Modern French country exterior home decor with stone stairs from architectureartdesigns.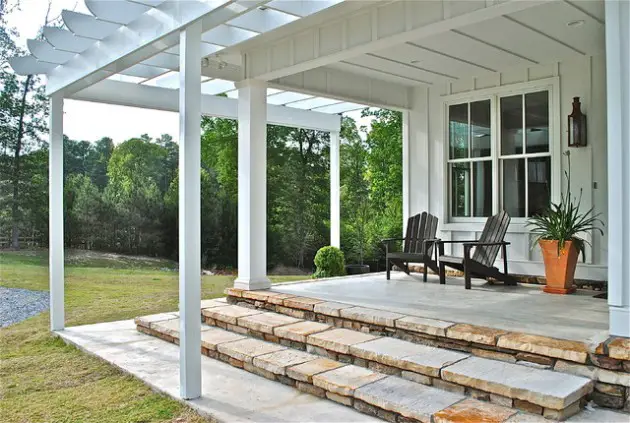 The three levels of stairs leading to your house are made of paver stone so that it has a more sturdy and smooth surface. In addition, the materials used are also cheaper and easier to find around your home. This staircase material will be more suitable when combined with the terrace of the house which is dominated by white wood. Paver stone stairs from architectureartdesigns.
Choose and use stone steps to blend in more perfectly with the feel of your front yard filled with greenery and grass. In addition to having materials that are more resistant to all weather changes, stone stairs are also not easily slippery when exposed to water, so it is highly recommended to try. Natural stone front yard stairs from architectureartdesigns.
When you have a modern exterior home decoration, to change its appearance to make it look more unique and different, you can use stone stairs that have a splash of neutral colors. So that this stone staircase can blend with your current home exterior style, you can add LED lights under the stairs to help your journey at night. Stone stairs with LED lights from architectureartdesigns.
You can choose the shape of the exterior stairs of the house according to the size of the terrace and the style of your home. When you have a small terrace, curved exterior stairs are a smart choice that you can try. Use stone materials that are dominated by beige and white colors to make it easier to mix with the exterior wall paint of your home. Curved stone exterior staircase from architectureartdesigns.
3. Feel less "city"
We don't suggest you move out of the city, but rather encourage you to set the setting of the exterior as if you're clearly away from the lively city. Focus the design on weeping willow trees, cherry blossoms, or the unbelievably popular outside greening.
Change the outside appearance of your house in the middle of the city, with a farmhouse view that is lush with green plants and surrounds the house. This is in stark contrast to the state of the house around you, the front yard of your house will look more green with various types of green plants that you deliberately plant there. Farmhouse exterior home decor surrounded by green plants from hgtv.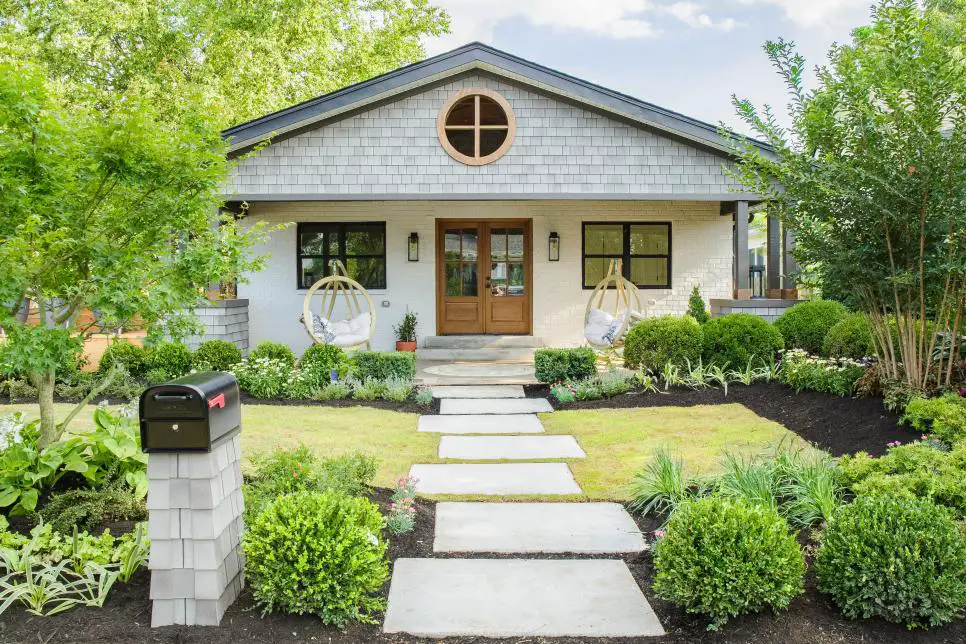 If you have a fairly large home page, you should use it to create a green area. This green area will always provide natural freshness at any time in your home in the middle of the city. Focus on planting one large tree in the green area for a center of attention, with this the exterior appearance of your home will feel more shady and lush. Green area as home exterior decoration from hgtv.
To make it look calm, peaceful and cool, you can plant two towering pine trees on both sides of the front yard, which can be used as a natural gate to the main door of your house. Spruce trees that can grow large will make your house look more lush which will make your home protected from direct sunlight. Two cypress trees on both sides of the exterior home decor from housebeautiful.
If you want a different look on the front of your house, you can use vines that are allowed to grow on the outside walls of your house. This idea is perfect for those of you who want to get a new center of attention in the middle of the city. You can also use these vines to make the atmosphere in the room feel cooler. Vines as exterior home decoration from housebeautiful.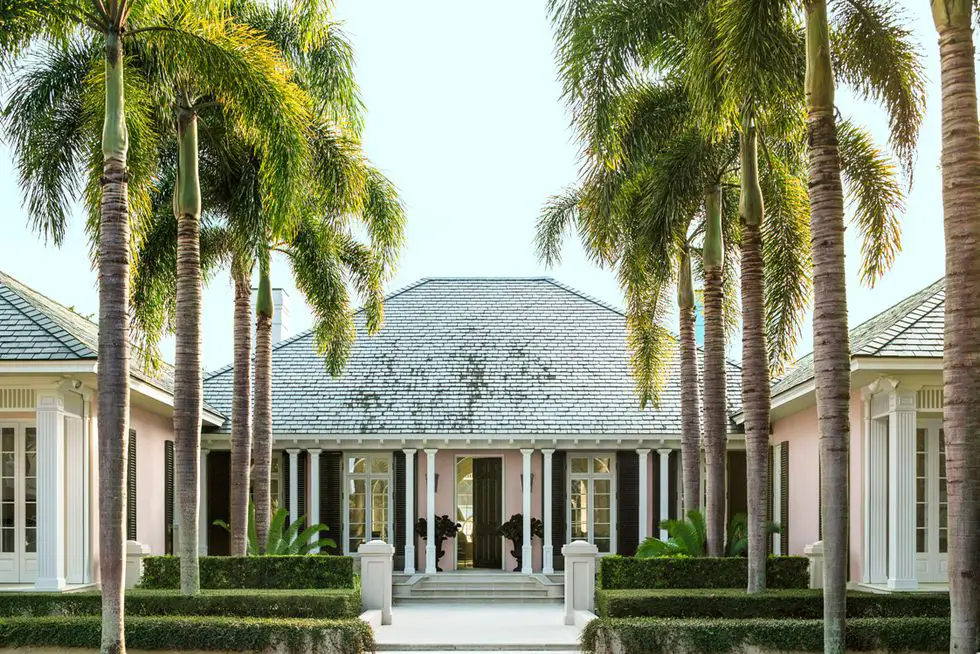 Planting trees can result in large utility savings in the long run. In addition, another benefit of towering trees in decorating your front yard is to maximize shade, fend off cold winds and channel breezes or emphasize the heating effect of the sun. Towering tree in front yard decoration from housebeautiful.
To reduce air pollution in your front yard, you can plant shrubs and towering palm trees, you can arrange and plant them neatly and orderly for a more elegant appearance. Do trimming the shrub with the same size to make it look more awesome when seen by your guests or family who come. Shrub and towering palm trees from housebeautiful.
It's good to use your large front yard to plant several different types of plants as a green area that keeps you away from a lot of air pollution. You can do regular maintenance by watering and giving fertilizers that are done regularly. With this plant, the exterior appearance of your home feels cooler. Greening the area in the exterior home decor from housebeautiful.
4. Integrate greenery
Speaking of trees and forestry atmosphere, you can opt for the real stuff: fresh foliage and greenery in your home to further boost the beautiful façade you want!
Several types of green plants planted in your front yard decoration affect the value of the house significantly. In addition to green plants, you can also plant trees that can grow tall to make your home more beautiful and of course more shady during the day. Do regular maintenance so that your plants can grow according to your wishes. Green plants and towering trees in front yard decoration from home-designing.
If you have a wider and open front yard, then you can use it for farming by planting some green plants that are perfected with green grass that looks fresh and beautiful. You can trim shrub plants of the same size for a more elegant and neat exterior home landscape decoration, of course. Shrub plants with green grass from home-designing.
Choose and use low-maintenance green plants to apply in your front yard as exterior decorations that can be done together with your family on the weekend. Plant shrubs and green grass for yard decoration that is fresher and free from air pollution when your house is close to the road. The elongated stone road is a combination that you can try. Choose and use low-maintenance green plants as home exterior decorations from home-designing.
Round shrub is one of the green plants that you can try in your front yard garden as a charming home exterior decoration. In addition to shrubs, you can also use green grass as a blend that makes your outdoor area look greener and shady of course. You can try it right now. Round shrub and green grass from home-designing.
To welcome you and guests who come to your home, you can use green plants for outdoor decoration. Plant a tree for shade in the corner of the garden in front of the house. Don't forget to provide a garden path to make it easier for you to pass through the front garden of the house just to pass or enjoy it. Trees as a house exterior shade from home-designing.
In order to always get natural freshness at all times, you should plant green plants around your home. The right location that you can use to plant greenery is in the front yard. Bush plants are very suitable to be applied to this idea, you can plant them on the right and left of the path along the entrance from the gate to the main door of your house. Bush plants along the path from home-designing.
If you want a simple style but still green you can use grass as greenery in your front yard. Its easy maintenance is certainly very suitable for those of you who like a minimalist style. You can also combine it with ornamental shrubs that are shaped like balls so that they will get a unique and very eye-catching appearance. Minimalist exterior green plant arrangement from home-designing.
We're curious to know which one of the exterior home ideas above will you try.
(Visited 271 times, 1 visits today)
Tags:
Exterior home designs
Last modified: March 8, 2022