Organizing a wedding during summer will be great. You can get the fun ambiance of the summer to your wedding. Also, it is really possible for you to have an outdoor wedding that is really interesting. Anyway, talking about the wedding, your backdrop wedding is something that your guests will take care of. It can be said that the beauty of the wedding backdrop will influence the whole decoration impression. For this summer, applying the season concept to your wedding backdrop is really recommended. In this case, your summer backdrop should be simple yet pretty. Of course, you can still have the flowers here and there, but, make sure that you choose the right color. Don't forget that the summer concept is not about the festive and stand-out one. It is pretty yet calm and fun. Here are the ideas for your reference.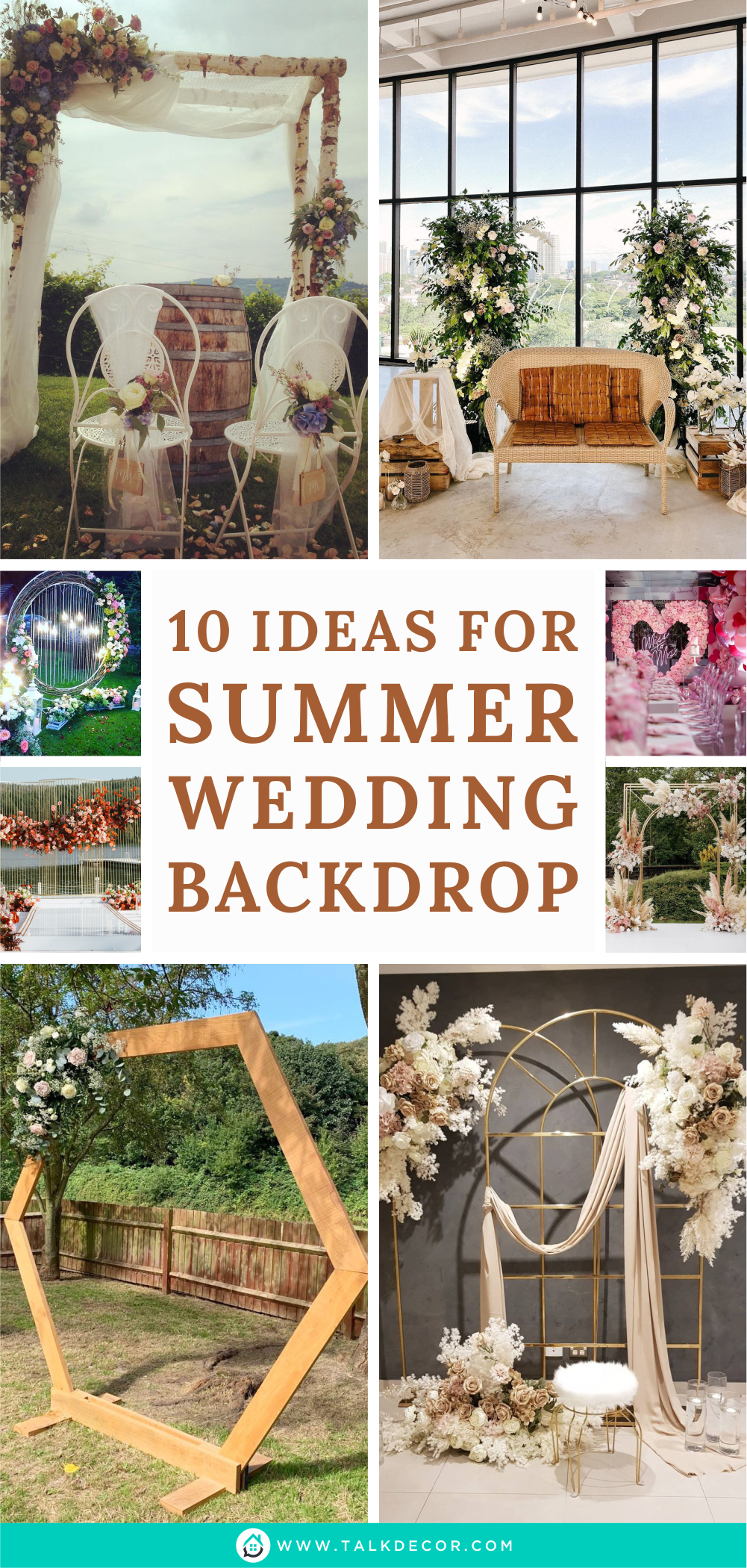 Modern and Minimalist Wedding Backdrop
The modern and minimalist style will never fail when applied to the wedding backdrop design this year. Look at the blooming flowers combined with this shiny gold arch, isn't it very attractive and not tacky? Yes, you can try it easily and practically. Add a nude-colored curtain as an additional ornament that makes this wedding backdrop decoration look more elegant overall. Just use faux flowers to make them more durable and not easy to wither when used for a long period of time. Nude shades are the best choice that you can apply.
Faux Floral Wedding Backdrop
The use of faux roses with a variety of different colors is one of the materials that is often used for wedding backdrop decorations in the summer. This flower is quite popular to use and will never fail. Faux roses that can be used are a combination of white with light pink that can blend perfectly. A piece of white cloth that is used also adds an elegant impression, use a classic bench as a bridal sitting area that has a vintage touch. Finish this wedding backdrop decoration with a chandelier that has warm and dramatic lighting, candles are the right decoration as well as additional lighting.
Natural Themed Wedding Backdrop
So that your summer wedding backdrop decoration can blend with nature, then you can use only natural materials to design it. The wood branch that is used as a wedding arch will stand strong even when exposed to the wind outside. Just complete the look with several rose flower arrangements that have a variety of different colors. In addition to flowers, another decoration that can be applied is a plain white curtain that can be wrapped around the arch of this wedding so that it produces a more elegant appearance even though it looks simple. Two white chairs become a special sitting area for the two brides, just decorate it with flowers to reaffirm the summer theme.
Outdoor Bohemian Wedding Backdrop
The backdrop design is one of the decorations that must be present at your wedding party. Therefore, you can choose the right style and touch. Bohemian wedding backdrops are the best choice and style that you can use. To emphasize the bohemian theme, you can use faux feathers accents that can be combined directly with blooming flowers that have a variety of different rose colors. The arch accent with gold color is a sweet finishing touch and can be combined into one to get the maximum view so that it can be used as an attractive photo spot with guests or family who come.
Outdoor Minimalist Wedding Backdrop
No need to use excessive wedding backdrops. Just combine colorful flowers with several gold pillars that are neatly arranged to be used as the main frame of this wedding backdrop. The minimalist design is perfect for use when summer arrives. Just apply it outdoors with a beautiful lake background and towering trees. This will be a special area for a very charming bride, the use of white chairs and floors makes this backdrop decoration more bold and certainly good as a focal point. A light breeze makes this wedding event more comfortable even though it is outdoors.
Greenery Wedding Backdrop
Instead focus on flowers when decorating a wedding backdrop this summer. Greenery is the best option that you can use right now. Choose and use faux greenery with only one type to make it look neater when doing the arrangement. Flowers dangling on this backdrop are additional decorations that can work well together and will never fail. Don't forget to add the initials of the bride and groom with the right color selection, namely gold. The gold color itself makes this backdrop look more luxurious without being excessive, you can try it for outdoor summer weddings.
Summer Wedding Backdrop with Outdoor View
Also pay attention to the layout of the wedding backdrop for maximum results when used during the day or night. Now you can put it right in front of a transparent glass window so that you can see the beautiful outdoors and filled with fresh greenery at the same time. For the wedding backdrop decoration, you can use a practical design that doesn't require a lot of expenses. Flowers with green plants are a combination that you can combine together, just use flowers and faux green plants so they don't wilt easily when used for a long time.
Magical Summer Wedding Backdrop
There's no better way to make your backdrop one with the outdoors than with beautiful blooming flowers. Roses are the right choice because they can decorate it perfectly. This beautiful setting can be perfected with string bulb lighting that can dress up the dry twig base for the perfect wedding setting. The existence of this light bulb makes the backdrop can be used at night with a warmer outdoor atmosphere. It's not enough to stop here, you can also put several candle lanterns around it to be used as additional outdoor lighting that is easier to move to any area as needed.
Heart Roses Wedding Backdrop
Use a backdrop with a different shape and appearance to attract the attention of guests and family who come to your wedding. For example, you can redesign the backdrop with a heart shape that looks sweet and elegant. To form this backdrop, you can use pink roses completely without having to combine them with other colored roses. Complete the look of this backdrop with LED miss to mrs to make it look more alive when the room is getting dark. Balloons with matching colors are additional decorations that you can get cheaply and easily.
Pastel Ballon Wedding Backdrop
Not only using flowers as the main material for this year's summer wedding backdrop decoration. Instead use a wooden hexagon backdrop with a size large enough. But don't let it look too plain, do your best to decorate it. For example, applying flower arrangements in the corner of the backdrop will work well together when used as a background for wedding photos with guests attending the wedding. No need to repaint this wooden hexagon backdrop, just let it appear naturally and of course it can blend with nature perfectly.
(Visited 86 times, 1 visits today)
Tags:
decoration
,
summer wedding
,
wedding backdrop
Last modified: July 4, 2022