The wire surprisingly can be made into varied designs of craft. Those crafts are useful not only for the accessories that you commonly know but also for home decoration needs. This one is really unique although with its simplicity because the wire can be designed in a flexible way and formed into many shapes and utilization. With the addition of accessories or ornaments, the wire can be a pretty product for your home decoration needs. For example, you can have a wire dreamcatcher, wall ornament, standing ornament, and more. Or, for something more useful, you can have the lamp shade, planter holder, rack, and more. Here are the complete ideas for you.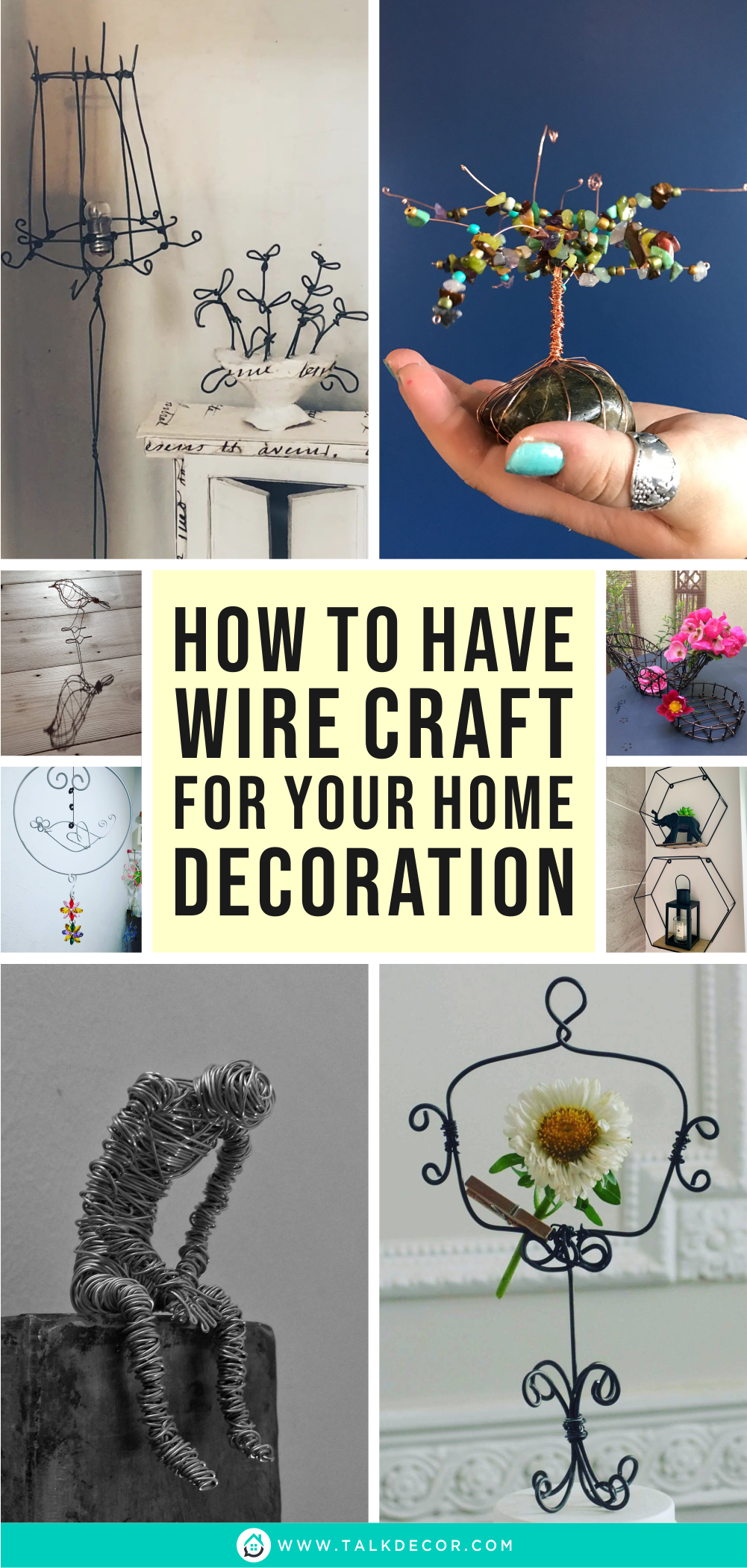 Small Wire Stand Flower
This wire flower stand looks much better with the choice of solid black because it looks shinier when made as one of the focal points of the room. Its vintage-looking appearance gives it a strong appeal. A sprig of daisies with white color becomes a very beautiful natural look and can be moved to any room easily. The four-wire legs on this flower stand are sturdy enough to stand upright and of course not easily porous when used for a long period of time because it has a fairly hard material.
DIY Copper Wire Tree
Copper tree wire crafts are always fun to try on weekends with your family or friends. With this wire tree, it will be easier for you to combine it with other decorations in your home because it has a slightly more luxurious and different color. Its existence gives a vintage feel because it is combined directly with natural materials such as natural stone which has a fairly large size. Do a stone cleaning first for a cleaner, shiny look, while the colorful crystals add some much-needed color to the wire tree as a whole.
Craft Wire Dreamcatcher
Another craft that you can make from wire is a dreamcatcher with a small size that requires a fairly low cost. Not only wire material, but you can also combine it with other materials such as chains and some dark colored beads. Wrap the wire into the circle evenly and of course with a pretty neat arrangement. After everything is arranged according to your wishes, then just hang it on an empty wall as a good decorative item.
Silver Wire Tree Ornament
Do you need wall decorations in your home? Yes, you can try it by making handicrafts that suit your talents. For example, you can make a wire tree with a fairly large size. Just make this wire as easy as possible according to your ability, it's not enough to finish here, also perfect it by applying it to the white frame for a more elegant look. Attach the wire tree to the frame using adhesive glue that is sturdy enough so that it doesn't come off easily when used as a room decoration for a long time.
Copper Wire Craft Butterfly
If you have copper wire material at home, then you can reuse it as one of the materials for butterfly crafts that you can make yourself at home. Now you can combine seashell materials for a beach touch that you can get instantly. After this handicraft is ready to be made as a home decoration, then you can hang it on the wall using a well-installed nail. The wire material used is also easy to assemble so it will be more perfect when used, choose the gold color for a more attractive appearance.
Basket for Vase Flower Ideas
Wire basket designs are not always used for storage. Now you can use it as a container for the flower arrangements you have. Just use one type of flower with the same color tone so that it looks more striking and is suitable for decorating the part of your dining table that is outside the room. This wire material can be combined with iron so that it can stand firmly, adjust the color of the iron material with the wire so that it can blend more perfectly.
Hanging Wire Flowers Wall Decor
Don't let your wall decor look plain and boring. Now you can decorate it with the results of your own crafts to display a fun work. For example, you can make two floral designs with wire material that can be hung using a fairly sturdy hemp rope. Use only solid black wire so that it can look contrast when applied to the wall that is painted in plain white. This craft only requires cheap expenses and is suitable for those of you who want to save on a budget.
Simple Wire Wreath
The wreath design made with the main material of this iron looks quite sturdy and not easily porous. You can make it according to the design you want. Not only wreath circles, but you can also combine them directly with pink flower fabrics that have a variety of different sizes. After that, you can hang it on the wall or entrance as a decoration that fits any season, including summer this year. You can try it easily.
DIY Craft Floating Shelves
Take advantage of the empty walls as storage ideas by using several floating shelves that have unique and different shapes. For example, wire floating shelves with additional holders to those that have a vase shape. You can also fill one part of these shelves with a vase bottle that has been filled with a series of green plants. With these floating shelves, the wall decoration looks more cheerful and fun.
Colorful Wire Centerpiece
Another way to decorate your current dining table is to make wire crafts with a variety of different shapes. Wire shapes that can be used are flowers and butterflies. Make this beautiful and cute wire as a centerpiece decoration that can be finished with a splash of colorful paint. Colors that can be combined are gold, blue and purple. All of these colors would work well together on a glossy white melamine wood dining table.
Wire Wall Hanging Ideas
A stick of driftwood can be used as a wall decoration when you hang several craft wires that have different patterns or shapes. Wire forms that can be used are shoes, cacti and teapots. Hang using wires of different heights for a prettier look. Just make this craft design with a size large enough to be able to decorate the entire wall. Not only craft wire, but you can also hang flower arrangements together on this driftwood.
Handmade Wire Suncather
Let's take decorating the home room with wire craft art to a better level, it's a unique way for you to arrange various decorations along the wire. So, this suncather wire decoration took quite a long time to make in detail. The first thing you can do is buy an iron circle and redecorate it with bird wire that can be installed in the middle of the circle that is used. It's not enough to stop here, you can also design colorful crystal stones into flower shapes and can be applied vertically using existing hooks.
Black Wire Lampshade
Create a cozy and cute wire-wrapped ornament lampshade with this design project. Making this project suitable for people who may be new to all this. This project is ready to be used as a unique and different room decoration. Use an iron as a rope with a size long enough so that it can be seen by anyone who comes to your house. Repaint the iron and wire parts with a black color selection for a simple result that is still quite interesting to note.
Gorgeous Wire Wreath Design
There is nothing wrong with making a wreath design with a solid black wire base material. Start by making a circle and continue by signing home in the middle. To beautify the appearance of this wire wreath as a whole, you can add some fresh green leaves. Furthermore, after you have finished making it, you can hang it on the wall using a hemp rope which is quite sturdy, this wall decoration can be made according to the design you want.
Lantern Cage Display
Wire with a size that is quite thick and large can be used as a lantern cage design that can be used as a decorative item that can be used as a home decoration. Now you can fill the wire lantern with clay pots that have been filled with green plants. This wire lantern cage is equipped with a handle so that it is easier to move it to another place when needed. You can make it two sizes and the same color splash to make it look more aligned and matched.
Stainless Wire Candle Holder
This stainless wire candle holder with two different sizes becomes a room decoration because it has a modern look that is not boring. The material used is also not worried about being easily porous because it has a harder surface. Repaint this candle holder using gold for a slightly luxurious look. This wire candle holder design is also easier to move when needed. Now you can put it inside or outside the room.
Hexagon Shaped Wire Shelves
Decorate an empty wall in a room in your home by using a minimalist hexagon-shaped hanging shelf made of wire and wooden boards. Don't hesitate to use more than one of these wire hanging shelves, its simple shape will not interfere with your activities around the room. Install it vertically and complete it with other accessories such as a uniquely shaped lantern candle holder or a unique succulent pot for a more artistic appearance. Apply right in the corner of the room to make it more lively.
Wire Sculpture Ideas
If you have unused wire left and you have high imagination and creativity, try to create an extraordinary work of art with existing wire materials. The work of art you can make with a wire is a small statue, make a sculpture with complete parts to make it more beautiful. Display the wire statue that you have made in a room that is often used for activities so that everyone knows that you have a high artistic soul. This coil of wire depicts a person sitting and looking down.
LED Wire Wall Decoration
So that this wire wall decoration can still be seen at night, you can add LEDs with quite striking colors. Blue LED is the best choice that you can try. For now, you can write HOME wire so that it can be used as a sign that will be the first sight when your guests come to your house. This LED wire sign also has a size large enough to make the wall livelier, you can try it now easily and simply. Check out this craft design when the room is getting dark for maximum viewing.
Stunning Wire Bee
No need to spend a lot of money to decorate the walls of your house that are still empty and plain. For now you can make a wire bee combined with a wooden rainbow accent that has been repainted with a bright orange color. This rainbow board becomes the background of your wire bee so it looks bolder when it is used as the focal point of the room. You can combine it directly with a series of dry plants that can be placed right on the side of this wall decor.
Cute Wire Rabbit Ideas
Another form of ornament that you can make from wire is a medium-sized rabbit. When you are a beginner as a craftsman from wire material, then you can imitate the instructions according to the reference book you have. Other materials or tools used are pliers as wire cutters so that they are easier to use by children or adults. First you can make it from the head to the tail. Use a solid black wire to make it easier to combine with other ornaments when applied in a room.
Black Matte Wire Jewelry Display
Not only used as home decorations, but wire crafts can also be used as an organization for some items to be stored. This wire jewerly display looks beautiful when used to hang some of your earring collections. With this, you can find earrings in an efficient time because they are easier to find when you need them. The bottom surface of this jewerly display has a flat surface because it is combined directly with a wooden board that has a size high enough to make this wire craft look taller too.
Copper Wire Miniature Tree
This miniature tree made of copper wire is one of the highly recommended handicrafts to try. Besides having an elegant color, this miniature tree also looks more luxurious and elegant. You can use this material from the design of tree trunks, twigs to leaf ornaments. Cover the bottom surface of this tree with pieces of dark colored glass and of course with a blunt side so that it is very safe to be used as a room decoration. Just make it big enough.
Wire Cage Floor Lamp and Flower Ideas
Take a look at some creative wire crafts that are made according to your abilities, aren't they interesting enough to be used as home decorations with a unique touch. Try making a floor lampshade and flower ornaments that are applied to a clay vase that has been repainted in white. These cage floor lamps can stand firmly and there is no need to worry about being easily damaged or porous because they have a hard material. Place this wire cage floor lamp in the corner of the room to make it safer for your children.
DIY Wire Craft Bird
Take advantage of the old wire that is no longer used in the warehouse as an ornament that can be used as a room decoration that looks DIY and creative. For example, you can make a wire bird with a fairly large size. Just adjust the wire material you have with the size of the bird you are going to make. After this bird craft has been made, then you can put it on the console table or on the floating shelves area to show it off to your family or friends who come to your house on the weekend.
(Visited 87 times, 1 visits today)
Tags:
craft
,
home decoration
,
wire craft
Last modified: June 29, 2022