Implementing apartment décor on a budget won't mean shabby and easy-to-break stuff in your living space. Stop going for those, and start investing your budget and effort for worthy décor ideas from us below! Here are some affordable methods to dress up your apartment in simple budgeting that won't break the bank.
1. Convertible Furniture
Furniture with double (or more) functions at once is a lifesaver to your space and money. Why invest in a separate desk and chairs if you can purchase them all together as well as store them neatly somewhere that won't stand in your way? Really, consider convertible apartment furniture.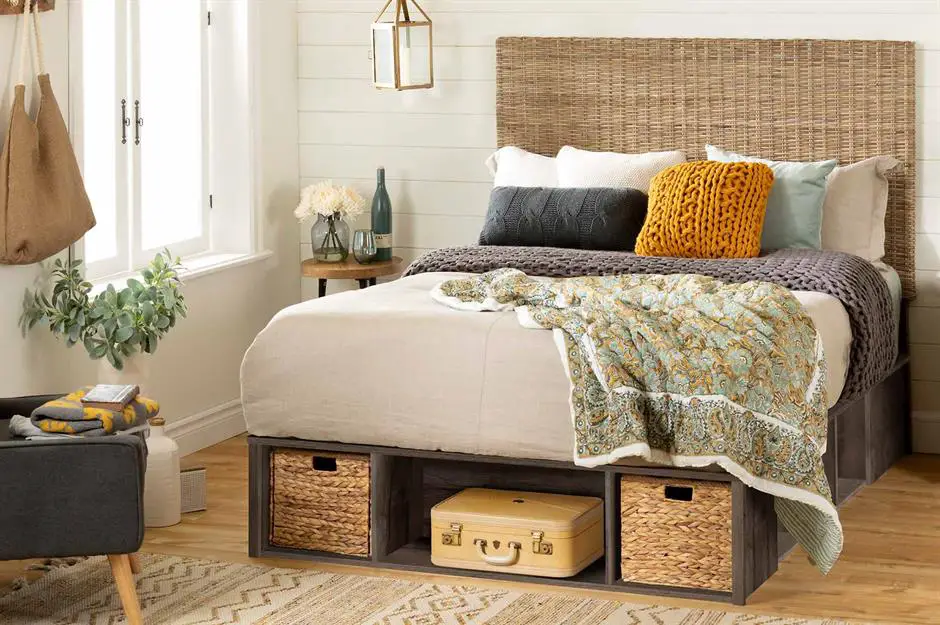 The choice of convertible furniture in the form of a bed equipped with storage at the bottom will present apartment decorations that suit your budget. Here too you can add a wicker basket to create extra storage to your bedroom apartment. Combined with a white color scheme and wooden floors will give the impression of a spacious and warm room. Bed with storage from loveproperty.
A coffee table that is integrated with storage and a work desk is furniture that is highly recommended for you. Choose this wooden coffee table furniture for the focal point in your living room. Decorations like this will save your space budget and will give you a stylish look. Convertible coffee table from loveproperty.
You can also use this ottoman coffee table to easily store various ornaments on your table. This is a living room decorating idea on a budget and won't take up much space. You can also add wall storage by using hanging boxes that you can put in any formation you like. Paint your storage box a bright color for a stylish room decor. Ottoman coffee table storage from loveproperty.
2. Reading Lamp
If your current overhead or desk lamps aren't comfortable or bright enough for you to read, have one or two apartment reading lamps nearby! They're incredibly affordable if you're not exactly aiming for super modern or sophisticated design—unless you really want to, and there's a good deal on the market.
Place your reading light just above the nightstand to help your activities at night in this room. This metal lamp helps decorate the bedroom with a vintage feel. Combining with wood panels and wood furniture will also result in decorating your room to have the impression of a warm room and have a natural impression on the room. Metal reading lamp from remodelista.
Choose a reading lamp with white lighting to work better. Choose a reading light design that fits your bedroom design. Choosing a sconces lamp with this iron material will make the room decoration interesting. Try it now in your bedroom decoration. Pair it with this white color scheme for a clean and charming room. Hanging reading lamp from remodelista.
Hanging reading lamps above the right and left mattresses will provide perfect lighting throughout the room. They are very affordable if you don't really want a super modern or sophisticated design. Combined with this wooden wall will give a charming decor with a natural touch to your entire room. Hanging reading lamps from remodelista.
3. Curtains
Your windows deserve a few decorations after giving you the fresh supply of sunshine and air every day. Choose simply patterned and lightweight apartment curtain fabric that surely won't require many expenses, though feel free to get a thicker material to fight chilly temperature.
Buy curtains that match the current weather, when the cold weather hits you have to buy curtains with thick fabric. Choose a simple white color so as not to cause a crowd in your living room. This idea is easy enough for you to try. Placing these curtains in the dining room of this apartment will present an interesting room decor. White curtain apartment dining room from apartmenttherapy.
Match the motifs and colors to the nuances of your living room so that everything can blend in perfectly. Open windows to the right and left during the day to let more sunlight in. Choosing these linen curtains will bring a warm and inviting room decor. This white color scheme will also make the room look spacious and airy. Linen curtain from apartmenttherapy.
4. Wall Art
Don't leave the walls unattended, too: hanging or sticking some apartment decorative wall art can help spruce up the vibe and refresh your eyes with pops of color. The good thing about wall art is that they're effortless to make and customize if you aren't up for spending money.
Decorate your plain walls with some of your wooden frames. Match all the shapes and choose different sizes. You can pair it according to taste and design you want. Placing it on the wall of this apartment's dining room will create an attractive room decoration and steal the attention of many people. Wooden frame wall decor from apartmenttherapy.
Install your abstract wall art on the walls of your apartment to make your room decor look more stylish. Choose a larger size when you buy just one frame. This wall art adds to your artistic value. Add white sofa furniture to balance the look of your apartment on a budget. Abstract wall art from apartmenttherapy.
5. Rugs
No argument about throwing some apartment rugs. Not only will it create a more spacious feeling of the room, but the carpet can also add pattern, color, and warmth to an otherwise bland space.
Throw a layered rug over your floor to cover it for a warmer feel. Adding a large rug throughout the room and a patterned rug on top will make for a warm décor. Add a sofa and wooden coffee table for a comfortable seating area. Choose furniture according to the feel of your current living room. Layered rug from apartmenttherapy.
When you choose a rug with different textures and fabrics, it will become a multifunctional decorative item. Rest your feet on this rug for extra warmth. Choosing a rug with pink color and unique motifs will strengthen the boho impression into your room. Complete the decor with a wooden dining table and rattan hanging chairs to bring a natural look to your apartment's dining room. Boho rug from apartmenttherapy.
We hope those doable tips for apartment décor on a budget above will help solve your concern.
(Visited 34 times, 1 visits today)
Tags:
Apartment Decor
Last modified: October 17, 2022