Workable bathroom decor helps people get inspired to improve the vibe and look effortlessly, particularly considering how we spend a considerable amount of time there. Give your bathroom several worthy addition or decorations with the help of our ideas below. Note to mind, though: when designing the bathroom, consider how you'll make and arrange the area function for you.
1. Floral Wallpaper
There are claims that wallpapers aren't doable in a humid place like a bathroom, but you can still take your chances in bold bathroom wallpaper to add blooms. Learn more about how the humidity affects the material and choose peel-and-stick kind for simpler maintenance or removal afterwards.
Add a cheerful color to the bathroom decor with the use of botanical wallpaper that is dominated by a variety of beautiful floral accents. You can try to combine it with a hanging mirror with a rattan woven frame that looks natural. Galvanized vases filled with bold colored flowers become fresh decorations that can balance the color tone of the room, which is elegant and beautiful, of course. Botanical floral wallpaper bathroom from countryliving.
Green plants combined with small colorful flowers appear against the white background of the wallpaper creating a bright and welcoming bathroom feel for your guests. You can also use an antique vanity repainted using a sweet pastel color. Complete this bathroom decor by using a hanging mirror that has a gold carved frame with a vintage touch that never goes out of fashion. Blooming powder wallpaper from countryliving.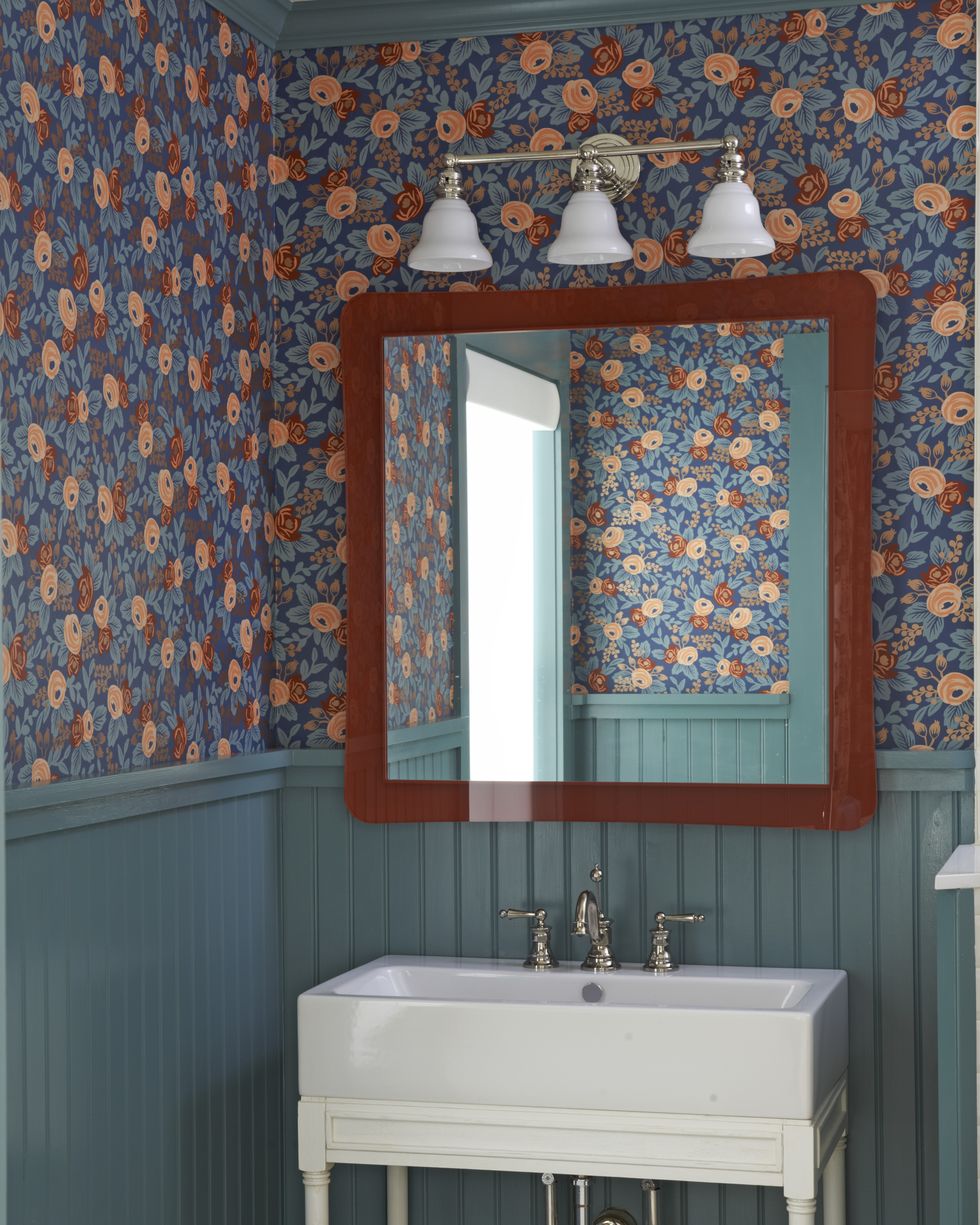 If some of your walls have used pastel colored wooden shiplap, then you can then use Moddy flowers as wallpaper ideas that can be combined together in one bathroom. This Moddy flower wallpaper of course provides its own attractive color that can make the impression of a beautiful and more colorful room. Square wooden frame mirror is an additional interior idea that must be had to complete your bathroom decor. Flower Moddy wallpaper from countryliving.
To create a beautiful vintage-style bathroom, you can use a romantic wallpaper layered with pink roses that has a white background so that it looks more contrasting and beautiful. To maintain the balance of this rose flower wallpaper, you can use an interior that is dominated by clean white. The touch of gold on the faucet and shower becomes an additional luxurious color that you can apply in the room at the same time. Vintage pink roses wallpaper from countryliving.
2. Dramatic Lighting
Besides your standard bathroom lamps, feel free to incorporate dramatic bathroom lighting like neon lights, chandeliers, or wall sconces. These lamps are guaranteed to set the mood you want in the bathroom!
Lighting is one of the key designs that must be owned in a bathroom because it provides beauty as well as functionality that will work well at night. Now you can combine crystal chandeliers with wall scones lamps that are applied to both sides of the mirror. These two lamps both have a very efficient vintage impression. The peacock mural becomes an artistic impression that adds color and beauty. Combination of crystal chandeliers with wall scones lamp from hgtv.
The natural light that is entered through the use of this glass wall is able to enhance the lighting in the bathroom naturally, you can also add a gold pendant that is hung right above the bathtub. While the scone wall lamp is an additional idea for room lighting that can be hung flanking the mirror to provide good lighting for the dressing table area. Gold pendant with scones flanking mirror from hgtv.
Hanging gold chandeliers with a size large enough can be used as a bathroom statement that is able to provide maximum light at night throughout the room evenly. Because these chandeliers are equipped with candle lighting, they can also make the room feel warmer and seem dramatic. Tropical plants become a fresh room decoration. Statement gold chandeliers from hgtv.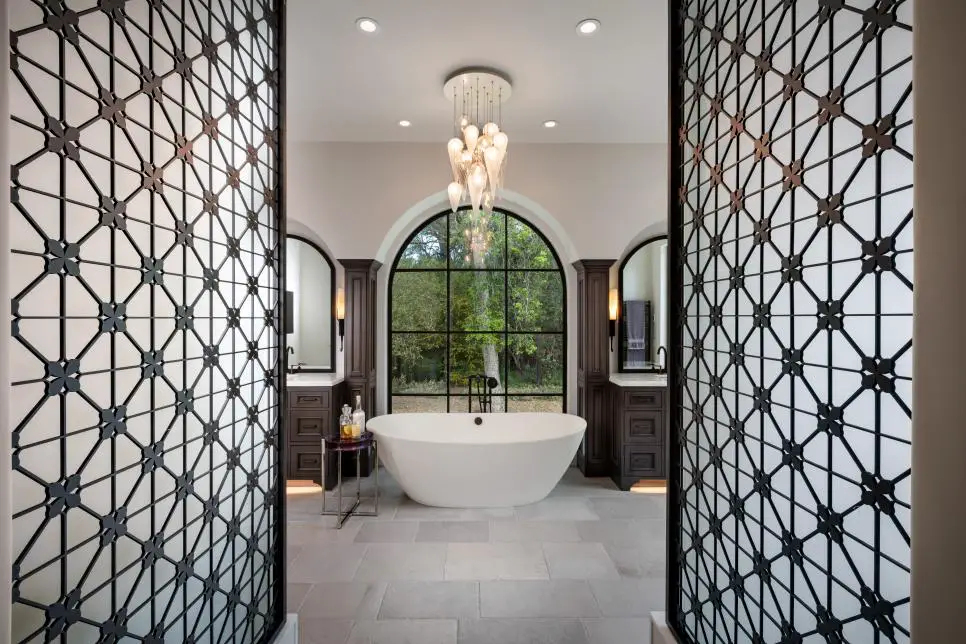 The master bathroom designer is perfected by the use of a glass chandelier that offers dim lighting and inspires your evening relaxation while soaking in the bathtub. Currently you can use a glass window with an arch shape to provide full brightness and can be used as an outdoor viewing area at dusk. Modern glass chandelier from hgtv.
3. Glam Mirrors
Complement your current mirror with a little glam that'll change the vibe: a new countertop vanity mirror to see yourself better when you're shaving or applying makeup. Some mirrors also come with clickable lights to add better lighting.
The use of LED mirrors in modern bathroom decorations is very suitable and appropriate, therefore this mirror idea is highly recommended to improve the appearance of the room more optimally. This LED mirror will also really help you when making-up in this room at night, you can hang this LED mirror with white lighting right in the floating vanity area as bathroom furniture that works continuously. LED mirror with white lighting from sebringdesignbuild.
If you have a backplash with a touch of gold that looks shiny, then you can complete it with a hanging LED mirror with a rectangular shape that is equipped with lighting on both sides. Look, doesn't it look elegant when the LED mirror is combined with a white sink and wood vanity, this interior idea can be used in a contemporary style bathroom. This mirror is also equipped with lighting that comes from the use of chandeliers so that it makes the room look brighter and more open. LED mirror with lighting on both sides from sebringdesignbuild.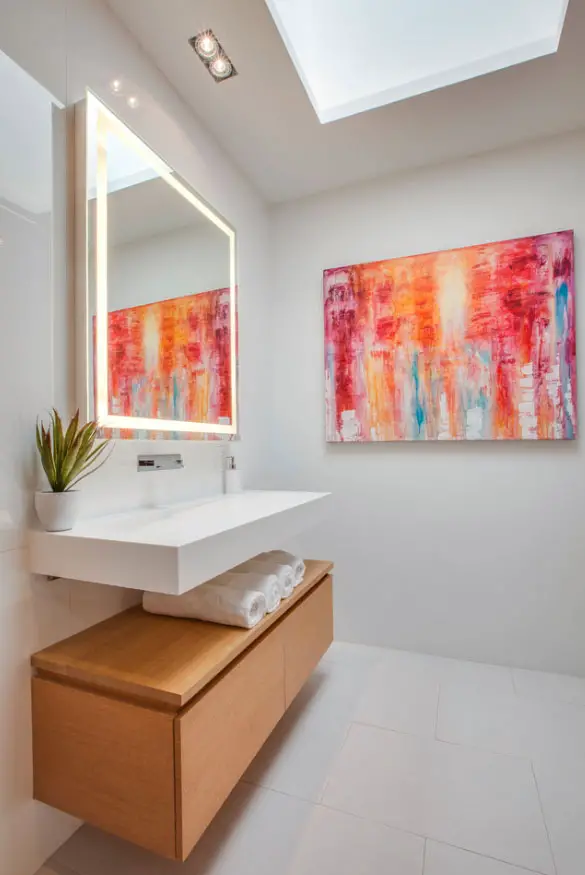 The square design of the LED mirror that is hung in the vanity area is a complementary idea for bathroom decorations that is really needed to check your appearance before leaving the bathroom. This LED mirror is also equipped with the use of ceiling lights above it so that it is brighter when used at night. Abstract painting and small green plants are a unique combination of room decoration, you can try it now. Square LED mirror from sebringdesignbuild.
4. Garden Stool
If your garden doesn't really need a garden stool, consider changing its status into a bathroom stool that'll act as a do-it-all piece of furniture. For instance, you can sit on it while bathing the kids or use it to hold overflow items from the shower.
Do you need a dry area to put towels in the shower area? If so, then you can use a medium-sized garden stool that has been repainted according to the color nuances of this modern, traditional bathroom. You can also choose this garden stool that has a pattern so that it gives its own beauty that is not easily boring and is certainly suitable for application in any stylish room. Garden stool in the shower room area from decoist.
An easy way to bring a vintage style to your bathroom is to use the right furniture, for example, you can use a Chinese garden stool that has a white color that matches the feel of your bathroom so that it blends in more perfectly. In addition to providing a new accent hue, this garden stool also has a slim and versatile version that saves space. China garden stool from decoist.
If you are a collector of antiques and like an interior that is different from the others, then a ceramic garden stool with a glossy black color is a valuable addition that can increase the attractiveness of your dry floor bathroom decor. This garden stool can be used to place a vase of flower arrangements that can give the impression of a beautiful room and of course give the maximum fragrance around the room. Ceramic garden stool in the dry floor area of ​​the bathroom from decoist.
5. Touch of Greenery
Greeneries aren't only for the living room or bedroom. Make sure to put a lush potted plant to breathe more fresh air, complemented by a colorful rug to contribute a dash of color. Bathroom greeneries you can consider are asparagus fern and orchid that'll thrive in humidity.
In this bathroom design, you can add several different types of green plants to show a fresh and winning look. In addition, indoor green plants can also be obtained easily and of course can make the atmosphere of the room healthier. This outdated interior with greenery indirectly brings a bohemian feel that never goes out of style. Bohemian bathroom with indoor plant from homedesignlover.
The combination of various types of green plants that are applied in this bathroom really invites the warmth and freshness that will be produced. When you have limited floor space then you can hang some plants using sturdy ropes so they don't fall to the floor and cause a mess. Perform regular maintenance to produce lush green plants. Various types of indoor green plants from homedesignlover.
When you have a bathroom decoration with limited space, then you can consider hanging plants to minimize the use of the floor area. Tile subways walls with splashes of white make a beautiful backdrop for various types of indoor greenery. The glass window in this room will help light up the room and can also help grow indoor green plants. Hanging vines from homedesignlover.
In addition to green plants, you can also add color and texture to the bathroom by using a runner rug that has a splash of earth tone color that seems warm. You can put tropical plants with a size large enough on the table provided. In addition, coat the walls with flamingo wallpaper which is dominated by pastel blue to add a unique and unusual decoration to the room. Tropical plant with vintage runner rug from homedesignlover.
More beautiful bathroom decor is currently on your way with one of the above ideas!
(Visited 71 times, 1 visits today)
Tags:
Bathroom Decor
Last modified: October 17, 2022