Stuck in a long meeting. Drowning in deep paperwork. Going in and out of a coffee shop. Name all common activities people do at work with poker faces. If that happens in your place, it means it needs some décor enhancements.
Do you remember that your house always helps you unwind? Then, applying some home décor will increase your energy and people around you. So, let's learn how to décor the office for winter to skyrocket your team's productivity.
1. Interesting Cubicle
A fully-decorated cubicle gives out more nice vibes than that plain look you see every day. If you are allowed, why don't you decorate the cubicle into something that suits the season?
Use white clothes or blue papers to wrap the cubicle. Then attach white decorative papers in the form of stars and snowflakes to those boards. Spread around some winter decor elements, like a winter globe, small pine tree, or cozy pillows as well. But, save some space for mobility.
To complete the office cubicle decorations this winter, you can use several sizes of star ornaments with white splashes in the office cubicle area randomly but still neatly and orderly. Not only star ornaments, but you can also use fake snow accents that are applied on the table or under your work desk. This office Christmas decoration is enough to be done and enough to enjoy. Combination of star ornaments with faux snow from wired.
Winter office decorations are simple but enough to give your office a Christmas makeover and can certainly do it yourself. You can start by making a fake snowman and a Christmas tree that is placed on one of the floor areas of this cubicle office. To decorate the ceiling, you can hang snowflake paper ornaments and garlands that say white Christmas. Winter office cubicle with white theme from architecturesideas.
An easy way to decorate your office cubicle in winter is to hang some white snow paper ornaments using thread on the glass ceiling to make it look shiny during the day. In addition to paper snow ornaments, you can also place a fairly large Christmas tree in the corner of the room so as not to interfere with your work activities while in this workspace. Hanging ornament snow paper from architecturesideas.
Show the winter office cubicle as lively as possible so that it can be more fun when in use. Now you can try to apply the brown house right in this office cubicle area in a neat and orderly manner. Not only the chocolate house but you can also use some colorful balloons on the table and candy cane paintings on the walls as a maximum finishing touch this winter. Winter house for office cubicle decoration from architecturesideas.
If the snow sprinkles on your desk are not clearly visible, then you can create a snowman design complete with a hat and tie. You can put this snowman right on your work table with a size large enough. Dry twigs with a splash of snow become the last winter decoration that you can apply together. Snowman snow decoration on the workbench from architecturesideas.
This office cubicle design which is dominated by red brick material can be perfected with a glossy paper garland that has a fairly long size. You can also hang paper snow ornaments on the ceiling not too far away. All these decorations are ready to welcome the winter in this year with full of joy and joy. Brick office cubicle with winter design from architecturesideas.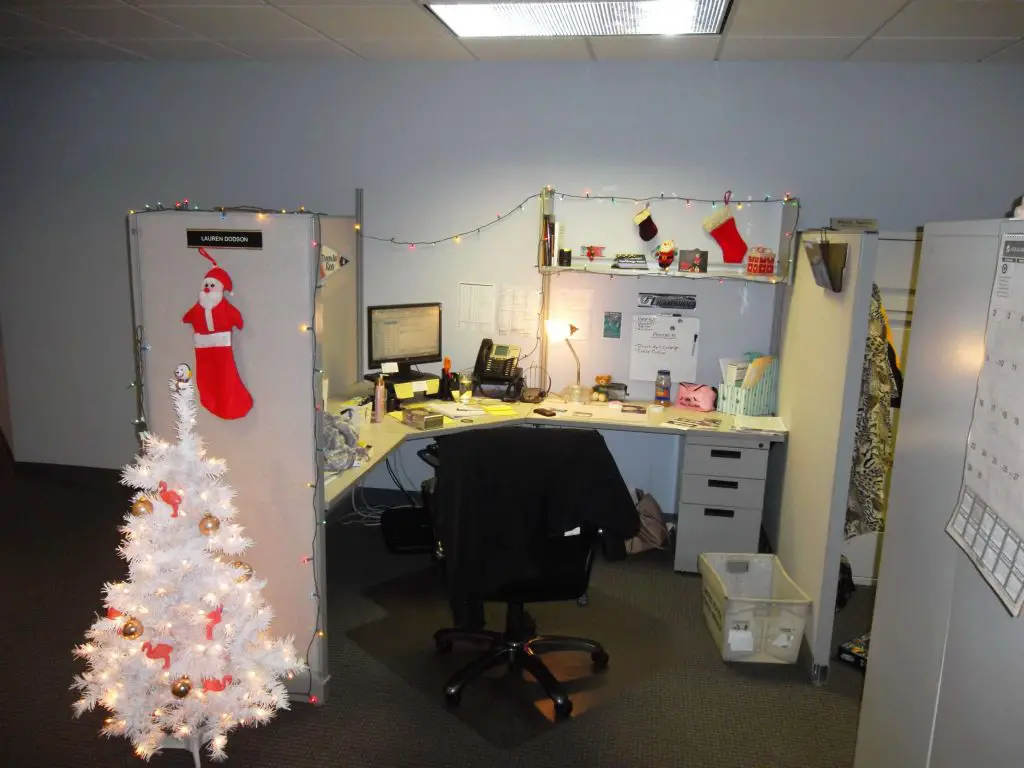 The Christmas lights that hang in the wall area are one of the most appropriate lighting to apply in office cubicle decorations during winter. This lamp is able to provide maximum warmth and of course has a very affordable selling price. In the front area of this office cubicle, it can be put to good use, one of them is by using it to put a sparkling white Christmas tree. String Christmas lights with white Christmas tree from architecturesideas.
Now you can decorate your office cubicle from the outside to make it look more festive by other employees who see it. Decorate this glass office cubicle with hanging socks that hang beautifully and attract attention. While in the interior of your office cubicle, you can decorate it using greenery wreath and garland which is perfected with small ornaments in the form of pinecones and a sprinkling of white snow that is applied evenly. Christmas sock decoration, greenery wreath and garland from architecturesideas.
To make your office cubicle ready to welcome winter this year, you can try sprinkling fake snow on your desk that is not used to put a computer or laptop for comfort that can still be reached. It's not enough to just sprinkle fake snow, but you can also coat a little area of the floor using a runner rug which has a Santa pattern with a splash of color dominated by red. Sprinkles of fake snow on the desk from architecturesideas.
It's a good idea to cover the outer surface of your office cubicle with a cloth that says berry, which is perfected with greenery wreath and snowflake ornaments to welcome this year's winter with full of happiness. You can use silk fabrics that have a more glossy surface so that it looks more luxurious without being too much. Shiny fabric lining office cubicle from architecturesideas.
Cover the surface of your office cubicle with a red cloth decorated with a polka dot patterned ribbon that has a variety of different sizes. It's not enough to stop here, when you welcome the winter season, you can decorate the surface of your work table with white snow and cover the chairs with Santa figures made of red and white flannel. Red and white winter office cubicle from architecturesideas.
2. Winter Forest Corridor
You can make the office looks magical as long as you are the person in charge. If that's the case, suggest this decor. Apply a magical winter forest look into that corridor. Attach lots of lights to branches on each side of the walls. Or you can use wired light and let them flow from the ceiling to the floor. Arranging some green potted plants along the corridor is also an option. Then, everyone will feel as if entering the deep winter wood while passing through it.
The corridor is an area that employees often visit when leaving the office or room so it must look more festive to welcome winter this year. You can apply a large candy cane in several areas of the wall with a distance that is not too far away. To make this office corridor more attractive, you can also hang a DIY snowflake which is perfected with a paper sign that has a bold color to make it look more striking and clear. Winter corridor decoration with candy cane ornaments from architecturesideas.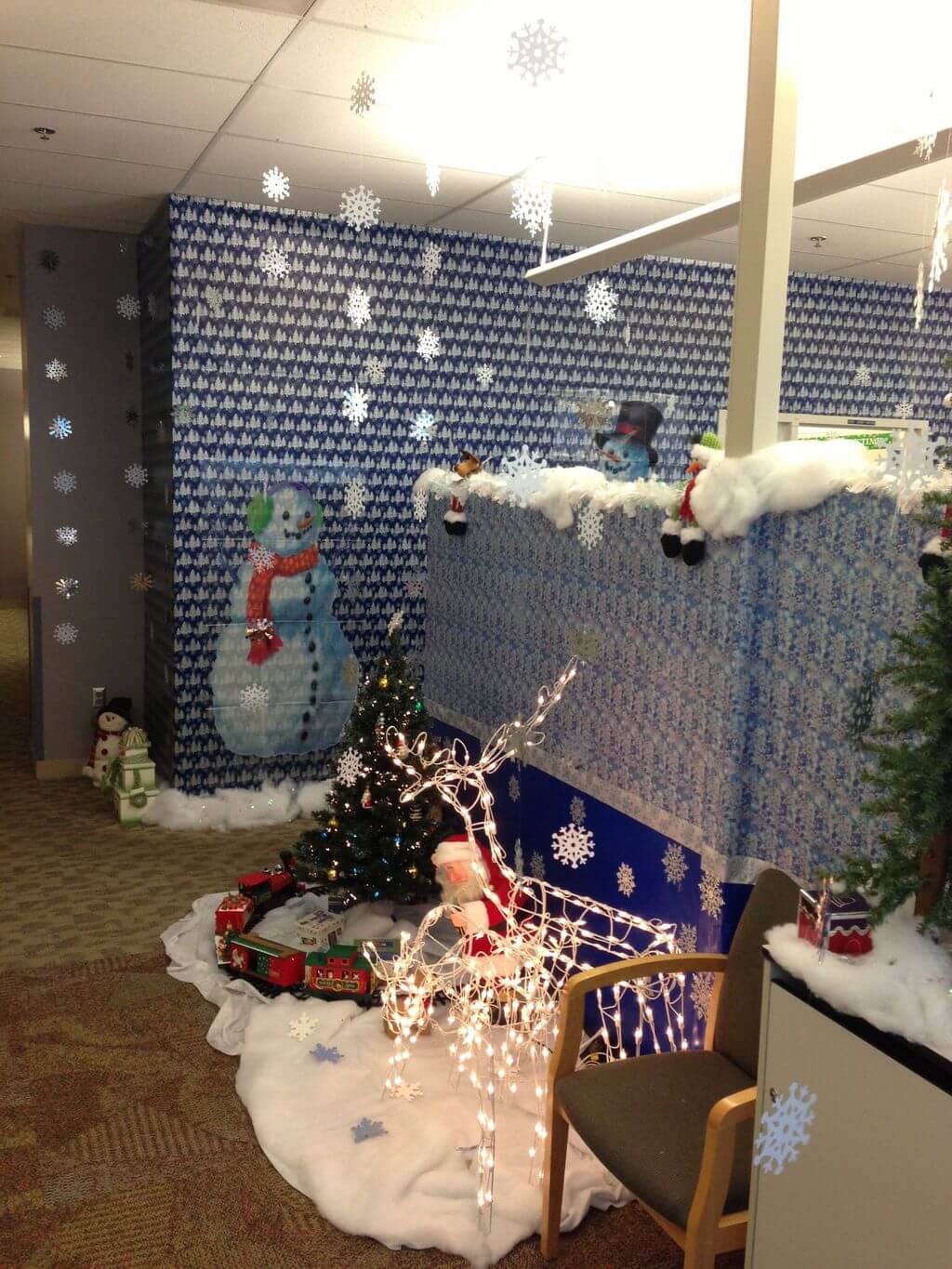 Another option for decorating your office corridor in winter is to hang a few small paper snowflakes evenly across the ceiling. You can also dominate the room with a combination of blue and white. Don't forget to take advantage of a little floor area with small greenery Christmas trees and deer string lights that look so sparkly when the atmosphere in the corridor begins to feel darker. White and blue winter office corridor from architecturesideas.
There's nothing wrong with applying winter ornaments in the midst of decorating your current office corridor so that it can be used as a unique focal point and of course it doesn't interfere with your path to your respective workspace. Ornaments that you can make are DIY snowman, Christmas socks, a shiny Christmas tree that is perfected with a string light that surrounds this winter ornament, this idea can be tried easily without having to spend a lot of money. Winter corridor ornament with string light from architecturesideas.
If you have an office corridor decoration with limited space, then you can try applying a winter theme on the walls by pasting or hanging the appropriate ornaments. For example, you can stick a white DIY snowflake on a wall area using hot glue. This painting of brown trees and white cotton made as snow accents is perfected with a 3D snowman equipped with a black hat. Winter corridor wall decoration from architecturesideas.
The Christmas tree has always been the main decoration in winter Christmas decorations, now you can try it in the office corridor area to welcome all office employees cheerfully. This Christmas tree is also equipped with several Christmas gift wrappers that can be distributed to employees to make them more happy and cheerful when welcoming winter in this office. A sprinkling of snow is a sweet finishing touch. Greenery Christmas tree with Christmas gifts from architecturesideas.
Along the office corridor, which is dominated by a winter theme, it looks more unique and feels fresher, of course. You put some winter ornaments along the side of the road neatly, for example, a white Christmas tree, snowman and white cotton grains that are used as cold snow accents. This corridor decoration idea can be done by all employees together to welcome a pleasant winter. Winter decoration along the corridor from opensourcedworkplace.
An easy way to make snow accents in decorating your office corridor is to use a thin white cloth that is applied along the road on the right and left sides. The existence of this faux snow is perfected with star balloon ornaments and strings of Christmas lights that dangle beautifully in the ceiling area of this corridor. The idea of welcoming winter this year is quite lively with simple ornaments that are cheap and easy to find. Combination of faux snow cloth with Christmas lights from uniqueideas.
The shades of white and blue in this office corridor decoration are enough to give a winter statement, you just need to add snowman ornaments and some snowflake paintings on the wall area. This corridor color will be a favorite color throughout the winter décor. Winter corridor dominated by blue and white from uniqueideas.
3. Winter-Theme Gate
Wouldn't it be awesome entering the office through a gate? There are lots of styles to choose from. You can make a gate out of cotton to look like snow, glitter papers, or cartons.
Put it by the entrance or, if you are not someone in charge, by your cubicle. Add some branches, decorative papers, or other decor items. What's interesting about this gate is that you can design it in any form you want. You can make it look like a candy cane arch, a thin gate covered in snow, or woods.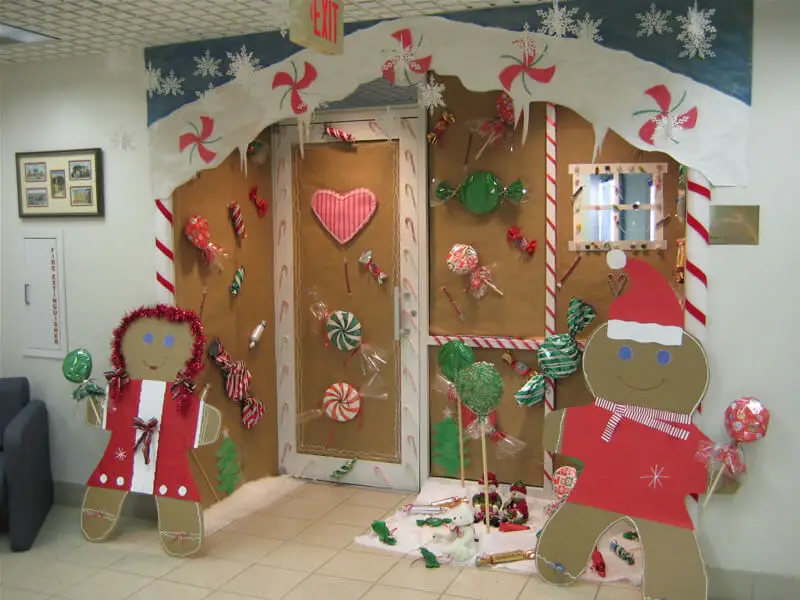 The gate to this office booth can be decorated with a variety of DIY winter ornaments to make it even more festive this year. Start by making two snowmen out of cardboard and recolor them red on the shirt and hat. Not only snowman but you can also combine it with candy canes and other small ornaments that are attached to the area around this gate. Winter office gate with cheap DIY ornaments from architecturesideas.
Because this winter office gate is temporary, you can decorate it simply without having to spend a lot of money and money. Now you can decorate the gate with glossy paper garlands and ribbons that are arranged and shaped to be curved on the surface of this gate. You can choose a ribbon with pink and red colors to make it look more contrast when combined with your current garland. Combination of garland with ribbon from opensourcedworkplace.
The next option you can do to decorate your winter gate is to apply white cotton that is made into snow with a string light that has an orange color. This winter gate can be perfected with snowflake ornaments and blue Christmas balls that are beautifully hung in the ceiling area. Winter office gate with faux snow and string light from innovativedecorideas.
Your office cubicle will look more attractive in winter when you decorate it with cute and colorful gates. You can start by installing cardboard with a thicker material as an accent gate and decorate it with some candy canes and window accents. Hanging Christmas socks is a perfect ornament that can be used simultaneously. DIY cardboard winter gate from christmas.365greetings.
Do you want a different look in your office decor in winter? If so, then you can use some small ornaments in the form of gingerbread and some colorful lollipops. Look at this office gate doesn't it look more lively and fun? Gingerbread theme for winter gate from christmas.365greetings.
This winter office gate decoration filled with gifts will give pleasure to the office employees themselves. You can also hang the Santa's Workshop writing as a friendly and impressive initial welcome. Snow ornaments are a must-have decoration, you can apply them under gifts neatly and certainly don't block the way to the office cubicle. Gate decoration with gifts from christmas.365greetings.
Never get out-of-stock when it comes to office décor ideas. Following those ideas above to decorate your office this winter.
(Visited 518 times, 1 visits today)
Tags:
Office Winter Decor
Last modified: January 4, 2022