Although the cold weather outside makes a lot of people prefer to stay put and be inside, spending time to make DIY winter craft decorations can also be done in your spare time. What makes this better is to have a cup of hot chocolate before jumping on a simple and easy project like this.
These DIY winter craft ideas below will have resources that are easy to source and be easy to find. Find the supplies either from what's already at home or buy it easily from local stores at extremely affordable rates.
1. Mason Jar Snow Globe
If your little children and nephews want new snow globes this year, making some glittery mason jar snow globe will be the cheap solution. Find unused mason jars and clean them first, before gluing the figurine to the inside of the lid and preparing the glitter glue/water mixture.
A simple snowball with a toy car and a mini Christmas tree looks very beautiful and amazing. DIY snow made of beads will look perfect. You can make it yourself to create a unique look and enhance your creativity. Add a string to the lid of this jar for the perfect look. Mini Christmas tree snow globe from thesprucecrafts.
This snowball tutorial uses a mason jar and mini trinkets to make a miniature snowball. Reusing these mason jars will make for a low budget decor. Miniature deer figurines and a small Christmas tree complete the décor of this ornament. Deer statue miniature snowball from thesprucecrafts.
These DIY mason jar snowballs will make your Christmas decorations more festive. Adding snowflakes and snow from the salt make it a unique decoration and attract the attention of many people. On the lid of the jar you can add a patterned ribbon to complete the perfect look. DIY Snowflakes mason jar from thesprucecrafts.
Snowballs made of glass do not require expensive materials. You can reuse unused Mason jars and add a little Santa figurine to create unique and interesting decorations. You can make your own to boost your creativity. Snow globe masson jar from thesprucecrafts.
Placing Santa decorations and DIY snow globe made of Styrofoam in old mason jars is a simple idea for making the perfect Mason jar snowball. Adding a few jars filled with miniature Christmas trees will make a unique display and steal the attention of many people. DIY snow globe from thesprucecrafts.
2. Finger-Knitted Garland
Filling the time with some knitting beside the fireplace is the most convenient way to produce some winter crafts befitting the season. Making colorful garlands from your favorite yarn doesn't even need needles—hence, the name finger-knitted garlands.
This DIY project using this colorful hand crochet garland will make any room decor stylish and steal everyone's attention. In addition to the garland, you can add knitted stockings for a stylish décor. On the top of this wooden coat you can add some unique Christmas ornaments such as a small Christmas tree and Santa Claus doll. Colorful hand crochet garland from lovelyindeed.
Our unique Christmas tree features a hand knitted garland that will give you an eye-catching look for you to try. This is a DIY giant crochet wreath. You can combine it with several other ornaments for an interesting tree result. This is a unique room decoration and steals the attention of many people. Hand knitted garland from reesedixon.
Applying a crochet garland to this Christmas tree would make the perfect room decor and steal the attention of many. Paired with gold ornament balls and string lights for the perfect lighting. These DIY ideas will boost your creativity and will give you room decor on a low budget. Crochet garland from littleyellowwheelbarrow.
This blue and white crochet garland is perfect for decorating shelves in your home. With this garland decoration there will be a merry Christmas. In addition to the garland, you can add colorful pompoms to create a cute look that will grab everyone's attention. Complete the miniature Christmas tree and figurines for the perfect finish. Blue and white crochet garland from sisterswhat.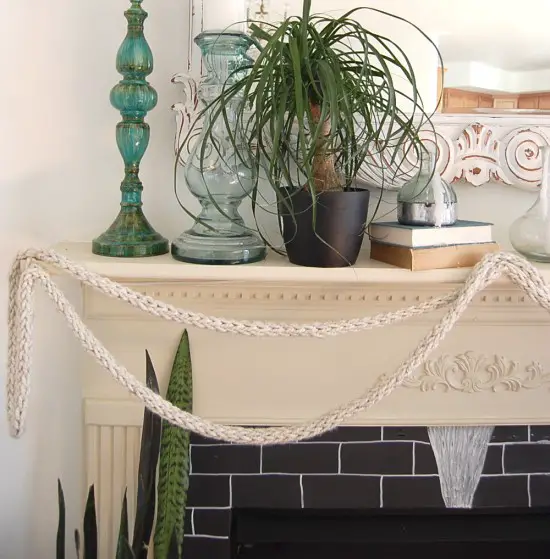 Using a crochet wreath for decorations above the fireplace is a brilliant idea. With this crochet garland idea you will get a room with a stunning look. Making it yourself will increase your creativity and will create the perfect look. Complete the look with some vintage ornaments and potted greenery for a stylish result. DIY crochet garland from thenester.
3. Ice Lanterns
Although they're made of ice and won't last long, aren't ice lanterns also perfectly suiting winter? These magical balls are a magical winter craft and easy to make. You can paint it or let it bare but you should add decorative items to look more attractive. Once done, place them with decorative lights on the outside of the house.
Decorating the terrace with this ice lantern decoration will make you look stylish and steal the attention of many people. This pink painting also gives a unique look. This DIY will greet your guests with stunning Christmas splendor. Pink ice lantern from handmadecharlotte.
DIY ice lanterns are the perfect idea for winter decorations. Put some ice lanterns on your terrace so that it will beautify your decor and look prettier. You can make your own by adding mint leaves and carn berries for a unique lighting result that will grab the attention of many. Placing it on this staircase will warmly welcome your guests. DIY ice lanterns from digsdigs.
Ice balls with candle lights look perfect for your winter decorations. Place it around the garden to provide lighting in the garden so it will look more festive. Adding some leaves and carn fruit will make a perfect room decoration and attract the attention of many people. This DIY idea will welcome your guests with a warm feeling throughout the room. Ice balls with candle lights from digsdigs.
The carn berries in this ice lantern make the perfect room decor and will welcome your guests with a warm feeling. Making them yourself will also result in low-budget Christmas decorations. You can place this ornament on the terrace of your house to create the perfect look. Carn berries in this ice lantern from digsdigs.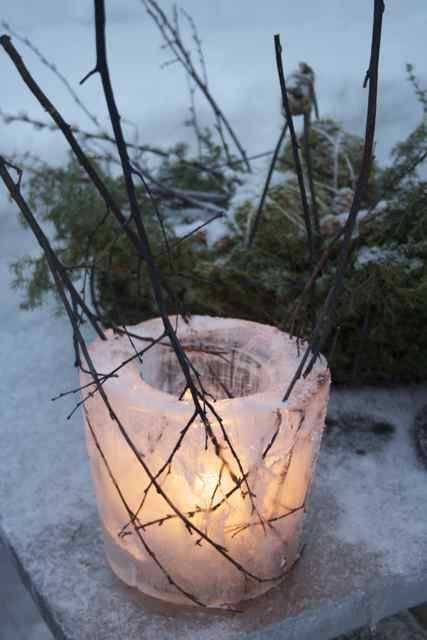 Looks interesting in this home terrace decoration, you can add ice lanterns complete with twigs for an amazing room result. Making your own will make for a low budget ornament and will boost your creativity. Add candles to provide warm lighting on your patio. Ice lanterns with twigs from digsdigs.
4. Snowman Mason Jar
Turns out we're not done yet with mason jars: upgrade them into snowman mason jars for adorable glowing pieces at home during winter. They will look great on the top of the family Christmas dinner table alongside functioning as a decoration.
Using a jar for a DIY snowman project is a very simple idea. Paint white on the jars then cover with black flannel to make the perfect hat that looks like a snowman. Paint the snowman's face for a stunning finish. Putting it on the table in this house will result in a charming room decoration. DIY snowman masson jar from realhousemoms.
This is a great craft for making amazing room decorations. This DIY will enhance your creativity and give it a unique look. Paint white all over the mason jar and add a snowman face accent for a pretty finish. This red and green scarf and hat will give you a stylish look. Masson jar snowman from diyncrafts.
This snowman is perfect for candy filled with peeking eyes that show off the delicacy inside. You can make it yourself for a charming decoration result. Paint the entire jar white for a stunning snowman design. Place it on the table at home to brighten up your Christmas day. Snowman masson jar ornament from countryliving.
Glue the strips of paper into the jar then add a shirt button and tie the fabric at the top to do a simple DIY snowman project. Add sequins and flannel for a snowman face and accent pom poms for a unique look. They would look great on the family Christmas dinner table in addition to serving as decoration. DIY snowman masson jar from countryliving.
Filling a jar of this adorable little Mason snowman with a spatula, spoon and cookie cutter will give it a unique look. Add seeds and burlap for a stunning decor result. Place it on your kitchen counter for the perfect extra storage. Mason snowman storage from countryliving.
5. White Wreath
Bring some fluffy wreath to the house for that little dash of glam. Hang your very own white winter wreath on the front door before guests entering to see how much it can enliven the house on the chilly season.
Glued together snowy pinecones are a great base for a DIY wreath. Just add some red ball ornaments, and red ribbon to make a nice Christmas wreath. Hanging on the door of your house will make the room look unique for you to try. DIY wreath pine cone from digsdigs.
Doing DIY projects for your winter decorations will save costs. The white wreath made of cotton fabric looks simple but still stunning. Add some small atal tree ornaments and colorful pom poms to create a unique decoration that will catch everyone's attention. White wreath from digsdigs.
Simple winter decorations with DIY wreaths look simple but stunning. Three garlands of white twigs complete with a red scarf and ball ornament will give a unique impression so that it looks more attractive. Hang it on your front door to warmly welcome your guests. White three garlands twigs from digsdigs.
Bring out soft colors for holiday decorations this year. These pastel mini ornaments really stand out in your patio décor. Making it yourself will provide a unique and economical decoration. Add colorful little Christmas tree accents and bales for a stunning result. Pom pom wreath from bhg.
Choosing this white and cream pom pom gives a unique look and steals the attention of many people if you put it on your doorstep. Decorate with mini bottlebrush trees and small house figures, and use glitter ribbon to hang them on the front door or over the fireplace. This decoration will offer a stylish decor. White and cream pom pom wreath from bhg.
We hope there's something from these DIY winter craft ideas that matches what you seek!
(Visited 136 times, 1 visits today)
Tags:
DIY Winter Craft Ideas
Last modified: November 30, 2021