Besides all of the rooms available in your house to be added with the spring decoration touches, make sure that you don't forget about your bathroom. Since the bathroom is a place where you can make your body relax after a hard day of working, then you should make your bathroom decoration to be as comfortable as possible. Related to the spring season, we all know that the ambiance during the spring season is really fresh, cheerful, and peaceful. That is why it will be great if you consider also decorating your bathroom with some spring touches. Imagine when you can enjoy the fresh spring-blooming inside your bathroom, some fresh wall treatment with spring touch, and more! If you are still confused about how to give your bathroom spring touches, you can the following ideas we have compiled.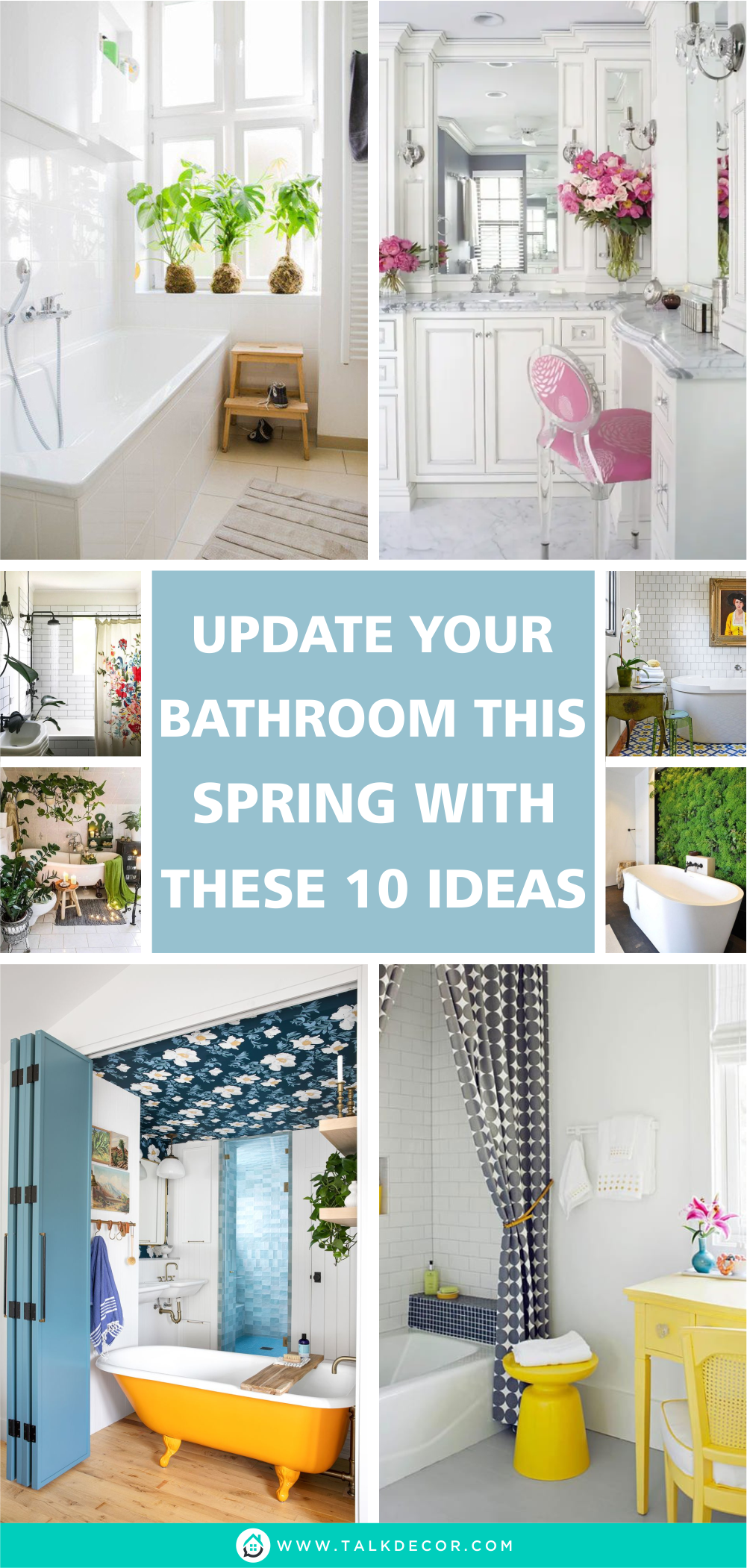 Choose Greenery Wallpaper
Patterns look great for updating your spring bathroom décor. Try it on the wall by layering it using tropical wallpaper that can make a big impact on the room. This wallpaper is dominated by a combination of green and pastel purple that looks contrast so that it looks more beautiful. The vines that touch the floor area are a mix of decorations that follow the spring theme which is full of freshness. The next decorating trick you can do is to use patterned tiles on the floor that have a mix of black and white colors so that they present a monochromatic theme instantly.
Tropical wallpaper decor from homemydesign
Hang Your Floral Curtain
There are many ways to update the decor of your small bathroom to make it look more passionate and fun. Just choose and use decorations that are easy and don't cost too much. Start with the shower cubicle area, with a flower patterned curtain, it will be more suitable to be used as a welcome for spring this year, besides that the existence of the curtain also makes it a focal point that seems feminine. The indoor greenery next to it adds extra color to maintain the color balance of the room. In the same room you can use several different lighting to make this room bright during the day or night.
Colorful curtain shower room from homemydesign
Install Windowsill Decoration
Take advantage of the windowsill area in the bathroom decor to put some potted indoor plants that have and can bring spring into the room instantly. Just use plants and pots of the same size and height for a neater and more organized finish. The advantage of placing plants in this window area is that they can develop well because they get enough sunlight. All you need to do every day is to water it with clean water. Because the feel of your bathroom is dominated by white, the green plants in this room will look more contrasting. You can get these plants in your backyard garden without having to buy them.
Indoor plants windowsill decor from homemydesign
Use Bohemian Spring Touch
Lush indoor plants can be combined with string lights to make your bathroom feel as decorative as the rest of the house. Choose the type of plant for an easy commitment makeover, besides that this plant is also able to bring a bohemian theme instantly. Try using green plants of different types and sizes to make it look more varied and fresh. Only use plants that have low maintenance to make it easier for you when you will do the treatment. Don't forget to give fertilizer regularly for good green plant growth. Indirectly, these indoor plants also minimize humidity in the bathroom.
Indoor plants from digsdigs
Get Creative Wall Decoration
Look at the bathroom wall decorations that are filled with green moss, doesn't it look beautiful and attract attention. Now you can try to plant this moss in different areas to make it a view as well as a unique focal point. So that this green moss wall decoration looks bright at night, you can add yellow spotlights so that it seems warmer too. Not only moss that you can apply to this part of the wall, but green plants are also a combination that you can do easily. Prune this green plant when it is too long and interferes with your space when in the bathtub area.
Green moss wall decoration from digsdigs
Pick a Patterned Floor
The combination of contrasting and bright colors is usually used to present the feel or theme of spring. You can try this bright color on the tile that is applied to the bathroom floor. Choose and use an eclectic style tile that has a combination of blue and yellow, these two colors will work well together for a splash of white tile wall color. It's not enough to stop here, the presence of orchids is also one of the characteristics that emphasizes this season, you can put it on a vintage-style table that has a shabby color. These orchids also add freshness to the room instantly, large wall paintings add color to the room which is quite beautiful.
Colorful tile bathroom from digsdigs
Blooming Roses
Roses are one of the plants that are suitable to be included in a spring-themed room. For now, you can apply it to a luxurious modern style vanity bathroom decoration. Because this vanity bathroom is dominated by white, the presence of roses looks very bold and contrasting. Choose and use roses with pink tones to put in a transparent glass jar. Apply and place this flower arrangement in the corner of the room so as not to interfere with your space, one of the advantages you can get from using these flower roses is to make the room feel more relaxed and fragrant.
Corner rose flower arrangement from digsdigs
Add Repaint Potted Plants
An easy way to make your bathroom decorations look colorful, then the thing you can do is to use plant pots that are repainted with a variety of different colors. This pot can be painted in green, pastel pink, gold, and white. Everything will work well together to make your room more vibrant. This pot can be applied to the wall and in the bathtub area that is still empty. Just use small green plants to make it easier for you when doing daily maintenance. Furthermore, the green candle holder also adds color to the room and also makes the bathtub area feel warmer.
Colorful pot plants from thespruce
Bright and Bold Bathroom Furniture
Spring bathroom decorations are certainly less fun if you only use one color tone. When you have wall and floor decorations that are dominated by white, then for other interiors you can use different color tones and yellow is a combination that will work well together. The use of this yellow color can be applied to the use of chairs, vanity tables, and small stools that are usually used to put towels next to the bathtub. If these two colors don't provide color, then add a black shower room curtain and a pink flower arrangement that is placed close to the glass window. This bathroom decor looks modern and never goes out of style.
Yellow color furniture from onekindesign
Fresh Bathroom Ceiling
While soaking in the bathtub, of course, your view will lead to the ceiling area, therefore you can give a different look. Try installing wallpaper that has a beautiful blooming flower pattern, apply it thoroughly and evenly. This ceiling wallpaper can be peeled off easily when you want another pattern. The selection of a yellow bathtub also makes this room look more striking, you can try it to produce a more modern bathroom design. Next, take advantage of the hanging shelves in the wall area to place vines that can add natural color.
Floral pattern ceiling from goodhousekeeping
(Visited 96 times, 1 visits today)
Tags:
bathroom
,
Bathroom Decoration
,
Spring Bathroom
Last modified: April 6, 2022