Lanterns have their own attraction as lighting for home decoration. That is why there are people who choose lanterns to complete their needs for home lighting. Just like the other kinds of lighting, the lantern also has varied kinds and designs so that you can choose the one that is proper for your home. However, some of you might be confused about how to choose the right lantern and do not know any references for the different lantern kinds. Here, we will show you the different kinds of lanterns and tell you how to apply the lantern to your home decoration.
Scandinavian Lantern
For an elegant architectural look, consider using a Scandinavian lantern that has a color that matches the ceiling. Use and hang this lantern in the entrance hall decoration right in the middle of the ceiling to emit the light produced more evenly throughout the room. This lantern makes the room feel softer overall. Use the entrance hall interior with a combination of black and white so that it can blend in more perfectly without presenting color contrasts that make the room easily boring. When you have an entrance decoration with a fairly large size, you can use more than one lantern.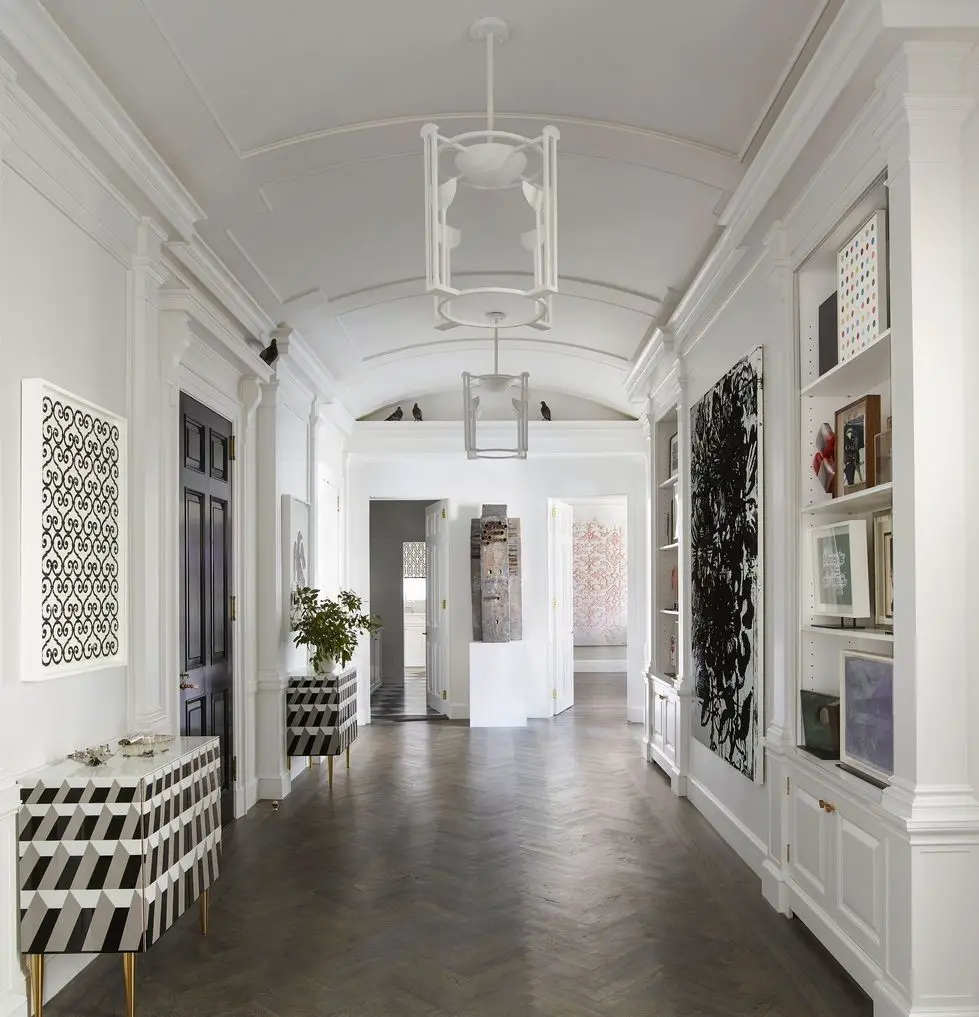 White Hanging Lantern from elledecor
DIY Paper Lantern
Lights are one of the main home interiors that must be had in every room as a lighting idea that will help with night activities. Currently, you can try a paper lantern that is hung to the ceiling area with a rope that is quite sturdy. Apply this DIY lamp right above your dining table to spread its light throughout the room evenly. Because this DIY paper lantern has a fairly large size, it can also be used as a focal point for a very useful room. The existence of this lantern is also very suitable when combined with patterned chairs and curtains to add texture to the room so it doesn't look too plain. Use this lantern when the atmosphere in the room is getting dark just to save more expenses.
Big Paper Lantern from elledecor
Hanging Vintage Lantern
Use two different types of lanterns to put on your front porch decoration as a lighting idea that is sufficient and easy to get. Apply this lantern to the ceiling and floor area to produce maximum lighting. Hang a large lantern just above the wicker chair. You can use both when it's getting dark outside. The two lanterns that are used both have a vintage style that never goes out of fashion. Complete this porch decoration with chairs, rugs, and wooden tables as a comfortable sitting area to use whenever you want.
Two Different Types of Lanterns from homebnc
Carved Lanterns
The outdoor staircase leading to the entrance of your house requires sufficient lighting to be the initial part of welcoming guests and family who come to your home. In addition, lighting the stairs will also minimize the occurrence of slips due to the dark atmosphere at night. Place it strategically on the black stair treads. Choose and use lanterns that have carved patterns so that the light that comes out will look more unique and different from the others. The light produced from these lanterns is dim enough to present a more dramatic feel, you can try it now.
Staircase Lighting from homebnc
Rustic Style Lantern
Adjust the use of the lantern with the theme of the room that will be used. For example, when you are decorating an entryway in a rustic style, a wooden lantern is the best choice you can have. Let this wooden lantern appear naturally and vintage, avoid polishing or repainting to save your budget and of course more in line with the rustic theme that is currently being used. Place this lantern on the console table along with other decorations such as photo frames and greenery accents. Their presence can be used as a warm welcome for guests and your family. To emphasize the rustic theme, you can decorate the empty wall with a greenery wreath complete with a reclaimed wood frame that looks shabby chic.
Reclaimed Wooden Lantern from homebnc
Wooden Lantern
Use a wood-framed lantern to accommodate a drip-free candle pillar that can be used as a complement to your current centerpiece décor. Usually, this lantern centerpiece is used for rustic dining table decorations which can be perfected with blooming flowers, pumpkins, and gold candlesticks. Before applying this centerpiece design, you can coat the surface of this table with a tablecloth runner made of brown burlap fabric. Use a dining table made of wood without polish and repaint to make it look more natural. In addition, this candle can also be used as a lighting idea that gives a warm and dramatic feel.
Wooden Lantern Centerpiece from hgtv
Wall Mounted Lantern
The combination of glass and iron on a lantern is a blend of commonly used materials. Apply and hang two lanterns on either side of the entrance as a very useful lighting idea to light up the surrounding room when it gets dark outside. This wall-mounted lantern design does not use a porch area at all so it is suitable for those of you who have a front porch decoration with a limited size. Complete the existence of this lantern with ferns underneath to produce a front porch decoration that feels more natural and of course, can be used as an initial welcome for your guests or family when they come to your house. In addition, the colors on this lantern also have color harmony with the door so that it looks more harmonious and matched.
Lanterns on Both Sides of the Entrance from hgtv
Moroccan Style Lantern
Moroccan lanterns hanging in your living room decor add a different view to the ceiling area. In addition, the lighting produced from these lanterns also gives a magical shadow in the middle of the room. This Moroccan lantern design has a more vintage appearance with a size large enough so that it can be used as the focal point of this room. Complete the existence of these lanterns with patterned wallpaper to add texture to the room that is not too plain. The use of colorful throw pillows on a white sofa is also highly recommended to add color to the room.
Magical Touch Ceiling from thespruce
Crocheted Lantern
When you have knitting skills, it's a good idea to consider making crochet lanterns that are quite unique when applied to one of the rooms in your house. You can buy knitted yarn in just one color so it doesn't cost too much. Get this yarn material at the nearest craft store or you can also buy it online to make it more practical. When you choose to make this crochet lantern, your home decor gets a higher visual appeal. When your lantern has been shaped to your liking, hang it with a rope that is sturdy enough to be applied to the ceiling so that it can be used as the main lighting.
White Crochet Lanterns from linesacross
Cupcake Liners Lantern
Now you can turn cupcake liners paper into DIY lanterns that you can easily stack and make yourself. This lantern will become one of my favorite lamps because it costs very little to make. Glue the cupcakes in the light area to form around lantern with fairly large size. To attach it you can use adhesive glue that is strong and sturdy enough so that it doesn't come off easily when used for a long period of time. After everything is installed neatly, you can hang it in any room of the house as needed. But it's a good idea to hang it in an area of ​​​​the house that is often visited by guests and family so that it can be used as a multifunctional decoration because it can also be used as room lighting.
Cupcake Liners Paper Lantern from linesacross
(Visited 112 times, 1 visits today)
Tags:
home lighting
,
lantern
,
lighting
Last modified: February 3, 2022